Amid Economic Crisis In Putin's Russia, McDonald's Plans To Open 60 New Locations Offering Cheap Fast Food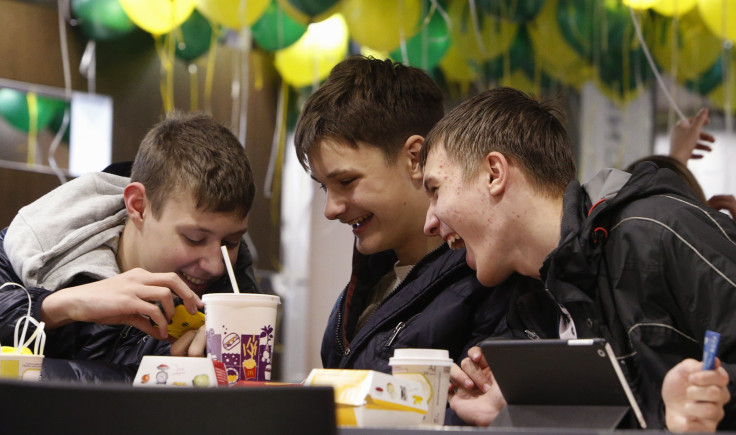 Russians may be enduring an economic crisis that has no end in sight, thanks to Western sanctions and dropping oil prices that have helped the ruble recently plunge to new lows, but at least they'll have Happy Meals and Big Macs in abundance. McDonald's announced Monday that it would open more than 60 restaurants in Russia in 2016, amid a broader shift to local suppliers in the country.
Within two years, McDonald's aims to stop importing chicken and beef into Russia and instead use locally produced meat. It is also slated to produce its own potatoes in 2017, the company said, Russia's TASS news agency reported.
The new focus on local production was not related to sanctions, which Western nations first slapped on Russia in July 2014 in response to its involvement in the conflict in eastern Ukraine and for its annexation of Crimea, Khamzat Khasbulatov, CEO of McDonald's Russia, said. Instead, the intention to "fully localize production in Russia" was due to "those being our long-standing plans," he said.
McDonald's Corporation (MCD) | FindTheCompany
By thriving in Russia, McDonald's has bucked the overall trend for restaurants in the country. "The eating-out industry has been stagnating since the beginning of 2015 but we have seen significant growth of our market share as we continued expansion," Khasbulatov said during a news conference. In 2015, McDonald's opened 59 restaurants in Russia, where it has had locations for 26 years.
If McDonald's is faring well in Russia, it has not necessarily met with the same level of success elsewhere. In April 2015, the company said it would close 700 stores that year in China, the U.S. and Japan, twice the number of locations it originally planned to shutter, as it worked to weed out less profitable franchises. Worldwide, the company has about 36,000 locations, according to its website.
McDonald's released earnings results Monday for the fourth quarter and the year ended Dec. 31, 2015 that highlighted an increase in global sales of 5 percent in the fourth quarter and 1.5 percent globally over the full year. It listed Russia and China as high growth markets, where in the fourth quarter sales grew 3 percent.
© Copyright IBTimes 2023. All rights reserved.