Amid ISIS Fight in Iraq, US To Put 'Boots On The Ground,' Says Pentagon Boss Carter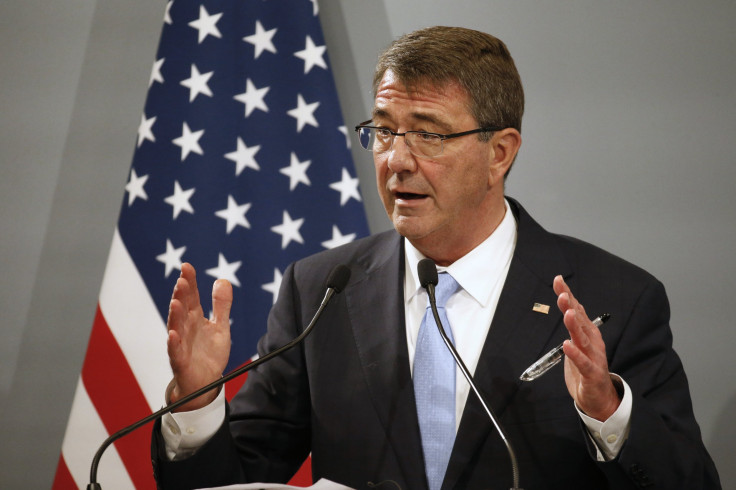 U.S. Secretary of Defense Ash Carter admitted Friday that there will be U.S. boots on the ground in Iraq in order to help defeat the Islamic State group, which has strongholds in the north of the country and in neighboring Syria. The Pentagon chief made the admission during an appearance on CNBC's "Squawk Box" at the World Economic Forum in Davos, Switzerland, backtracking on the long-held White House line that regular U.S. troops would not be used to fight the terrorist organization, aka ISIS, in Iraq.
"We're looking for opportunities to do more, and there will be boots on the ground — I want to be clear about that — but it's a strategic question, whether you are enabling local forces to take and hold, rather than trying to substitute for them," Carter said.
Carter and U.S. President Barack Obama have both on numerous occasions ruled out such measures in Syria and Iraq, fearing being drawn into another long and drawn-out war in the Middle East. U.S combat troops fought in Iraq for nearly nine years, while the conflict in Afghanistan continued for a little over 13. Nearly 6,700 U.S. troops died, and 53,000 were injured, in both conflicts.
While there technically already are U.S. troops in Iraq in the form of military advisers and Special Forces soldiers, the White House has always said that they do not count as boots on the ground because they are not there in traditional combat roles.
Before taking office in January 2009, Obama vowed to end both wars and time after time has sworn that the U.S. would not become embroiled in another Iraq war.
"I want to be clear: The American forces that have been deployed to Iraq do not and will not have a combat mission," Obama said during a short address to troops at MacDill Air Force Base in Tampa, Florida, in Sept. 2014. "As your commander in chief, I will not commit you and the rest of our armed forces to fighting another ground war in Iraq."
Carter also called on U.S. regional allies in the Middle East to do more to help beat ISIS, especially the Iraqi military, which has lost entire cities and billions of dollars of military equipment to the terror group.
"We're prepared to do a great deal because we have the finest fighting force the world has ever seen. We can do a lot ourselves," Carter said. "The United States does not ask people for favors, but we don't grant favors either, and so we're looking for other people to play their part."
Carter said during the CNBC interview that over the next two weeks he will be sharing U.S. military plans with Iraqi defense officials, and together they will devise a strategy to clear ISIS out of the strategic town of Mosul in northern Iraq.
© Copyright IBTimes 2023. All rights reserved.