Amtrak Crash 2015: Train Dispatcher Files First Lawsuit Against Railroad Service After Philadelphia Derailment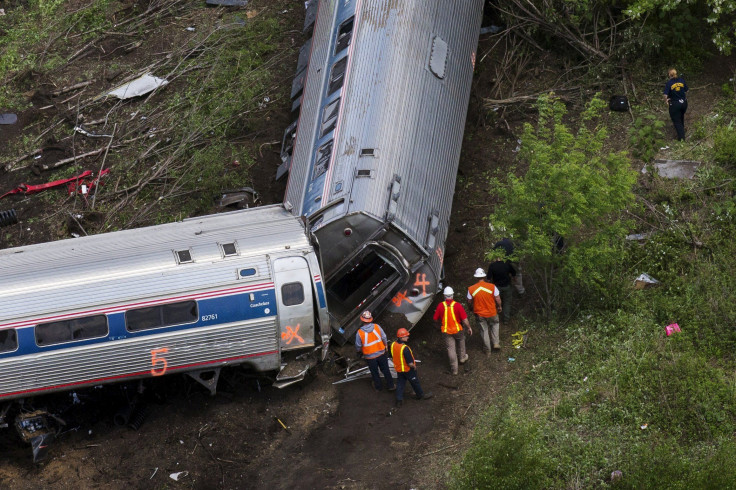 The first lawsuit in connection with Tuesday evening's deadly Amtrak crash has been filed by an employee of the railroad service, according to NBC Philadelphia. The plaintiff, Bruce Phillips, worked as an Amtrak dispatcher and was traveling in the last of the train's seven cars when it careened off the tracks Tuesday night. Phillips filed the lawsuit as an employee under the Federal Employers' Liability Act, which allows railroaders injured on the job to seek compensation.
He and his wife, Kalita Phillips, who live in Philadelphia, are seeking $150,000 from Amtrak in punitive damages for the railroad service's alleged "reckless conduct."
"As a result of the accident … [Phillips] has suffered a loss and impairment of earnings and earning power and will suffer the same for an indefinite time in the future, [and] has undergone great physical pain and mental anguish and will undergo the same for an indefinite time in the future," the lawsuit, filed in the Eastern District of Pennsylvania by the firm Coffey Kaye Myers & Olley, reads. The lawsuit says Phillips was "deadheading" (a term for when an employee travels without paying a fare as part of a directive) from Philadelphia to New York when the train derailed.
The lawsuit says Phillips was "violently hurled" through the railcar and struck several times before the train came to a halt. It states that Phillips suffered "multiple contusions and lacerations" as a result of the crash that left at least eight people dead and hundreds more injured. Phillips was hospitalized at Temple University Hospital in Philadelphia.
Tuesday's crash left wrecked railcars scattered along the Delaware River near Philadelphia's Port Richmond neighborhood. Federal investigators are looking into whether the derailment was the result of mechanical malfunction or the fault of the train's engineer, Brandon Bostian, who was operating the train at the time of the crash. The train had entered a turn at 107 miles per hour -- over twice the recommended speed limit.
© Copyright IBTimes 2023. All rights reserved.