Analysis: Sprint network upgrade may curb unlimited data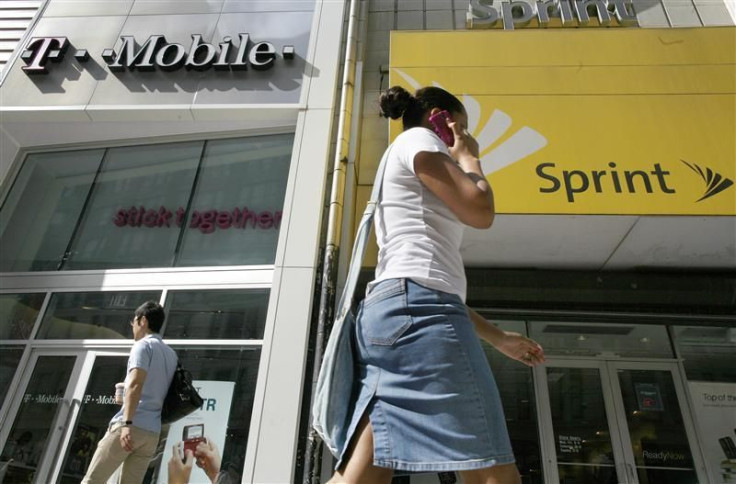 (REUTERS) ---Sprint Nextel may be forced to abandon the biggest advantage it has over its rivals - unlimited data services for a flat fee - because of heavy data users and a shortage of wireless airwaves.
Moreover, the increasing likelihood that AT&T's plan to buy T-Mobile USA, the nation's fourth-largest mobile operator, will fail may have the paradoxical result of making Sprint's position even more untenable, according to analysts who follow all three companies.
Sprint, the nation's third-largest mobile service provider, is planning to upgrade its network with the latest mobile standard, Long Term Evolution. But it is launching that service with only half the wireless airwaves bigger rivals Verizon Wireless and AT&T Inc have assigned, leading experts to suggest that the popularity of Sprint's unlimited data plan could put a strain on the network or slow down Web surfing speeds.
Sprint has assigned just 10 megahertz of spectrum for the launch compared with its rivals' 20 megahertz, analysts say. It will have to reassign airwaves being used for other services in order to expand its capacity for LTE.
Unlike AT&T and Verizon, which cap data use to stem overcapacity issues brought on by heavy users, Sprint is the only big U.S. carrier still selling unlimited data for a flat fee to users of smartphones, including the Apple Inc iPhone, on its current network.
It's a very bare-bones implementation of LTE, said Tolaga Research analyst Phil Marshall. The risk is, if you don't have headroom as your LTE subscriber base grows, then the speeds will go down.
In that situation, Marshall does not see Sprint being able to continue to offer unlimited services.
Unlimited is going to kill them, he said. I think they're going to have to back off from the all-you-can-eat plan.
Unlimited data is a strong selling point for Sprint, which has been struggling for years to retain customers. For Sprint to keep the marketing advantage it has over rivals, one option could be for it to institute usage caps that are considerably higher than those of its competitors.
That's a lever they can play if they run into being constrained, said an industry source who asked not to be named due to a lack of authorization to speak publicly. It's inevitable that they will eventually have to put caps (on their data use).
SPRINT: NO HEADACHE
Sprint, which is spending $7 billion to upgrade its network to LTE by the end of 2013, says concerns about its capacity are overblown, arguing that advanced technology allows it to make the most of its spectrum resources. Bob Azzi, a Sprint executive in charge of the company's network, said the company's plans assume that it will keep its unlimited data service during the LTE rollout.
I don't consider it a headache, he told Reuters, We have a good understanding of the nature of those plans and what they do.
Azzi added that the section of the 1,900 megahertz spectrum band Sprint has set aside for LTE is currently unused. He also plans to reallocate spectrum in its 800 megahertz band to use for the high-speed service by early 2014, provided it can secure regulatory approval to do so. That spectrum is currently being used by the aging iDen service Sprint hopes to shut down in mid-2013.
Sprint is also in talks with Clearwire Corp, its majority-owned venture, about expanding their partnership to cover LTE. Sprint currently depends on Clearwire's network for its fastest service based on WiMax technology, and the latest talks are aimed at allowing it to piggyback on Clearwire's LTE to help it boost capacity in the hottest of hotspots by 2014 when Azzi says Sprint will need more capacity.
But the future of Sprint's tempestuous relationship with Clearwire is murky since it is not yet certain if Clearwire will raise the roughly $1 billion in new funding it needs to upgrade its network to LTE.
Clearwire lost one-third of its value after Sprint said on October 7 that a bankruptcy filing by the company could be constructive. [ID:nN1E79C0DI] Clearwire shareholders again fled on November 18 after the company said it may skip a debt interest payment due December 1. [ID:nN1E7AH1EK] Many analysts saw that pronouncement as a negotiating tactic to try to force Sprint's hand into an agreement with favorable terms for Clearwire.
SOAP OPERA
One investment manager described the Clearwire/Sprint relationship as a soap opera that will end with an agreement because they are both heavily dependent on each other.
In the short term Sprint doesn't need them beyond (WiMax) but they do need them later, said the manager, who asked not to be named.
Even if Sprint and Clearwire reach an agreement, however, Bernstein analyst Craig Moffett is skeptical about how much it would help because of the frequency Clearwire's spectrum is on, which he said causes signal problems within buildings.
Now that the person next to you at the conference table is surfing away on Verizon ... the shortcomings of Clearwire become painfully apparent, Moffett said.
Moffett also noted that even if Clearwire upgrades its network, it will still have coverage for only about one-third of the U.S. population because it would need to raise a lot more funding than it is currently seeking to extend its network into new markets.
Since Sprint has already had to tap capital markets for $4 billion in debt and needs up to $3 billion more in funding for its own network upgrade, analysts are skeptical it can come up with the money to help Clearwire expand further.
What are you going to do with the (rest) of the United States? You can't just limp around on one leg, said Moffett, who has a hold rating on Sprint due to the uncertainty around its strategy.
The uncertainty around AT&T's deal for T-Mobile USA is another big wrinkle in the Sprint story. On Thursday, AT&T withdrew its application for deal approval with the Federal Communications Commission, saying that it would focus on its legal battle with the Department of Justice. [ID:nL5E7MO18Z] If that deal is approved, it leaves Sprint as a distant No. 4. But if it is blocked, as many analysts now expect, T-Mobile USA may look for another partner, according to the investment manager.
Instead of forging a deal with Clearwire or Sprint, Moffett suggested that T-Mobile USA would instead turn to U.S. cable operators such as Comcast Corp and Time Warner Cable. Some investors had hoped these companies would come to Sprint's aid as they are part-owners in Clearwire. But since the cable operators have unused spectrum in the same band as T-Mobile USA, Moffett suggested that the cable providers would instead create a partnership with that company if it has to abandon the AT&T deal.
Sprint has loudly opposed the AT&T/T-Mobile USA deal, a position that Moffett said was against its best interests.
Now Sprint loses its logical partners in the cable operators, said Moffett, who described a potential cable/T-Mobile deal as a match made in heaven.
Moreover, some analysts said that the $6 billion breakup package AT&T will have to pay T-Mobile if the deal fails would make T-Mobile into a more formidable rival to Sprint in the market for cost-conscious mobile consumers.
The uncertainty means that Sprint does not know exactly how desperate they are at any given point in time, said the investment manager, noting that Sprint's $2.38 share price speaks volumes about investor confidence in the operator's strategy.
It shows there's not a whole lot of faith out there that they'll be able to successfully execute on these things,' this person said.
(Reporting by Sinead Carew; editing by Peter Lauria and Matthew Lewis)
© Copyright Thomson Reuters 2023. All rights reserved.