Andrew Breitbart Cause of Death Likely Heart Attack, Had History of Cardiac Problems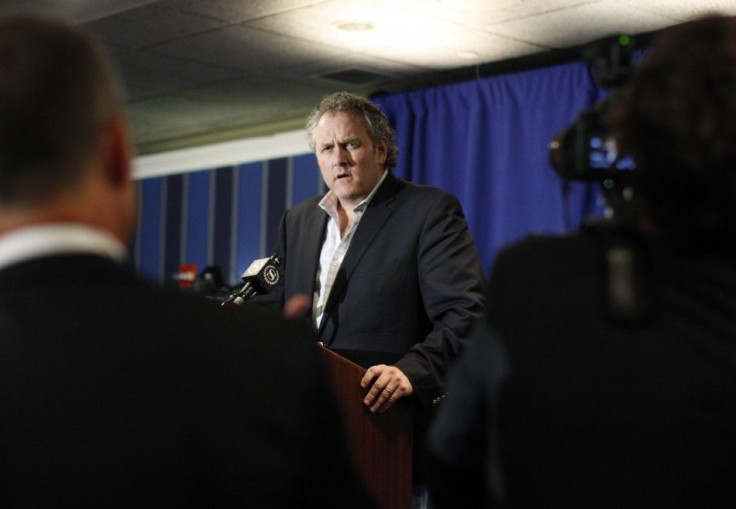 Andrew Breitbart's cause of death was likely a heart attack, as the conservative journalist said he had a history of cardiac problems, according to a friend.
On Thursday a friend of Breitbart's told Reuters that he had a history of cardiac problems and that he is believed to have experienced a heart attack shortly after midnight Thursday.
But Andrew Breitbart's father-in-law, accomplished actor Orson Bean, told Reuters in a phone interview that he was not aware of any heart problems that he may have had.
Despite his comments to Reuters, Bean did tell the Los Angeles Times the following on Thursday after news broke that Breitbart had died:
We're devastated. I loved him like a son. ... It looks like a heart attack, but no one knows until an autopsy is done.
Joel Pollak, a spokesman for Breitbart's media operation, said in an e-mail Thursday morning that he had no details about Breitbart's cause of death.
Ed Winter, a spokesman for the Los Angeles Department of Coroner told Reuters that Breitbart had some medical issues, hadn't seen a doctor in over a year and we don't have his medical history yet, but declined to address specific details about his health.
Around midnight Thursday, Breitbart, 43, was walking near his Brentwood home, when an unidentified witness saw him collapse and fall, Bean said, according to NBC News.
The witness called 911, and emergency responders found Breitbart unconscious, tried to revive him, and took him to UCLA Medical Center, Orson Bean said, according to NBC.
He was declared dead there at 12:19 a.m., according to Craig R. Harvey, chief coroner investigator and chief of operations for the Los Angeles Coroner's Office.
Harvey discussed the plans for attempting to determine Andrew Breitbart's cause of death via e-mail Thursday:
Body not yet examined. No final cause of death yet established by the Coroner, Harvey wrote.
Harvey outlined the time frame for a cause of death determination in a follow-up email:
The exam may take place as soon as Friday, Harvey wrote. Whether or not we have a COD [cause of death] at that time is another story. We may end up waiting for tox.
Tox refers to a full toxicology report, often undertaken when a person dies suddenly to determine whether drugs, alcohol, poisons or other foreign substances were a factor.
Breitbart is survived by his wife and four children, and a moving family message was posted on his Web site Thursday morning:
With a terrible feeling of pain and loss we announce the passing of Andrew Breitbart. Andrew passed away unexpectedly from natural causes shortly after midnight this morning in Los Angeles, the message reads. We have lost a husband, a father, a son, a brother, a dear friend, a patriot and a happy warrior. Andrew lived boldly, so that we more timid souls would dare to live freely and fully, and fight for the fragile liberty he showed us how to love.
Breitbart was the head of a self-made media empire that broke several major stories over the past five years. From his investigations of ACORN and Media Matters to the peak of his fame, which came last year as he took the podium on national television while reporters awaited Rep. Anthony Weiner's tearful resignation, Breitbart had a way of making himself and his work part of the story.
Ever since the early days of Barack Obama's run for president, Breitbart had his hands in the pot. He got Shirley Sherrod forced out of Obama's circle and was constantly working on his next big investigation.
The investigation into the official cause of Breitbart's death continues.
© Copyright IBTimes 2023. All rights reserved.