Android Vs. iOS: What's The Most Popular Mobile Operating System In Your Country?
Just a little more than a year ago, in May 2012, Android's [NASDAQ:GOOG] market share surpassed that of Apple iOs [NASDAQ:AAPL] for the first time. Back then, Apple's share of the world market was 22.95 percent, and Android's 23.81 percent -- a difference of less than 1 percent, according to data tracked by StatCounter.
Today, Android runs on 43 percent of all the world's smartphones while Apple iOS still runs on one in five smartphones.
Of the 227 countries for which data is tracked by StatCounter, Android was the market leader in 135 countries, whereas Apple was the market leader in only 38 countries, including the U.S.
Android's biggest advantage is that it isn't tied to a single device manufacturer or relatively limited price point, which is why the Google-owned OS is very popular in countries with low per-capita income. Android isn't losing any non-price-sensitive consumers either, because companies like Samsung and HTC produce high-end Android-powered phones featuring the newest technology.
The iOS, which runs only on Apple devices, is not only tied to a device but a relatively high price range. Most of the 38 countries in which iOS is popular are developed countries with a large number of consumers with high disposable incomes.
Here's a map of 227 countries color-coded by the dominant mobile OS in the region. Click on any country for more info:
Here's a timeline of how mobile os market share evolved from late 2008 to today, and how Android gained dominance: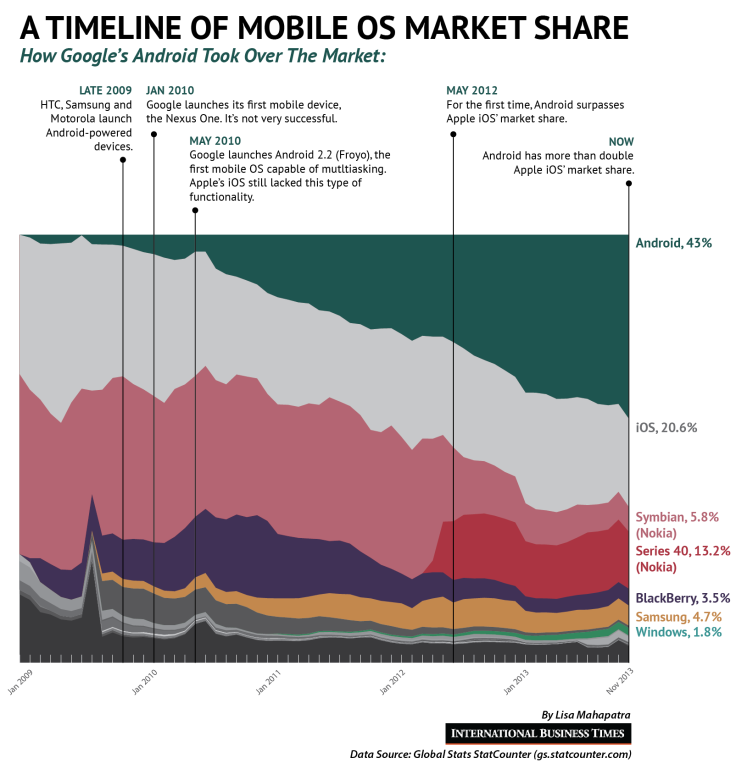 © Copyright IBTimes 2023. All rights reserved.
FOLLOW MORE IBT NEWS ON THE BELOW CHANNELS