Apple iPhone 5s Battery Problems: 5 Ways To Improve Battery Life If Cupertino Doesn't Replace Your Faulty Handset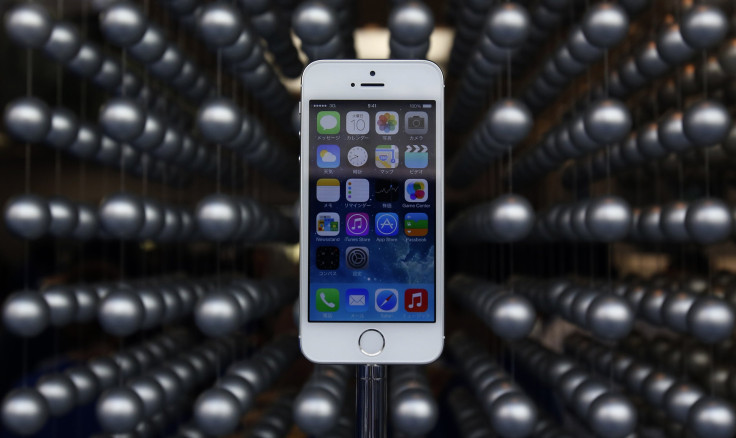 Apple Inc. (NASDAQ:AAPL) is in the midst of its massive iPhone rollout, which includes two new iPhone models for the first time -- the colorful iPhone 5c and the high-end iPhone 5s. Unfortunately for owners of the latter iPhone, Apple on Tuesday admitted to a manufacturing defect that affects "a small number of the new [iPhone 5s] models," causing their batteries to drain quickly.
"We recently discovered a manufacturing issue affecting a very limited number of iPhone 5S devices that could cause the battery to take longer to charge or result in reduced battery life," Apple spokeswoman Teresa Brewer told the New York Times. "We are reaching out to customers with affected phones and will provide them with a replacement phone."
Apple didn't specify exactly how many iPhone 5s models would be affected by this battery problem, but the statement provided by the Cupertino, Calif., company indicated it was a few thousand phones. IPhone 5s owners, however, should know that there's nothing wrong with the battery itself: It's a manufacturing defect, not a battery defect, as many users had previously believed. That's not to say Apple hasn't faced defective battery issues in the past: The company in 2006 issued a recall for a number of Mac laptops because some of the cells within the batteries, which were manufactured by Sony, had caused a number of batteries to explode.
"We are reaching out to customers with affected phones and will provide them with a replacement phone," Brewer added.
Some iPhone 5s owners may notice their battery life is quickly draining, but that may not necessarily mean it's an issue with the phone's battery. While all iPhone 5s customers are encouraged to bring their problems to an Apple Store for a thorough evaluation, it's possible that your battery life problems may be simply improved by changing the way you use your phone, especially since iOS 7 has so many hidden features that quietly take a toll on battery life. Here are five quick ways to improve battery life on the iPhone 5s:
1. Limit Location Services: Apps within iOS 7 will leverage GPS technology to find your location, but for many apps, offering one's location isn't necessary, and using the GPS can be a major drain on battery life in the iPhone 5s. It's easy to turn off all Location Services within iOS 7 -- simply visit the Privacy section of the Settings app -- but you may want some apps to always use your location data, such as Google Maps or Find My iPhone, so you may want to be selective with which apps and services you want to toggle off.
2. Change One's Brightness: This feature tends to impact battery life on iOS more so than any other preference or setting, but brightness settings on the iPhone 5s aren't set by default. It's good to keep your iPhone 5s dim on a regular basis -- 75 percent brightness usually does the trick -- but you can also modify the iPhone 5s screen's brightness automatically by toggling "Auto-Brightness" within the "Wallpapers & Brightness" section in Settings.
3. Airplane Mode: Apple designed the iPhone 5s to constantly search for a signal to always stay connected, but when you're in a bad coverage area -- or if you're not using your iPhone 5s for Internet purposes at that moment -- it's always a good idea to turn off the device's Wi-Fi and cellular usage temporarily by engaging Airplane Mode. The option is accessible via one's Settings app, but it can also be easily toggled on and off with the new Control Center in iOS 7, which is activated with a simple swipe from the bottom of one's screen.
4. Close Your Apps: Many people don't realize how many applications are open on their iPhone 5s, especially since those apps remain open after you click on them until you officially close them. Luckily for iOS 7 users, there's an easy way to see which apps are open in order to close them. By double-tapping the home button on your iPhone 5s, the new multitasking feature in iOS 7 shows full page previews of all your open apps. Simply scroll horizontally to see all your apps, and close the apps with a simple flick toward the top of the screen. Try to remove any power-hungry apps that use cellular or location data, which most certainly will drain your battery life faster.
5. Turn Off Auto Downloading And App Refreshing: Apple introduced an auto-downloading feature in iOS 7, which allows apps and downloads to automatically occur without user intervention. It's convenient, sure, but it's also a drag on battery life in the iPhone 5s. Visit the "Automatic Downloads" setting in the "iTunes & App Store" section of iOS 7 settings to turn this feature off. Similarly, having one's apps update their data in the background is helpful, but just like auto-downloading, it hurts battery life on iOS 7. Simply visit the "General" section within Settings and switch off all Background App Refresh services, or select which individual apps you want to refresh their data automatically.
Apple said it sold 9 million iPhone 5s and iPhone 5c units in the first three days after the phones' Sept. 20 release date, and in the company's Q4 2013 earnings report announced Monday, Apple said the iPhone 5s made major contributions to the 33.8 million total iPhone units sold, which is a record for the September quarter. After its initial release date, Apple last Friday released the iPhone 5s and iPhone 5c in 35 more countries, and both new phones will arrive in an additional 16 countries on Nov. 1. According to Apple, every new iPhone 5s or iPhone 5c customer "will be offered free Personal Setup service, helping them customize their iPhone by setting up email, showing them new apps from the App Store and more," which will give customers a chance to get their new iPhone purchases up and running before they leave the store. Apple and its authorized resellers and retailers will also help customers learn more about the release of iOS 7, which is built into every iPhone 5s and 5c.
More About The iPhone 5S
The iPhone 5s features the same 4-inch Retina display and chamfered diamond-cut edges as last year's iPhone 5, but the phone also comes with a number of new innards. The iPhone 5s also features a new A7 processor -- with CPU performance 40 times faster and GPU performance 56 times faster than the original iPhone -- and Open GL, just like the new Nexus 7. More notable, the iPhone 5s comes equipped with Apple's new M7 chip, which contains all the motion-tracking hardware Apple needs to make its iWatch a reality. By packing so many components into the M7 motion co-processor, including an accelerometer, gyroscope and compass, the M7 can continuously measure motion data for the newest generation of health and fitness apps.
The iPhone 5s also features a slightly modified battery for greater life, a new camera system for slow-motion video photography and a fingerprint sensor called Touch ID, which lets users authenticate ownership and user passwords by simply holding their thumbs on the iPhone's signature home button. Touch ID is 170 microns thin, it senses 550 ppi and it can scan sub-epidermal skin layers. With 360-degree readability, you can hold your thumb in any orientation and it can still be read correctly. The entire apparatus contains a tactile switch, Touch ID sensor, a stainless-steel detection ring and a laser-cut sapphire crystal, which makes it unscratchable. Touch ID can also handle multiple fingerprints, so you can grant access to your iPhone 5s to only certain people.
The iPhone 5s also features a new camera system, which includes a new pill-shaped dual-LED flash and a tighter aperture. The dual-LED flash will help for lower-light settings, but its new camera aperture will also help control the amount of light in each photo. For more on the iPhone 5s, check out our review and hands-on with the seventh-generation iPhone, and learn more about why it's worth the price to upgrade.
What do you think of the iPhone 5s? Are you concerned by these battery-life issues, and have you contacted Apple about the problems, if you're experiencing them after checking out our battery-life tips? Let us know your thoughts in the comments section below.
© Copyright IBTimes 2023. All rights reserved.