Angelo Dundee Dead at 90: Muhammad Ali's Trainer Was Hospitalized for a Blood Clot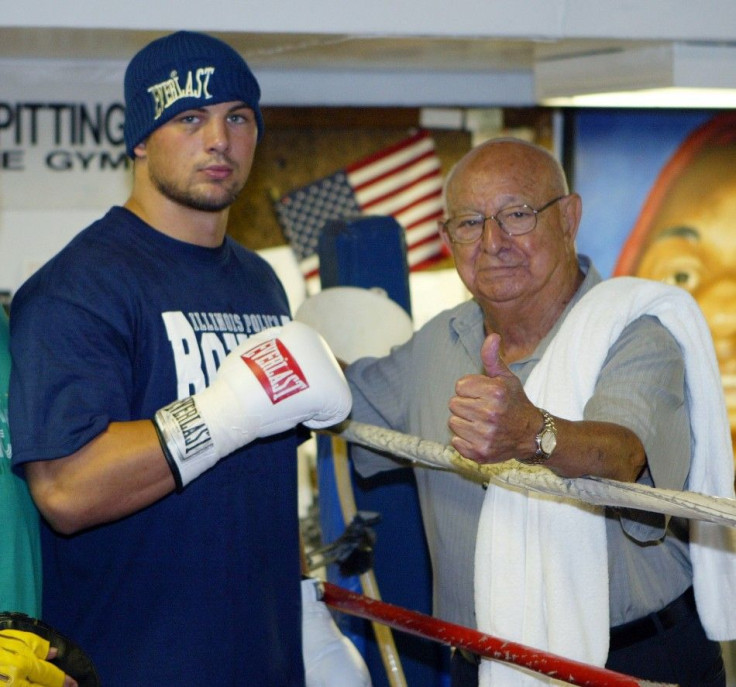 Angelo Dundee, the man who trained legendary boxer Muhammad Ali for the Fight of the Century, the Rumble in the Jungle and Thrilla in Manila, died on Wednesday, at the age of 90, taking part of boxing with him.
Dundee's son, James, told the Los Angeles Times that his father died at a Clearwater, Fla., rehabilitation center. Dundee was hospitalized last week, for a blood clot that developed on a flight while returning home to Florida. He went to visit Ali in Louisville, Ky., last month for Ali's 70th birthday.
The Associated Press reported that there was no way Dundee was going to miss Ali's birthday party, and that the two got to see each other and reminisce about the times they spent together.
Dundee's son told The AP it meant everything to his father to be surrounded by family when he passed away.
It was the way he wanted to go, said his son. He did everything he wanted to do.
Besides Ali, Dundee trained other fighters such as Sugar Ray Leonard and a reported 15 world champions in all. Dundee's Hall of Fame career started in 1952. He was in Leonard's corner during the No Mas match played against Roberto Duran.
Dundee also trained George Foreman, Carmen Basilio and Willie Pastrano.
To me, he was the greatest ambassador for boxing, the greatest goodwill ambassador in a sport where there's so much animosity and enemies, Bruce Trampler told The AP. The guy didn't have an enemy in the world.
Trampler is a longtime matchmaker who first worked for Dundee in 1971.
Dundee was inducted into the International Boxing Hall of Fame in 1992, after a career that spanned 60 years. He was born Angelo Mirena on Aug. 30, 1921, in south Philadelphia. Dundee lived in the Miami area for decades and moved to the Tampa suburb of Oldsmar in 2007 to be closer to his two children after his wife of 50 years, Helen, died.
© Copyright IBTimes 2023. All rights reserved.