Anna Hazare's US Visit: Indian Anti-Corruption Activist To Attend India Day Parade In New York, Meet With US Officials And Visit UN Headquarters [PHOTOS]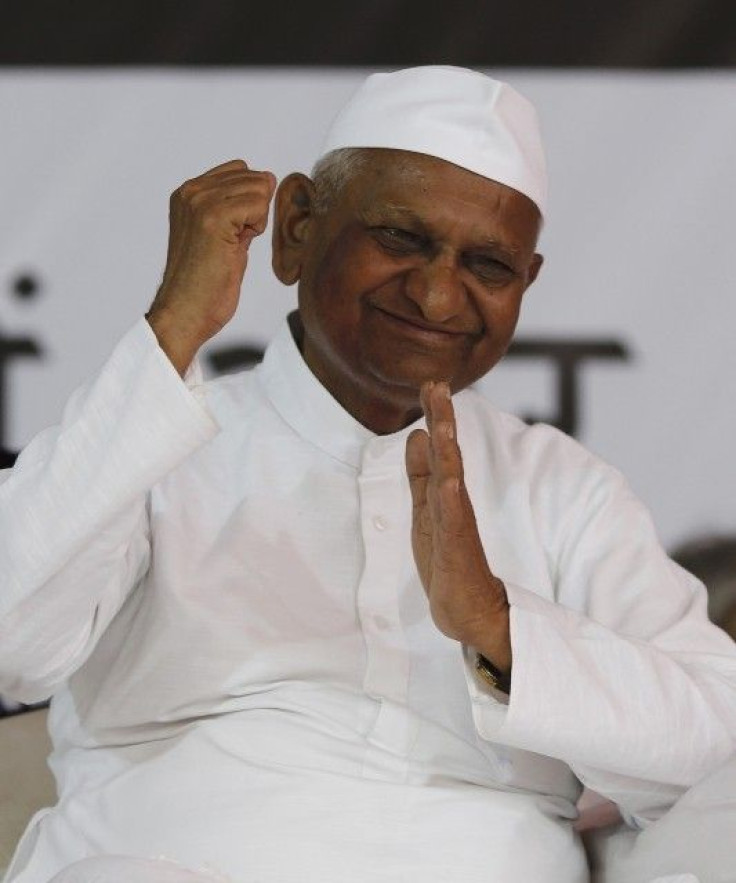 Popular Indian activist Anna Hazare, who spearheaded a mass movement against corruption in India in 2012, and has modeled his non-violent protests on Gandhian principles, will arrive in the U.S. on Aug. 16, for a two-week visit during which he will attend the India Day parade in New York, and criss-cross the country to meet with local leaders and the Indian diaspora.
Hazare, 76, mobilized the Indian middle class in the summer of 2012 against systemic corruption, when the country was rattled by a series of scandals including those associated with the Commonwealth Games held in New Delhi in October 2010 and telecom spectrum licensing, which resulted in the loss of tens of billions of dollars to the Indian government.
Hazare will arrive in New York on Friday morning and will attend the India Day parade on Sunday. He is scheduled to visit the Nasdaq exchange for a "bell-ringing ceremony" on Monday followed by a visit to the United Nations headquarters in New York.
He is scheduled to meet with Delaware Gov. Jack Markell on Tuesday evening and will also visit Philadelphia for a talk at the University of Pennsylvania, before heading to Washington D.C. to meet U.S. lawmakers. In South Carolina, Hazare will meet with Gov. Nikki Haley, who is of Indian descent. Hazare is also scheduled to visit San Francisco and Los Angeles on the West Coast, followed by a trip to Atlanta and Chicago before ending his visit on Aug. 28.
In India, Hazare and his supporters have been pressing the government to adopt the Jan Lokpal Bill, or the Citizen's Ombudsman Bill -- an anti-graft proposal drawn up by prominent civil society activists -- seeking the appointment of an agency similar to the Supreme Court and the Election Commission, which will have complete autonomy in investigating corruption cases.
He continues to push the bill and has been campaigning against the Congress Party-led ruling coalition, the United Progressive Alliance, ahead of parliamentary elections scheduled for 2014. Hazare also has appeared in public with leaders of India's main opposition party, the Bharatiya Janata Party, damaging his image as an activist without party affiliations.
During the height of Hazare's crusade, which put corruption at the highest levels of India's polity and bureaucracy in the limelight, the nation saw massive protests joined by people from all walks of life, who made their support for the cause known by sporting hats titled, "I am Anna."
However, support for Hazare has markedly reduced over time, following allegations of autocracy against the core leadership of Hazare's movement and differences of opinion between key members, mainly regarding his decision to oppose joining electoral politics by forming a party.
Hazare's former aide and an ex-bureaucrat, Arvind Kejriwal, who parted ways with his mentor in September 2012, launched a political party, named Aam Aadmi Party (Common Man Party), or AAP, in the following month, vowing to transform India's politics.
Announcing the split, Hazare said during a televised address at the time: "There is nothing wrong with fielding a political party but I will not be a part of it. If they feel they can get a majority, it is a good thing, but they cannot use my photo or my name. The paths have been separated."
In July, Hazare said he will not support Kejriwal's political party, and also called for a change in the way elections are held in India, so that the prime minister can be elected directly by the people. In the current system, elected lawmakers belonging to the victorious party or coalition nominate a party member for the prime minister's post.
Although Hazare's movement and stature has dwindled in recent months, he still remains a popular figure among the Indian diaspora around the world who have voiced their support for him through social media outlets.
Hazare, according to his website, served for 15 years in the Indian army before becoming an activist. He has been credited with working toward social causes ranging from sustainable development, rural employment, forest conservation and right to information.
And, on the website is a quote attributed to Hazare saying: "The dream of India as a strong nation will not be realised without self-reliant, self-sufficient villages, this can be achieved only through social commitment & involvement of the common man."
© Copyright IBTimes 2023. All rights reserved.