Anti-Gang Rape Protests In India Turn Violent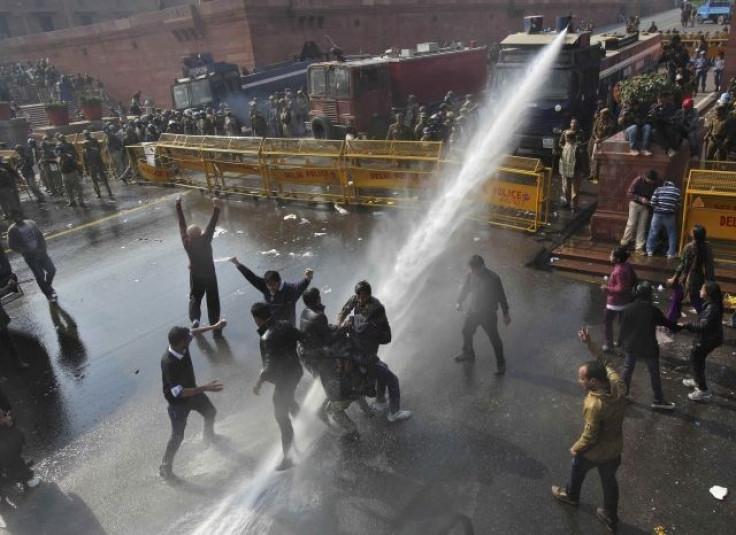 New Delhi police fired water cannon and tear gas Sunday at throngs of demonstrators outraged by the gang-rape and near-fatal beating of a young woman on a bus a week earlier.
The protest 10,000 strong began peacefully around 8 a.m. outside the historic India Gate in the center of New Delhi, but people attempted to break through the police barriers surrounding the parliament. The protesters, mostly students, are demanding the death penalty for the six men who have been arrested, IBTimes reported earlier.
The violence escalated around 5:30 p.m. local time, the Times of India reported, when police lobbed several hundred tear gas shells into the crowds. There are conflicting reports of how many people were injured: Times of India said 65; Hindustan Times said 143, including 78 policemen. The crowd overturned cars and damaged city buses. Protestors chanted "We want justice" and carried signs that said "Hang them until death" and "The punishment should be castration."
"We hope these protests wake up the government," a businessman named Rakesh Kumar told the Hindustan Times. A 25 year-old named Pallavi said, "The government is sleeping. … The law against rape must be stronger and should be implemented properly."
Prime Minister Manmohan Singh released a statement appealing for peace, the Hindustan Times reported.
"We are all joined in our concern for the young woman who was a victim of a heinous crime in Delhi," he said. "I assure you that we will make all possible efforts to ensure security and safety to all women in this country.
"I feel deeply sad at the turn of events leading to clashes between protesters and police forces," Singh continued. "There is genuine and justified anger and anguish at this ghastly incident. I appeal to all concerned citizens to maintain peace and calm."
The activist Aam Aadmi party introduced a sexual assault bill on Sunday, and said in a statement that the parliament must "immediately enact" it, while also calling on protesters to remain calm.
The unidentified 23-year-old victim remains in critical condition and on a respirator in the hospital, but was strong enough to give a statement to a magistrate on Sunday.
There have been 600 reported cases of rape in New Delhi in 2012 alone. The total number of rape cases reported in India has jumped 875 percent over the last 40 years, the feminist blog Jezebel says.
© Copyright IBTimes 2023. All rights reserved.