Antibiotic Resistance: How Livestock Lobbyists and Drug Companies Hinder The US Fight Against Superbugs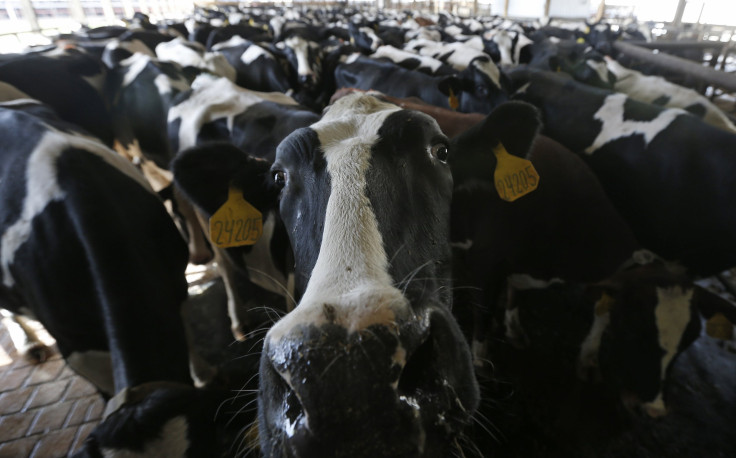 On most days, the cattle at McFarland White Ranch outside Two Dot, Montana, barely notice the chill as the sun's warmth fades at night. Last November, though, the temperature fell from 58 degrees Fahrenheit to minus 4 within a single day. Rachael Spangelo, a ranch hand at McFarland for the past decade, says a sudden rainstorm in the midst of a steep temperature drop can bring the herd of 1,400 healthy Black Angus to the brink of pneumonia within hours.
Spangelo says such shifts prompt the staff at McFarland to mix antibiotics into the livestock's feed as a precautionary measure. They don't dole out these drugs to cattle regularly, but pneumonia can kill a cow in two days.
"Animals can't talk. So you don't know if they're feeling punky or not — until they start to really feel sick. And then it's too late," she says. "It's better to treat them this way."
Pre-emptive medication may be healthier for the cattle in this instance, but the widespread use of antibiotics in food-producing animals can cause bacteria to develop greater resistance to medicines — and disease experts say it's causing sickness and death among humans. The U.S. Centers for Disease Control and Prevention (CDC) warn that antibiotic resistance is "one of the world's most pressing health problems."
The United States does have a policy, detailed in a National Action Plan released by the White House last month, to combat antibiotic resistance. However, critics say it contains loopholes that allow farmers to dispense unsafe levels of antibiotics to their animals, a key source of resistance.
Today, the vast majority of antibiotics sold in the U.S. are used to treat the cattle, pigs and poultry that wind up on American dinner tables. Farmers say they need to use antibiotics as they see fit because their livestock are often kept in cramped quarters on feedlots where diseases can spread rapidly.
But public health officials, who want such drug use curbed, point to episodes like the deaths of two patients at a hospital at the University of California, Los Angeles earlier this year. The fatalities were linked to carbapenem-resistant Enterobacteriaceae, or CRE, a family of bacteria with high levels of resistance to antibiotics. The CDC has estimated that CRE cause 9,300 infections and 610 deaths every year.
If modern antibiotics become ineffective, as many as one in six people who undergo routine operations such as a hip surgery could die from an infection following the procedure. The World Health Organization has estimated that antibiotic-resistant infections cost the U.S. an annual $21 billion to $34 billion.
Despite the dangers, few countries are prepared to address such resistance, according to a WHO report released Wednesday. Of the 133 countries the organization surveyed, just 34 of them, or about 25 percent, had comprehensive strategies to tackle the problem and preserve the effectiveness of these crucial medicines.
U.S. farmers are still allowed to use many antibiotics in livestock with few restrictions despite the toll on public health partly because two of the nation's most influential lobbies -- the pharmaceutical industry and the meat production industry -- have bankrolled a long fight to retain their freedom to use, as they see fit, antibioitics in animals.
An International Business Times review of political contributions and industry ties suggests that farmers have retained their right to medicate livestock thanks largely to heavy lobbying from these industries and a cozy relationship between drug companies, agricultural industry groups and key members of government. Critics argue that because of these ties, the new plan ignores health concerns and caters to industry interests.
"Consistent concerns raised by the public health advocacy community were ignored in the making of the report," Steve Roach, a senior analyst with the organization Keep Antibiotics Working, says of the National Action Plan. "There just has not been any room for non-industry voices in terms of the decisions they've made on this policy."
In addition to giving antibiotics to animals that are kept in close quarters, farmers have also historically used antibiotics to make animals grow bigger and stronger. While the national plan aims to eliminate the use of medically important antibiotics for growth promotion, it still allows farmers to administer them to prevent diseases among animals, including those in confinement.
"This is woefully inadequate," Rep. Louise Slaughter (D-N.Y.) who has repeatedly introduced the Preservation of Antibiotics for Medical Treatment Act to limit the use in livestock of eight classes of antibiotics, says of the national plan. "There's a tremendous lobbying effort against what we're doing."
Executives of companies that profit from antibiotics used in livestock lobbied hard in the last legislative session against three bills that would tighten restrictions on these medicines. Slaughter's legislation and the Preventing Antibiotic Resistance Act both aimed to prevent farmers from administering medicines to prevent diseases, a practice which scientists say endangers human health. A third bill called the Delivering Antimicrobial Transparency in Animals Act would require drug manufacturers to report data on how these medicines are used on farms.
Pharmaceutical companies that were opposed to those three bills spent at least $14.3 million lobbying Congress in 2013 and 2014 on a variety of issues, according to the Center for Responsive Politics. Agricultural groups that stood against the same bills spent another $9.2 million on lobbying over the same two years. These generous amounts contribute to what critics consider disproportionate influence over federal policy.
Zoetis Inc., which is the largest manufacturer of animal medicines in the world, spent $1.01 million on lobbying in 2014 and separately formed its own political action committee that gave $68,000 to members of Congress, mostly to Republicans.
Elanco Animal Health, which is Eli Lilly & Co.'s animal medicines division, spent $200,000 on lobbying against some of the same bills last year, and the Animal Health Institute, which represents major manufacturers of animal medicines, spent $130,000 on those three causes.
Agricultural industry groups have also chipped in: The National Pork Producers Council spent $873,000, the National Chicken Council posted $640,000 and the U.S. Cattlemen's Association logged $30,000 in lobbying expenses last year, partly to fight the same three initiatives.
Over the years, the meat industry has also given cash to members of Congress who later served on committees that determined whether to proceed with bills imposing stricter regulations on antibiotics.
Slaughter's bill and the DATA Act were both referred to the House Energy and Commerce – Health Committee during the 113th Congress. Fourteen of the committee's 31 members at that time, or 47 percent, had together received at least $73,500 in contributions from three leading agricultural groups -- the National Chicken Council, the National Pork Producers Council and the National Cattlemen's Beef Association -- in the previous election cycle. Both bills died in that committee.
After re-introducing her bill in March, Slaughter is not optimistic about its prospects of receiving serious consideration. "We're not going to get it through," she says. "We can't even get it on the floor."
The Preventing Antibiotic Resistance Act of 2013 never made it out of the Senate Health, Education, Labor and Pensions Committee. Five of its 22 members, including Sen. Tom Harkin (D-Iowa), the chairman at the time, received a total of $22,000 from the same three agricultural groups in 2012.
Those groups also donated $8,000 to committee member Sen. Pat Roberts (R-KS) in 2012, the same year they joined 14 industry groups to send a letter to Roberts and three other senators that pushed back against "blanket actions to restrict antibiotic use" and requested a meeting with the senators.
Food Fight
The industry's push to preserve the use of antibiotics in food-producing animals dates back to 1977, when FDA Commissioner Donald Kennedy proposed banning penicillin and another important type of antibiotic, tetracyclines, in livestock.
At that time, former Rep. Jamie Whitten (R-Miss.) was serving as chair of the House Appropriations subcommittee on agriculture, which controlled the budget of Kennedy's agency. Whitten, who once published a book endorsing pesticides that was partly funded by the pesticide industry, threatened to slash the FDA's budget if the bans were instituted. Kennedy backed down.
Those proposed bans stood until 2011, when the agency quietly withdrew them and said it would instead "focus its efforts on the potential for voluntary reform."
That statement led to voluntary guidelines that the FDA issued in 2009 and 2013, known as Guidances 209 and 213, respectively. The Obama administration's new national plan is a near copy of these recommendations.
"There's almost nothing that was all that different," says Keeve Nachman, a researcher with the Johns Hopkins Center for a Livable Future.
The plan states in part that manufacturers of these medicines should remove "growth promotion" as an approved use on the labels.
So far, all 25 drug developers affected by Guidance 213 have voluntarily agreed to remove growth promotion from the labels of antibiotics, Julie Putnam, a spokeswoman for the FDA, says. If the companies follow through on this promise, farmers may no longer legally administer these drugs to bolster an animal's size.
Even so, veterinarians could still authorize their use for preventative purposes, provided that such usage is listed on the drug's product label. In those situations, the veterinarian would practice "judicious use principles," Putnam says, in determining whether to use medically important drugs to prevent diseases in animals, in part by looking at how effectively a medicine would treat a potential infection.
Nachman and others say this approach is flawed, because farmers will likely continue to administer antibiotics for growth promotion even if they have to call it "disease prevention" or something else.
"Animals will still be fed antibiotics daily even though they aren't sick," says Avinash Kar, a health attorney for the Natural Resource Defense Council.
In a statement, the CEO of Zoetis said he didn't expect Guidance 213 to affect his company's revenue—presumably because farmers would continue administering just as many antibiotics to their animals. Jeff Simmons, the president of Elanco, has echoed that sentiment.
Still, industry groups warned that stricter measures could hurt their business. The National Pork Producers Council told the FDA that suggestions in Guidance 213 "may negatively impact animal health" and pushed for "no further actions."
The National Turkey Federation also spoke out, casting doubt on studies linking antibiotics in livestock to resistance in humans and warning that ending their use could have "food safety implications."
Raising Suspicion
Slaughter and others think the pharmaceutical and agricultural industries' hold a disproportionate amount of influence on federal policy on antibiotics in livestock, including the national plan.
"It was not shaped or moved by the 450 scientific groups that support our bill. It didn't come from the city councils that have spoken out on it and certainly not from the World Health Organization," she says. "And so that leaves the producers, doesn't it?"
Dr. Robert Carnevale, vice president for the Animal Health Institute, said he was "one of the architects" of Guidance 213 as a representative of the industry while testifying on a related bill in Maryland.
Secretary of Agriculture Tom Vilsack, one of three co-chairs leading the task force that drafted the National Action Plan, served as governor of Iowa from 2000 to 2007. During his term, the number of hog farms in the state dropped, even as the number of pigs at each farm skyrocketed from 800 to 1,800. After his stint as governor, he spent a year at Dorsey and White, a firm whose clients have included the National Meat Association.
Industry executives also participated in an important presidential working group that helped put forth recommendations for the national plan. Sprinkled among the academics and medical officers in that group were industry advisors including Don Ganem, global head of infectious diseases research at drug company Novartis; David Payne, head of antibacterial discovery at GlaxoSmithKline, a major drug company that has a deal with the U.S. government for up to $200 million to research new antibiotics; John Rex, head of infection and global medicines development at pharmaceutical company AstraZeneca; Dennis Treacy, executive vice president of pork producer Smithfield Foods; and Clarence Young, chief medical officer for Iroko Pharmaceuticals.
Although these advisors helped lay foundations for the national plan, the names of the people on the task force who wrote the plan have not been made public, and little other information been revealed about the drafting process. The White House did not respond to repeated requests for comment on the role of industry groups and individuals in drafting the National Action Plan.
In March, after the plan's publication, the Animal Legal Defense Fund submitted public records requests for communication between federal officials who wrote the plan and industry trade groups.
The Farmer's Toolbox
Meanwhile, farmers such as Spangelo at McFarland White Ranch assert that antibiotics are necessary to prevent and manage diseases. Andrew Gunther, a program director at Animal Welfare Approved who has a background in poultry production, calls antibiotics "an important tool in the farmer's toolbox," even though he says government should regulate the medicines more strictly.
"As the farming system sits today, it's not in the animals' best interests to prohibit antibiotics for disease prevention," he says, adding that harsher regulations would require the industry to change some of its systems to avoid the use of antibiotics.
Gunther adds that regulations requiring veterinarians to oversee when antibiotics are administered to livestock could disproportionately hurt rural or small farmers. With a lack of large animal vets in the U.S., "some farmers can't get them; some farmers can't afford them," he says.
Spangelo thinks the alarm over antibiotics in agriculture is overblown, since most farmers and ranchers she knows aren't administering them daily.
"People have huge misconceptions of what we do," she says. "We're not evil people out to make money and abuse animals."
© Copyright IBTimes 2023. All rights reserved.