Antibody Treatment Enters Phase 1 Trials, US Layoffs And More: What To Know About Tuesday's Pandemic Developments
AstraZeneca drew headlines Tuesday with an announcement that it is beginning Phase 1 trials of its monoclonal antibody treatment for COVID-19, while American Airlines said it would be laying off 19,000 employees by Oct. 1.
AstraZeneca's AZD7442 antibody treatment uses antibodies from patients that have been infected with COVID-19 to treat and prevent the progression of the virus.
The trials by AstraZeneca are being conducted in the U.K. with 48 healthy patients aged 18-55 through funding by the Defense Advanced Research Projects Agency of the U.S. Department of Defense and the Biomedical Advanced Research and Development Authority.
Following Phase 1 trials, AstraZeneca said it would move to larger, late-stage Phase 2 and Phase 3 trials if the results prove tolerable and favorable. Data is expected to be available in the second half of 2020.
"This trial is an important milestone in the development of our monoclonal antibody combination to prevent or treat COVID-19," Mene Pangalos, executive vice president, BioPharmaceuticals R&D, said in a statement. "This combination of antibodies, coupled to our proprietary half-life extension technology, has the potential to improve both the effectiveness and durability of use in addition to reducing the likelihood of viral resistance."
The Phase 1 trial comes as AstraZeneca's COVID-19 vaccine could be approved for emergency use before the election by the Trump administration if late-stage clinical trials prove successful, the Financial Times reported. AstraZeneca said it has not discussed the emergency authorization with the U.S. government, Politico reported.
AstraZeneca told Politico in a statement: "It would be premature to speculate on that possibility."
Upon the news of COVID-19 antibody treatment, American Airlines said in a memo to employees, which was obtained by USA Today, that 19,000 employees would be laid off by Oct. 1 as the coronavirus pandemic decimated air travel.
American Airlines CEO Doug Parker and President Robert Isom said in the memo: "Today is the hardest message we have had to share so far – the announcement of involuntary staffing reductions effective Oct. 1."
Among the cuts are 8,100 flight attendants, who will be furloughed, and 1,600 pilots. An additional 1,500 administrative and management positions were cut previously, USA Today reported.
"The coming weeks and months will be some of the most difficult we have ever faced," Parker and Isom said in the memo. "No matter how challenging they seem, remember this: The American Airlines team is no stranger to adversity, and in adversity, we always come through. We will come out on the other side of this crisis. Demand will return. Team members will be recalled. The world will find its new normal, and when it does, American is going to be there.
"Until then, take heart that we will get through this together. The professionalism and care this team has shown over the past six months has been nothing short of extraordinary. We are all American Airlines, and we will survive, and one day, thrive again. Thank you for all you are doing now, and tomorrow, to carry us through."
In other coronavirus news:
After FDA Commissioner Stephen Hahn backtracked on the benefits of convalescent plasma, Speaker Nancy Pelosi, D-Calif., fired back. The emergency use authorization of convalescent plasma has come under criticism by experts that claim that there is not enough data to support the use of the treatment for the coronavirus. "Shame on Hahn for what he did," Pelosi said during an interview with MSNBC's "Andrea Mitchell Reports." "And he even had to backtrack on what he said because it was not science-based." Pelosi continued: "Let's hope that this incident with Hahn having to backtrack on his foolish statements will be a warning for them that people are watching."
Wisconsin Gov. Tony Evers is being sued by the Wisconsin Institute for Law & Liberty on behalf of three state residents that are looking to throw out his face mask mandate, the Milwaukee-Journal Sentinel reported. The firm is looking to challenge Evers' authority to issue a face mask requirement in the state, claiming the mandate is illegal as the governor unlawfully declared new emergencies for the same pandemic. The face mask mandate is in effect until the end of September.
New York's Metropolitan Transportation Authority is losing $200 million a week as it sees its ridership decline amid the pandemic, the New York Times reported. The loss in ridership is only further compounded by increases in coronavirus expenses, causing MTA to seek $12 billion in additional federal funding to cover its budget deficits through 2021, the Times said. "Our sole focus now is on survival, how to reduce costs, maintain service and minimize reductions in force while protecting the capital program," Pat Foye, the MTA's chief executive officer, said Tuesday during the state legislature's joint public hearing on the impact of COVID-19 on the agency. The MTA's finances will be discussed in a meeting on Wednesday.
EPA has approved a cleanser for use in Texas to fight the coronavirus. The cleanser, SurfaceWise2, can protect against viruses, like the coronavirus, for up to seven days after application. The use of the cleanser has been approved by the EPA for use by American Airlines at its airport facilities and on its planes as well as for use by Total Orthopedics Sports & Spine for certain uses. BioScience manufactures the cleanser in the U.S. and is seeking approval for mass delivery to the public.
A Starbucks customer in South Korea has infected dozens of customers with the coronavirus, but the employees of the store were spared from the virus. Officials believe that the reason the employees were not infected with the virus was because they were wearing face masks while the customers may not have had a mask on as they were eating and drinking at the café.
Microsoft's AI for Health program is now supporting the development and potential deployment of South Australia-based Vaxine's COVAX-19 vaccine, the company said in a press release. By using Microsoft's computational and artificial intelligence technologies to accelerate its vaccine development, Vaxine will be able to cut processes down to just weeks. Microsoft's AI and Azure cloud capabilities will accelerate clinical testing of the vaccine and real-time data analyzation.
The increase in influenza could cause delays in coronavirus testing, which could make it easier for the coronavirus to spread, experts told the New York Times. Doctors will now need to test for both the flu virus and coronavirus as they share similar symptoms to properly diagnose patients, which could cause supply shortages, the Times said. To help, some manufacturers have been making dual-tests that can distinguish between the flu and coronavirus, but these tests can be expensive and are expected to only serve a small portion of the market.
Kentucky Fried Chicken is pressing pause on its famous "finger-lickin' good" slogan as it looks to prevent the spread of the coronavirus. The slogan, which is now seen as risky behavior during the pandemic, was erased in a YouTube video, which ended by saying, "That thing we always say? Ignore it. For now." KFC said it will bring back the slogan it has been using for 60 years when the time is right.
Papa John's saw its pizza and other food sales increase by 24.2% in August in North American compared to the same time last year as consumers shift to takeout orders during the coronavirus pandemic. Internationally the pizza chain also fared well, reporting a 23.3% boost in sales compared to the same timeframe in 2019. "Papa John's sales, driven by product innovation, remained strong in August. As we have added new customers throughout 2020, our customer satisfaction and brand affinity scores also continue rising," Rob Lynch, president and CEO at Papa John's, said in a statement.
Best Buy released its fiscal 2021 Q2 earnings on Tuesday, reporting an enterprise comparable sales increase of 5.8% and domestic comparable online sales increase of 242%, compared to the second quarter of fiscal 2020. "Products that help people work, learn, connect and cook at home, like computing, appliances and tablets, were the largest drivers of our sales growth for the quarter," Corie Barry, Best Buy CEO, said in a statement. "Trends across most categories and services improved materially throughout Q2 as we opened our stores more broadly for shopping, especially categories like large appliances and home theater that benefit from more experiential shopping."
FEMA might no longer pay for the reimbursement of personal protective equipment and supplies used to fight COVID-19, The Hill reported. During the pandemic, FEMA was paying 75% of state and local governments' costs of PPE and disinfectants, but according to state and municipal leaders, that agreement may soon end, The Hill said. The costs would now burden these governments at a time when they can least afford it, the National Governors Association, National Conference of State Legislatures and other groups wrote in a letter Tuesday to FEMA Administrator Pete Gaynor. While the reimbursement halt has not been made official, state officials have been warned that it could be coming.
Merck's experimental antiviral pill for the treatment of COVID-19 may have the potential to surge ahead of other drug developer rivals as mid-stage studies showing promise for the therapy that could come as early as this week, Bloomberg reported. With the news of the results on the way, there is the possibility that the medication could make it to market before the end of 2020, Bloomberg said.
The number of positive coronavirus cases has reached over 23.7 million worldwide, with over 815,000 COVID-19 deaths, according to Johns Hopkins University. The U.S. has reported over 5.7 million positive cases of the coronavirus, with over 177,000 COVID-19 deaths. The U.S. still leads the world in coronavirus cases and deaths, followed by Brazil, which has over 3.6 million confirmed coronavirus cases and over 115,000 COVID-19 related deaths.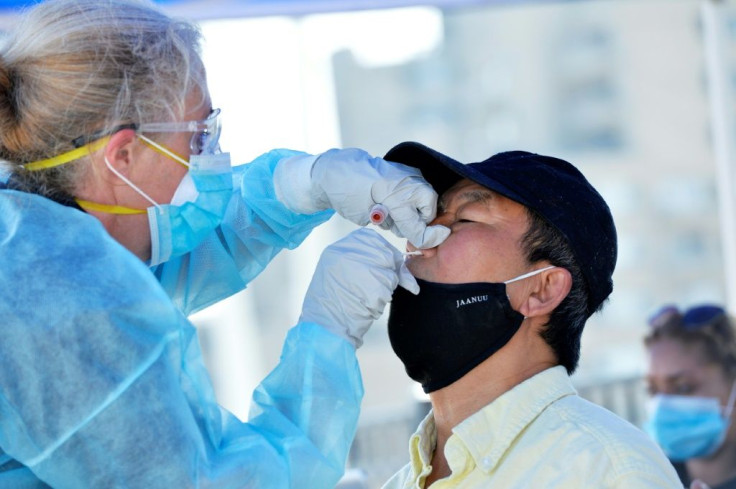 © Copyright IBTimes 2023. All rights reserved.