Apple Awarded $1.05 Billion From Samsung By Jury In Patent-Infringement Lawsuit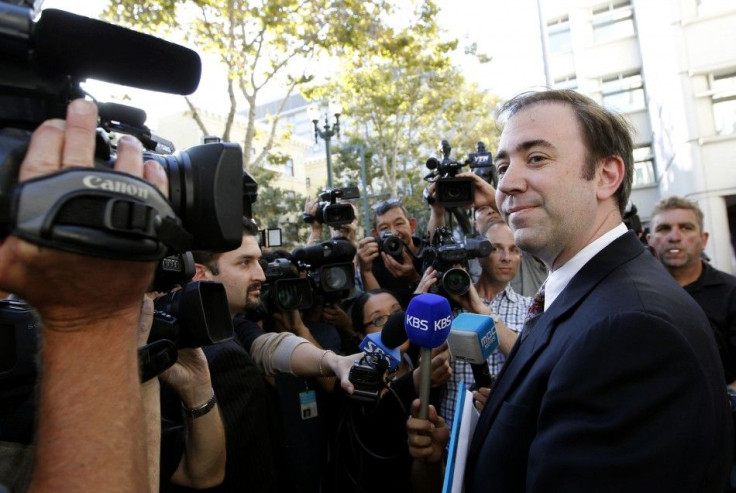 In an epic $1.05 billion verdict Friday in the widely watched intellectual-property case between Apple Inc. (Nasdaq: AAPL) and Samsung Electronics Co. Ltd. (Korea: 005930), a nine-member jury in California decided for the American Apple and against the South Korean Samsung on six of seven patent-infringement claims centered on mobile devices, according to Bloomberg News.
The earlier-than-expected verdict in the Apple Inc. v. Samsung Electronics Co. Ltd. et al. case heard by the U.S. District Court for the Northern District of California concludes -- at least until appeals are filed -- one of a number of intellectual-property lawsuits between the two high-technology giants filed in jurisdictions around the world. The companies have also sued each other in Australia, South Korea, and the U.K., Bloomberg noted.
In fact, a South Korean court found on Friday that both companies shared blame, as it ordered Samsung to stop selling 10 products, including its Galaxy S II phone, and Apple to stop selling four products, including its iPhone 4, according to Reuters.
Meanwhile, several tech sites, such as The Verge and CNET, live-blogged the hearing on the Apple-Samsung verdict in San Jose, Calif., where the main event between the tech heavyweights was conducted.
According to their accounts of the jury's verdict, virtually all of the Samsung's devices at issue in the case have been found to infringe on Apple's patents.
Samsung devices found to violate Apple's patents on user-interface design are the Continuum, Droid Charge, Exhibit 4G, Galaxy Ace, Prevail, S 4G, S II, Galaxy Tab, The Gem, Indulge, Infuse 4G, Mesmerie, Nexus S 4G, Replenish, and Vibran, according to Gizmodo.
Furthermore, the jury found other Samsung devices violated Apple's "front trade dress," meaning they look enough like Apple products to be mistaken for them. The offending Samsung devices are the Fascinate, Galaxy S, S 4G, S 2 ATT, S2 i9100, S2 Tmobile, S 2 Epic 4G touch, Skyrocket, Showcase, Infuse 4G, Mesmerize, and Vibrant.
What's more, CNET's analysis of the ruling notes that the jury found that Samsung willfully infringed on the patents. Because the infringement was ruled as intentional, rather than as accidental, it resulted in a much bigger payout for Apple.
In this case, it means a payout of $1,051,855,000. Originally, The Verge explained, Apple was looking for $2.5 billion in damages, but nobody can argue the money it has been awarded is insignificant.
By way of context, that's about one-quarter of Samsung's profit last year, according to Gizmodo. That makes the ruling a huge chunk of change for Samsung.
In the countersuit to Apple's original charges, jurors found that absolutely none of Apple's devices violated Samsung's patents. That makes this court hearing a huge win for Apple and its legal team.
In April of last year, Apple sued Samsung in the U.S., alleging that many Samsung products including the Galaxy Tab and Nexus S 4 willfully infringed on Apple's patents. Shortly afterward, Samsung countersued Apple in the U.S. Friday's verdict concludes both of these lawsuits, absent appeals.
While the damages payable to Apple appear incredibly high, remember that it's almost guaranteed that Samsung will appeal the decision. That could be good -- well, better -- news for Samsung's bottom line, but bad news for tech fans who just want an end to drawn-out patent wars.
Samsung released the following statement to CNET and other news outlets following the trial: "Today's verdict should not be viewed as a win for Apple, but as a loss for the American consumer. It will lead to fewer choices, less innovation, and potentially higher prices. It is unfortunate that patent law can be manipulated to give one company a monopoly over rectangles with rounded corners, or technology that is being improved every day by Samsung and other companies. Consumers have the right to choices, and they know what they are buying when they purchase Samsung products. This is not the final word in this case or in battles being waged in courts and tribunals around the world, some of which have already rejected many of Apple's claims. Samsung will continue to innovate and offer choices for the consumer."
© Copyright IBTimes 2023. All rights reserved.
FOLLOW MORE IBT NEWS ON THE BELOW CHANNELS