Apple IOS 7 Release Date: Golden Master Build Seeded Ahead Of Sept. 18 Launch, Developers Asked To Submit Apps For Review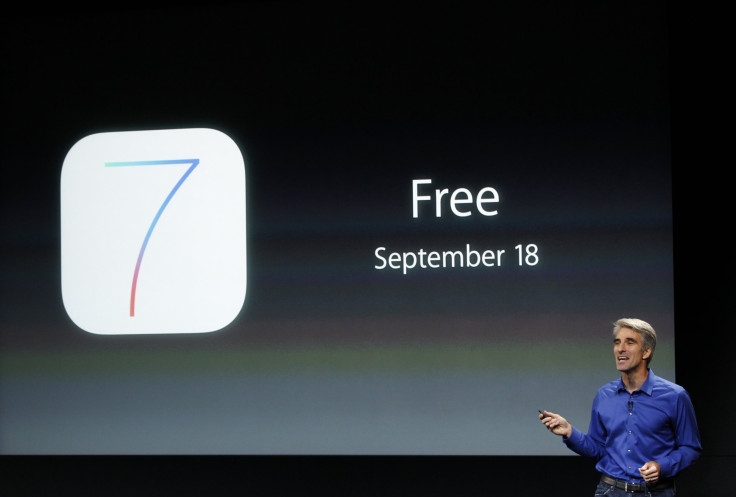 Following Tuesday's announcement that the iOS 7 will be released to the public on Sept. 18, Apple (NASDAQ:AAPL) also seeded the golden master, or GM, version of the new mobile operating system to its registered developers.
The GM version of iOS 7, with the build number "11A465," represents the final version of the OS that will be released to users next week for installation on existing devices. The GM build is currently available to developers through Apple's dev center.
"This is a pre-release version of iOS 7 GM seed for iPhone, iPad and iPod touch. Devices updated to iOS 7 GM seed cannot be restored to earlier versions of iOS," a company statement said.
The iOS 7 GM version is currently available for the following devices:
iPad 4 (Model A1458)
iPad 4 (Model A1459)
iPad 4 (Model A1460)
iPad mini (Model A1432)
iPad mini (Model A1454)
iPad mini (Model A1455)
iPad Wi-Fi (3rd generation)
iPad Wi-Fi + Cellular (Model for AT&T)
iPad Wi-Fi + Cellular (Model for Verizon)
iPad 2 Wi-Fi (Rev A)
iPad 2 Wi-Fi
iPad 2 Wi-Fi + 3G (GSM)
iPad 2 Wi-Fi + 3G (CDMA)
iPhone 5 (Model A1428)
iPhone 5 (Model A1429)
iPhone 4S
iPhone 4 (GSM Rev A)
iPhone 4 (GSM)
iPhone 4 (CDMA)
iPod touch (5th generation)
The revamped iOS 7, which will come pre-installed on the iPhone 5s and the iPhone 5c on Sept. 20, will support the new 64-bit technology used in the iPhone 5s. The OS has been developed to complement the flagship smartphone's new features such as Touch ID fingerprint sensor and new camera capabilities, including automatic image stabilization, Burst Mode and Slo-Mo 120 fps video capturing.
"iOS 7 is completely redesigned with an entirely new user interface and over 200 new features, so it's like getting a brand new device, but one that will still be instantly familiar to our users," Craig Federighi, Apple's senior vice president of software engineering, was quoted by MacRumors as saying.
"Next month we'll be shipping our 700 millionth iOS device, and we're excited about what our hundreds of thousands of iOS developers are doing to bring great new features to their apps."
The iOS 7 GM build comes with a set of changes made to the beta 6 of the firmware. The iOS 7 now includes new ringtones and alert sounds in addition to old ones. There is also a new unlocking sound, a new charge sound and a new Siri mic sound. In addition, there are also 34 new Apple wallpapers added to the iOS 7.
Meanwhile, Apple also has sent an email to developers, requesting them to submit their iOS 7-compatible apps for review.
"iOS 7 will soon be in the hands of hundreds of millions of customers. Reimagine your app's interface with the clarity, translucency and depth of iOS 7. Integrate APIs for AirDrop, multitasking, games, and camera, as well as new APIs that take advantage of the powerful new capabilities of iPhone 5s," said the email, obtained by Venture Beat.
"To prepare your apps for the App Store, download the GM seed of iOS 7 and Xcode 5, test, and optimize for iOS 7. Submit your apps today."
© Copyright IBTimes 2023. All rights reserved.