Apple iOS 8 Features Make Several Jailbreak Tweaks Obsolete With Custom Keyboards, Interactive Notifications And Touch ID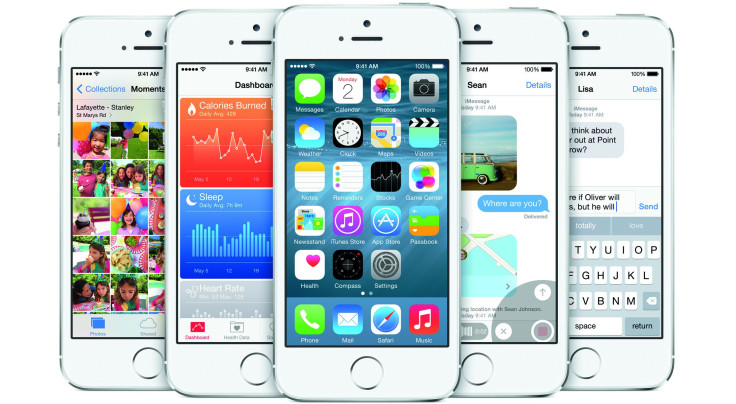 More Apple-device users will be able to tap more of Apple's (NASDAQ:AAPL) new operating system thanks to features that will make the process of jailbreaking (removing software limitations on the OS) unnecessary.
The tech titan introduced its new operating system, iOS 8, at the 2014 Worldwide Developers Conference (WWDC) keynote on Monday, noting new features and customization options to Apple's flagship mobile operating system, which powers the iPhone 5S, iPad Air and a number of iOS devices. For the average Apple user, these features are a fresh addition to the mobile ecosystem of iOS, but a number of iOS users are already familiar with things like custom keyboards, interactive notifications and a slew of features previously available only by jailbreaking the iOS device. Take a closer look at some jailbreak tweaks and modifications that have been made obsolete with iOS 8.
Interactive Notifications
Interactive Notifications have existed in some form through tweaks and mods on a jailbroken iOS device. Tweaks such as BiteSMS, Auki and Couria added the ability to quick-reply to text messages as early as 2009. But Apple appears to go much further with Interactive Notifications in iOS 8. Users can not only quickly reply to text messages but also interact with calendar notifications, emails and even third-party applications, rendering these quick-reply modifications obsolete.
Custom Keyboards
The introduction of customizable keyboard support doesn't make custom keyboards available on jailbroken iOS devices entirely obsolete; it merely changes how developers go about introducing them to iOS. Instead of relying primarily on jailbreak users to download custom iOS keyboards, developers now have an official channel to get their custom keyboards noticed. Developers behind custom keyboards such as Swype and SwiftKey have already started working on bringing their products to iOS, according to Re/code.
Touch ID
When Apple introduced Touch ID to iOS 7 in 2013, the ideas developers came up with for its potential uses were numerous. However, those dreams were temporarily halted when the Cupertino, California, technology giant announced that Touch ID would initially be accessible only by iOS and official Apple apps such as iTunes and the App Store. Undeterred, developers turned to the jailbreak community to bring their creations to life, introducing Touch ID mods that lock individual apps such as Bioprotect and password auto-filling tweaks including iTouchSecure.
While app-locking apps like BioProtect don't have a full replacement on iOS 8, the introduction of auto-filling app login information with Touch ID in iOS 8 has eliminated the need for autofill apps such as iTouchSecure.
Siri
Taking a page from Google Inc.'s (NASDAQ:GOOG) "Ok Google" voice prompt for search, Apple introduced its own voice command implementation through "Hey, Siri."
Similar functionality came to iOS two weeks before the release of iOS 8 through a jailbreak tweak called OkSiri. But its usefulness was short-lived after Apple's iOS 8 announcements at WWDC.
"D--n, my tweak lasted all of two weeks before being obsolete! (I am totally ok with this)," jailbreak developer and Reddit user Ppplusplus said after Apple's announcement of the new Siri feature.
Future of Jailbreak Tweaks
The introduction of new iOS versions seems to make several jailbreak tweaks and mods obsolete. Many tweaks and mods such as SBSettings have often found their way into iOS in some shape or form in features such as iOS 7's Control Center. But that hasn't stopped jailbreak developers from coming up with new ways to expand the functionality of iOS 8.
Should an iOS 8 jailbreak be found and released to the public in the future, it's highly likely that developers will continue to come up with new ways for iOS users to interact with their devices.
If the history of the relationship of jailbreak tweaks and iOS is any indicator, maybe we'll see some iOS 8 jailbreak tweaks in some shape or form in a future version of iOS.
© Copyright IBTimes 2023. All rights reserved.