Apple iPad Mini 2 Features Rumors: Retina Display On The Menu As Development Continues In Asia Toward 2013 Release Date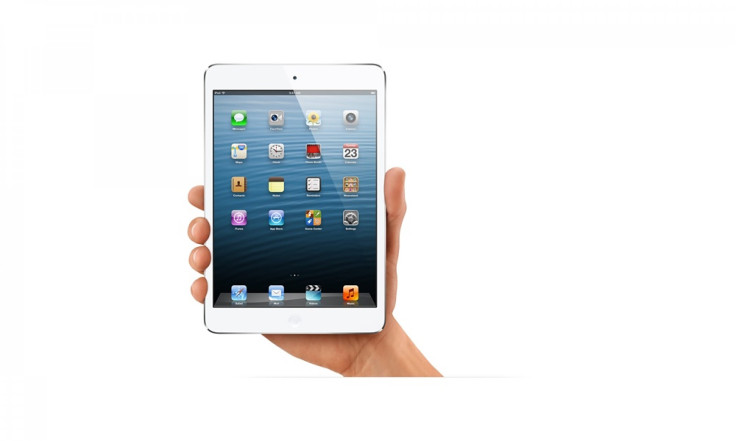 The iPad Mini was a rare miss for Apple: Even though the company's first 7.9-inch tablet is beautifully-built and provides a smooth and functional interface, the experience itself was dulled by the rather lackluster non-Retina display.
According to a new report from Digitimes released Thursday, the focal point of Apple's second-generation iPad Mini, which is expected to launch within the next year, will be an enhanced display resolution. Digitimes could not confirm that the display will be a "Retina" -- where the individual pixels cannot be discerned with the naked eye at any distance -- but all signs point to this being the case.
"The sources have yet to specify whether the device will use Apple's Retina display technology to enhance resolution, but market observers said it is highly likely based on the development of past Apple products such as the iPhone and 9.7-inch iPad series," Digitimes wrote.
Apple's first-generation iPad Mini features a 1024 x 768 display, the same pixel resolution as the 9.7-inch iPad 2, but the smaller frame creates a slightly higher pixel density of 163 ppi. If Apple doubles the display resolution in the iPad Mini 2 to make it a Retina display, the display will have a 2058 x 1536 resolution at a more-pleasing density of 326 ppi. For better reference, the iPad 3 and 4 have display densities of 264 ppi, and the iPhone 5 has 326 ppi.
DigiTimes has a mixed track record with accuracy, but it is clear the company has sources inside of Apple's supply chains. On the one hand, the company correctly predicted last December that Apple would launch two new iPads in 2012, including an iPad with a 7.85-inch display called "iPad Mini" in Q4 2012, and that's exactly what Apple did. On the other hand, DigiTimes incorrectly reported that Apple chose a Samsung Exynos processor to power its iPhone 5, when in fact Apple went with its own custom-built A6. It's always important to read Digitimes with a grain of salt.
However, Digitimes' latest report lines up with other recent reports about the iPad Mini sequel. On Nov. 8, Chinese news site DoNews reported on Apple's tapping of Taiwan-based AU Optronics to begin development on a Retina display for its 7.9-inch iPad Mini.
According to the report, AU Optronics will soon begin mass producing 7.9-inch displays with the same 2048 x 1536 resolution of the third- and fourth-generation iPad with Retina display.
AU Optronics specializes in in-cell panel technology, which is the new process Apple has started using for all its desktop and mobile computer displays. In contrast to the on-cell display processes Apple used in prior iPhones, in-cell displays effectively remove a layer between the multi-touch screen and LCD display, making the screen thinner, stronger, more resistant to scratching and significantly less reflective of light sources -- all heavily desired features in any smartphone or tablet display. Apple's latest iPhone and Mac models, including the iPhone 5 and the 21-inch and 27-inch iMacs, feature such display processes.
"Compared to in-cell technology, the conventional technologies have an additional sensing glass, which not only increases the overall thickness of the LCD, but which also adds an extra lamination process step, translating to increased cost and relatively lower yield and reduced transmittance," AUO says on its website. "Compared to the traditional resistive touch control, in-cell voltage sensing not only has the above advantages, but also is superior in that its sensitivity is less subject to environment changes, no calibration mechanism is required, and it is capable of supporting multiple-point touch control."
AUO's plans to develop a Retina display for the next iPad Mini were also detailed in a separate report from the Middle East North Africa Financial Network (MENAFN) on Nov. 7.
"With the disclosure of the specifications for the next-generation iPad Mini by Apple Inc., AU Optronics Corp. has been developing a retina panel with resolution as high as 497 ppi," reported the SinoCast Daily Business Beat via MENAFN. "It is said that ultrahigh resolution cannot be developed without the technology of indium gallium zinc oxigo (IGZO), and the technology of Gate IC on array (GOA) is also indispensable since the next-generation iPad Mini will have an ultra-narrow frame. The technology of GOA helps save the room of IC on the rim and narrow the frame of the screen to the largest extent."
The most interesting part to note from SinoCasts' report is Apple's acknowledgement that it wants IZGO displays for its iPad Mini 2. Back in July, Gotta Be Mobile believed the first-generation iPad Mini would feature an IZGO display made by Sharp Inc., which can be fitted for extremely thin hardware devices and can reportedly handle pixel densities above 330 ppi. IZGO displays are also said to feature better brightness than most LCD screens on the market, but the important part of the statement is that Apple sought the displays to be made by Sharp: A new note from Apple analyst Horace Dediu, dated Nov. 7, discovered that Apple spent $2.3 billion for "product tooling, manufacturing process equipment and infrastructure." Dediu believes this massive amount of money was used to bail out Sharp, which was reportedly in dire financial straits earlier in the year.
"Sharp is a key supplier of screens to Apple but is also in financial distress," Dediu wrote in his analysis. "Sharp has also been the object of an intended investment by Foxconn [Hon Hai]. That deal fell through as Sharp's finances deteriorated. My guess is that these attempts to shore up Sharp are directed by Apple to ensure both continuity of supply and a balanced supplier base (offsetting Samsung, another supplier.) If Sharp were to enter into some form of bankruptcy, the key plant(s) used in producing screens for Apple might be 'up for grabs' by creditors and they might be taken off-line, jeopardizing Apple's production capacity, irrespective of contractual obligations."
Either way, it's smart of Apple to invest in solid display technology, and it's also smart to spread the wealth among several companies to avoid any potential problems that one of them might have meeting immediate demand. Apple's decision to invest substantially in display technologies makes a great deal of sense, given how the company has, at numerous times, pointed to display shortages and manufacturing issues as problems in meeting intense customer demand worldwide for its mobile family of products, which only seems to grow bigger and more popular each year.
Apple's first-generation iPad Mini, launched Nov. 2, features the same non-Retina resolution as the iPad 2 (1024 x 768), weighs just 0.68 pounds -- as light as a notepad -- and measures just 7.2 mm thick -- roughly the thinness of a pencil. The tablet runs on iOS 6 and is compatible with the new Lightning dock connector, and specific models also support the high-speed LTE network. Apple starts selling the Wi-Fi-only model at $329, while the cellular-capable models start selling at $459.
© Copyright IBTimes 2023. All rights reserved.