Apple iPad Mini Release Date Arrives: Smaller Lines Form For Smaller iPad On Launch Day Amid Price Controversy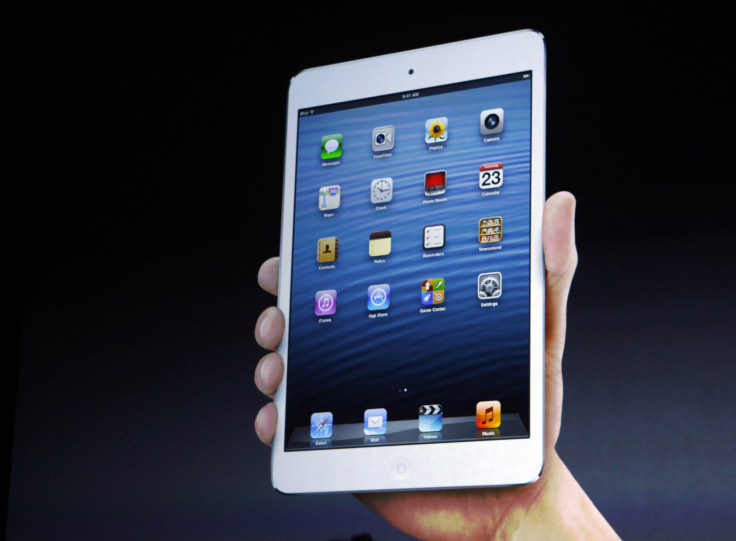 It's finally here. Apple's (Nasdaq: AAPL) "iPad Mini," aimed at competing with rivals' smaller and more affordable tablets already on the market, was released on Friday. While customers typically line up hours if not days in advance for a new product launch from Apple, Friday's lines at Apple Stores around the country were reported significantly smaller than previous queues for the iPhone 5 in September and new iPad in March.
Some still camped out for hours prior to Apple's launch: In Australia, Patrick Li waited in line since 4:30 a.m. to buy his new 7.9-inch iPad Mini.
"It's light, easy to handle, and I'll use it to read books," Li told Reuters. "It's better than the original iPad."
There are many likely reasons for Friday's smaller store lines: In New York City, many are still powerless from Superstorm Sandy and lack ready transportation to the Apple Stores, many of which are located directly off main subway lines that are still closed.
Elsewhere, however, it's possible that the iPad Mini's price had something to do with it: Starting at $329, the iPad Mini is $100 more expensive than its tablet rivals built by Google (NasdaqL GOOG) and Amazon.com (Nasdaq: AMZN) and only about $150 less expensive than the iPad 4, which is significantly faster, more powerful and more beautiful (hint: Retina Display) than the iPad Mini.
However, in many early reviews of the iPad Mini, several critics hailed the tablet and defended Apple's pricing strategy.
"I am a firm believer in 'you get what you pay for,'" said Jim Dalrymple of The Loop. "The iPad mini is a perfect example of that. If you want to save $50 and buy a cheap-ass tablet, go ahead. If you want quality the iPad mini will be waiting for you when you come to your senses."
Gene Munster, an analyst with Piper Jaffray, believes Apple, of Cupertino, Calif., will sell between 1 and 1.5 million iPad Minis this weekend, far below the 3 million third-generation iPads sold in March in its debut weekend.
"The reason we expect fewer iPad minis compared to the 3rd Gen is because of the lack of the wireless option and newness of the smaller form factor for consumers," Munster said in a note to clients on Friday. "We believe that over time that will change."
iPad Mini: Worth The Price Of Admission?
"So what can you do with an iPad Mini that you can't do with an iPad?" asked Phil Schiller, Apple's senior VP of marketing, at the company's iPad Mini unveiling event on Oct. 23. "You can hold it with one hand."
After explaining everything the iPad Mini can do, Schiller announced that Apple planned to start selling a Wi-Fi version of the new device for $329, while an iPad with "cellular" capabilities started at the $459 price point.
Many consumers and fans were extremely disappointed with Apple's asking price for the iPad Mini; in fact, company shares dropped $8 the very instant Apple announced the price of the iPad Mini.
The $329 tag shouldn't have been too much a surprise -- Apple always sells its iOS and Mac products at luxury prices -- and they still manage to be bestsellers in their respective categories -- but many hoped Apple would price the tablet somewhere between $249 and $299 to stay competitive with the growing number of tablet rivals out there.
Schiller defended the price of the iPad Mini's price to Reuters after Apple's media event ended.
"The iPad is far and away the most successful product in its category. The most affordable product we've made so far was $399, and people were choosing that over those devices," Schiller said. "And now you can get a device that's even more affordable at $329 in this great new form, and I think a lot of customers are going to be very excited about that."
For the Wi-Fi-only models, Apple sells 16GB of storage for $329, 32GB for $429 and 64GB for $529. For users that want to leverage the cellular networks as well, Apple sells those separate models starting at $459 for 16GB, $559 for 32GB and $659 for 64GB.
What's slightly ridiculous about this pricing is that the fourth-generation iPad with Retina Display, an absolute powerhouse, starts at $499, which is just $70 more than the 32GB Wi-Fi iPad Mini, or $40 more than the 16GB cellular iPad Mini. In other words, for the same amount of space, you could shell out an extra $40 to buy a full-sized iPad, which is leagues beyond the iPad Mini in terms of speed, power and display resolution.
While the iPad Mini is certainly cute and portable, it's likely that customers aren't crazy enough about the features to line up far in advance on launch day; if anything, they may want to wait until Apple's Black Friday sales, or even until Apple improves upon the iPad Mini's infrastructure.
The iPad Mini is powered by Apple's dual-core A5 chip, which was "fast" in 2011 but sluggish now compared to the A5X chip, A6 chip and all-new A6X chip introduced over the past year. The iPad Mini doesn't need a lot of power to function -- the iPad 2 manages just fine with the A5 chip -- but the specs of the iPad 2 simply don't compare to where technology is currently.
The iPad Mini features the same 1024 x 768 resolution of the iPad 2 (which means no Retina Display), weighs just 0.68 pounds -- as light as a notepad -- and measures just 7.2 mm thick -- roughly the thinness of a pencil.
Besides the difference in size, the iPad Mini can do most things the iPad 4 can do. It still runs on iOS 6, Apple's latest mobile operating system, and is compatible with the new Lightning dock connector. However, even though Apple sells "cellular" models of the iPad Mini, this new smaller tablet does not support the high-speed LTE network.
Initial pre-orders for the iPad Mini sold out quickly, and the next batch of iPad Minis is expected to deliver in two weeks.
© Copyright IBTimes 2023. All rights reserved.
FOLLOW MORE IBT NEWS ON THE BELOW CHANNELS