Apple iPhone 5 Release Date Approaches: Of Verizon, AT&T, Or Sprint, Which Is The Best Carrier For LTE Coverage?
ANALYSIS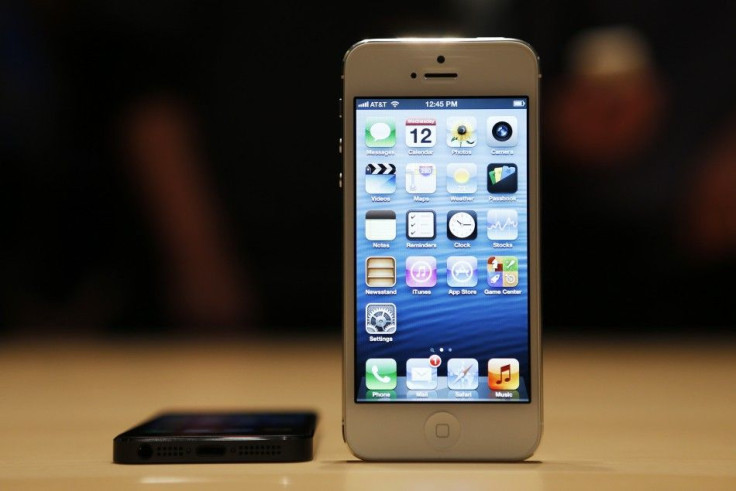 Apple's first batch of pre-orders for the new iPhone 5 came and went on Friday, but even though the online Apple Store, AT&T stores and Verizon's retail stores are sold out of their initial pre-order stock, there are still thousands of customers dying to get their hands on Apple's latest smartphone innovation. Yet, one thing customers want to know about the iPhone 5 before its release date next Friday is which carrier to choose. Which carrier has the best overall coverage? Which carrier has the best LTE coverage?
The three US carriers that support LTE - AT&T, Verizon Wireless, and Sprint - are promising their customers very different experiences, and unfortunately for iPhone customers, each iPhone 5 is custom-configured to the LTE radio bands of a particular carrier, which means customers won't be able to buy an AT&T iPhone 5 and use Verizon's LTE network. Even unlocked iPhone 5s will only be compatible with specific networks, which essentially forces customers to stay in their lanes more than ever.
Until Apple, or any company focused on wireless technologies, can figure out a way to build a phone that can dynamically switch frequencies to any LTE network, customers have a big decision to make when they buy their iPhone 5.
Apple offers its own useful guide on how to "find the best iPhone plan for you," comparing all of the possible plan combinations a customer can buy. The plans range from $59/month on an individual plan from AT&T, to $190/month for a voice, text and data bundle from Verizon Wireless, which only comes with 20GB of data each month.
While money is definitely a factor in choosing a plan for your iPhone 5, there are several other points of each carrier's plans and networks that should be considered.
Verizon Wireless: If you want the best 3G or 4G LTE coverage in the US bar-none, the only choice for these users is Verizon Wireless. While AT&T has activated more towers recently, you're more likely to achieve a connection in the countryside with Verizon than any of the other two carriers.
Even though Verizon offers plans relatively more expensive than Sprint or AT&T, Verizon not only has the best 3G and 4G LTE coverage in the country, but according to Gotta Be Mobile, Verizon also has "the highest network quality rating and the highest customer service ratings for a carrier from J.D. Power and Associates."
Any new customers to Verizon Wireless, if they switched from another carrier or they're first-time smartphone purchasers, are required to sign up for the company's "Share Everything Data plan," which offers unlimited text and voice and shares the data package with all users in the plan. For current Verizon customers, the company will allow them to upgrade to iPhone 5 and keep their unlimited data, but only if they pay full price. For those customers who don't feel comfortable shelling out that much money, they can also wait to upgrade from their current smartphone keeping Verizon's old tiered plan. New "Share Everything" plans, which replace Verizon's Single-Line plans and Family SharePlan with data allotment, unlimited voice minutes and unlimited messaging, range from $80 to $190 a month.
To get an idea of how fast LTE is on Verizon's network versus AT&T's LTE network, watch this speed-test video of two new iPads running those different networks.
Sprint: Now that AT&T no longer includes unlimited data in their new plans, the only way new customers can enjoy unlimited data is to buy an iPhone 5 the Sprint network.
Sprint is still the only carrier still offering unlimited plans, which makes it an extremely desirable choice for those wanting an open data plan at a very decent price, especially since other carriers are restricting features that use data over cellular networks like FaceTime.
The downside to signing up with Sprint is that their 4G LTE coverage is just rolling out, and their new collection of new 4G LTE markets, which will go live over the next few months, is nothing close to the coverage one will receive with Verizon. Unfortunately, even the 3G network on Sprint is mighty slow.
Yet, the best part of Sprint's plan, besides unlimited data, is the price. With only three plans to choose from, customers can spend $79 to $109 a month with Sprint, and they could still be saving over $80 a month by signing with this carrier over, say, Verizon.
AT&T: For those lucky customers that were grandfathered in by AT&T's old, unlimited plans, AT&T is the most attractive carrier because of its combination of speed, coverage and price. Also, for those who love to simultaneously talk on the phone and surf the Web, AT&T is the only choice as the only carrier that relies on GSM.
Customers with grandfathered-in unlimited plans get to enjoy unlimited data like Sprint and enjoy network coverage that rivals Verizon but definitely beats that carrier's prices. Even though AT&T's LTE coverage in the US isn't close to Verizon's, when Verizon's LTE is not an option, AT&T's 4G HSPA+ network is a significantly faster option. Even better, many areas covered by AT&T's 4G HSPA+ are only covered by Verizon's slower 3G network.
Sticking with AT&T is the best option for old customers, but new customers will get lower price points that are slightly easier to digest than Verizon's. Individual plans range from $59 to $139 a month, family plans range from $89 to $199 a month, and AT&T's new Mobile Share plans range from $85 to $230 a month. However, that highest $230 a month price point for unlimited minutes, messages, and 20GB of data, is $40/month more expensive than Verizon's same plan. In other words, AT&T's prices range higher, but they range lower, too.
Conclusion: All of these carriers are vastly different from one another, and there are plenty of reasons for customers to choose any of these three LTE networks.
While Sprint's new to the LTE game and has relatively poor 3G coverage, the company's low prices and unlimited data plans can be very appealing to customers that don't care much about the speed of LTE, but would rather just own the iPhone 5 itself.
AT&T is no-brainer for current customers of the carrier with grandfathered plans, and while the company's prices can go pretty low like Sprint's, customers will care more about AT&T's superior network coverage. Even AT&T's LTE isn't as broad or fast as Verizon's, 4G HSPA+ is one hell of a network to fall back on.
And of course, Verizon Wireless is the clear choice for customers that don't care about the price, but simply want the best, most reliable coverage on the nation's fastest networks.
There is obviously no clear winner here, but we want to hear from you. If you're a US customer that plans to buy an iPhone 5, which carrier do you plan on going with? AT&T, Sprint or Verizon Wireless? Why? Shoot us an email or leave a comment in the section below.
Apple's new iPhone 5 features a taller and thinner build from previous models, including a new 4-inch Retina Display with a 16:9 ratio for watching widescreen videos in HD. The iPhone 5 also comes with new smaller dock connector, LTE support, an improved camera infrastructure, as well as the new quad-core A6 chip, which runs twice as fast as the A5 chip that runs the iPad 2, iPhone 4S and Apple TV.
© Copyright IBTimes 2022. All rights reserved.
FOLLOW MORE IBT NEWS ON THE BELOW CHANNELS