Apple Sets iPhone Event on Oct.4; No Details Given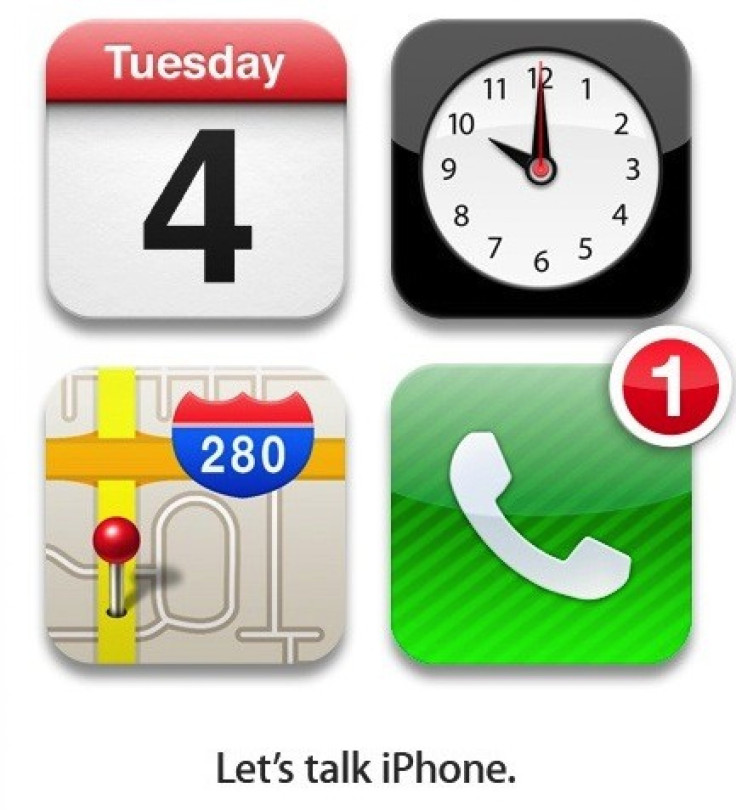 Apple invited the tech press to an iPhone-related event scheduled for Oct.4, with the simple email tag Let's talk iPhone.
It's unclear exactly what Apple will announce and if this event will see the release of the much-anticipated iPhone5. The event on Tuesday is scheduled to start at 10 a.m. PT and will be held at the company's headquarters in Cupertino, Calif.
The iPhone 5 rumor mill has been churning since the start of the year, with some saying that Apple would release only one iPhone -- the iPhone 5 -- and others saying there would two iPhones, including a cheaper version of the iPhone 4. Others say Apple will release only a cheaper version of the iPhone 4 -- the iPhone 4S, which is expected to serve as entry level model -- and the iPhone 5 would come only next year.
Some speculate that Apple will have three models to address the low, mid and high-end markets. Theories about how a cheaper iPhone will fit into Apple's global strategy have flourished.
Al Gore, a board member at Apple, also hinted that Apple might release more than one iPhone.
But a Wall Street analyst isn't buying it.
We don't expect a second, dramatically different iPhone to accompany this as we don't think Apple needs to have three models in the market to address the high end, mid-tier and low end since the iPhone 4 (with memory lowered to 8 GB) will drop to $99 and effectively attack those markets, Wedge Partners analyst Brian Blair wrote in a note to clients.
The analyst questioned why Apple would bump up only the processor specs of iPhone 4 in addition to a newly designed iPhone 5 if the goal was to sell it into the pre-paid market at a lower cost.
A 4S would simply cost more and a 4S itself wouldn't create a mid-tier market unless it was priced at $99 and the iPhone 4 went to $49 with the new iPhone at $199. We see this scenario as unlikely, Blair said.
The idea of the new phone being called '4S' with the same casing as the 4 actually makes sense. However, as that would follow the path of the 3G to 3GS transition, the analyst don't believe Apple would release a 4S along with a 5.
On the other hand, Deutsche Bank analyst Chris Whitmore said: We continue to expect 2 new iPhone SKUs (a mid-range iPhone and iPhone 5) to be introduced at Apple's upcoming event.
Specifically, we expect an iPhone 5 with aluminum uni-body construction, better camera and slightly larger screen size as well as a cost-down iPhone 4, or iPhone 4S, Whitmore wrote.
The analyst said iPhone 4S should help Apple drive greater penetration into the mid-range smart-phone market and drastically expand Apple's addressable market. He also said that iPhone 4S is nothing but an 8 GB iPod Touch with a radio frequency module.
Whitmore believes that Apple can produce an iPhone 4S at volume with a sub $150 bill-of-material cost, giving it flexibility to drive volume, margins and share.
An aggressive push into the mid-range will essentially double Apple's iPhone addressable market in the near term and position it for more share gains in the 700 million-plus unit smartphone market by 2014.
We believe Apple can achieve a BOM cost near ~$150 for a cost-reduced iPhone 4 (vs. our prior estimate of $165) aided by a favorable commodity environment and scale advantages. The lower BOM means Apple can aggressively price a mid-range iPhone to drive volume without sacrificing margins, Whitmore said.
Meanwhile, another Wall Street analyst expects three iPhone models would be on sale after the event.
We expect three iPhone models going forward: iPhone 5 (or 4S), iPhone 4, and a lower-priced 3GS targeted at pre-paid and emerging markets. We expect mid-October launches at carriers including Sprint, said Jefferies analyst Peter Misek said in a note to clients.
Will Apple release two phones or one? We should know in a week's time.
© Copyright IBTimes 2023. All rights reserved.