Apple v Samsung Case: Can A Product Be Too 'Apple-ish'?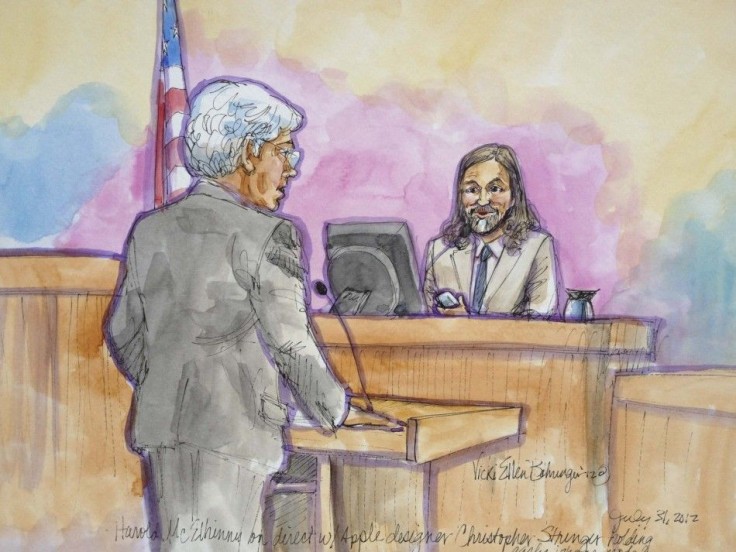 Consumers know when they're looking at a product with qualities that Apple Inc. (Nasdaq: AAPL) was the first to make popular: glassy graphics, rounded corners, brushed aluminum edges, the way software reacts to gestures on touchscreens.
What neither consumers nor legal experts know right now is whether or not those traits constitute intellectual property that Apple can sucessfully defend with a patent-infringement lawsuit.
A San Jose, Calif., federal jury is weighing exactly that question as it considers testimony this week in Apple's suit against Korea's Samsung Electronics Co. Ltd. (KRX: 005930). Specifically, jurors must decide whether companies can be prevented from creating a tablet or mobile phone that adopts Apple's design principles or what the plaintiff desribes as patented property developed at considerable economic risk.
Apple says Samsung ripped off its iPhone and iPad and is demanding $2.5 billion in compensation, making it by far the largest potential award given in a patent case.
But, "in some sense the big part of the case is not Apple's demands for damages but whether Samsung gets to sell its products," Mark A. Lemley, director of the Stanford Program in Law, Science, and Technology, told The Associated Press.
The outcome of the trial will also determine whether Samsung will be able to continue to sell its recently debuted Galaxy S3 phone in the United States. The company has already been told by the judge to stop delivering its Galaxy 10.1 computer tablet and its Nexus smartphone to the U.S. market pending the outcome of the trial.
The circus at the federal courthouse in San Jose might not be reaching O.J. Simpson-trial proportions, but the stakes are high enough to attract a legion of media and tech bloggers eager for a seat in the courtroom to dissect every moment of the showdown between the two titans of the mobile gadget market.
The second day of testimony and cross-examination will commence on Friday, but already observers have been treated to juicy tidbits of information, most notably from Apple's 17-year-veteran industrial designer Christopher Stringer.
He described Apple's "maniacal" design team as a dozen people crowded around a kitchen table as if they were working for a mom-and-pop business and not a 35-year-old tech giant with a half a trillion dollar market cap and $100 billion or so of spare cash. Apple's lawyers also unveiled some photos never seen in public before of earlier iPhone designs, including one with beveled rather than rounded corners.
The team, he said, was highly focused on the design of the product. And despite late CEO Steve Jobs' initial reservations about the iPhone, consumers have flocked to the product. And more than any technological advances brought forward by Apple, it's the look and feel of its products that serves as a primary draw. The demand gets diluted when competitors adopt what the company says are patented user interfaces.
If Apple wins this trial, it would open the way for targeting Google Inc.'s (Nasdaq: GOOG) Android operating system and any competitors who use it or otherwise get too close to the Apple feel.
With so much at stake, Samsung probably shouldn't be angering presiding U.S. District Judge Lucy Koh. But late on Tuesday the company appeared to do just that by presenting dismissed evidence to the press showing prototypes of the Samsung F700 that it claims was released a year earlier than the iPhone and that features some Apple-ish design principles, like rounded corners and a one-button face.
The company also wanted to show to the jury an early Apple prototype based on phone made by Sony Corporation (NYSE: SNE), suggesting that Apple has been doing what it accuses Samsung of doing: taking others' existing products and repurposing design elements that have proven to be widely accepted by consumers. Apple said the so-called Jony phone was basically a thought exercise.
The evidence was not allowed in court because it was submitted past deadline. In a trial brief, Samsung pointed to a 1998 case involving Goodyear Tire & Rubber Co. and Hercules Tire & Rubber Co., in which Goodyear claimed Hercules violated Goodyear's tire-tread design. But the court held that "although there are apparent similarities in the overall appearance of the designs, we affirm the conclusion that the trucker as ordinary observer would notice the differences in the designs and recognize that they are not colorably the same."
Samsung issued a statement Wednesday denying it had violated any court order because the evidence as well as the court trial brief was already publicly available.
"Contrary to the representations Apple's counsel made to this court, Samsung did not issue a general press release and more importantly, did not violate any court order or any legal or ethical standards," said John B. Quinn of Samsung's law firm Quinn Emanuel Urquhart & Sullivan LLP in a filing this morning, according to CNET.
The case is just one of 10 lawsuits Apple filed in different countries. Last week a British court issued a temporary stay that prevents Apple, for now, from having to publicly announce in advertisements that Samsung did not copy the iPad. The stay was issued after Apple lost its case against Samsung, accusing it of copying the iPad.
© Copyright IBTimes 2023. All rights reserved.