Apple Watch Day Brings No Lines, Thin Crowds To NYC Apple Stores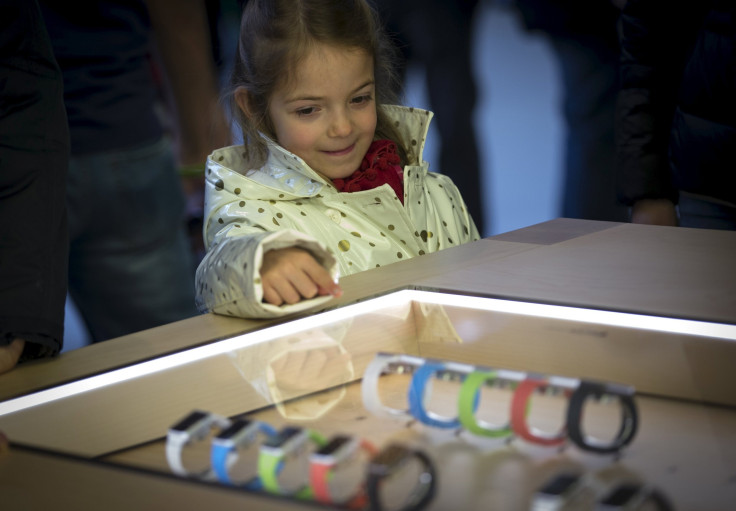 Victor Leung slept only four hours last night. A self-proclaimed Apple fanatic, the 17-year-old from Queens, New York, stayed up until 3 a.m. EDT to preorder the Apple Watch and simultaneously booked a 9:30 a.m. appointment to try it on at New York's flagship Apple Store on Fifth Avenue.
He was initially frustrated he could not choose an earlier time to try on the Watch -- the doors open at 9 a.m. Leung showed up at 7:30 a.m., expecting crowds like he had seen from previous launches. But when he arrived, he found no lines nor crowds -- just an awkward group of journalists, Apple employees and two other customers.
An Apple employee asked if Leung wanted to try on a Watch today and if so, did he need an appointment. Leung said he already had one for 9:30 a.m. The Apple employee said he could get him in at 9:15 a.m., securing him a place to be one of the first in line.
It's not something you would expect to hear and see when Apple gives the public a preview of a new product. In fact, across the city at the SoHo location, the store was quieter than it has been on mornings without product unveilings. Inside the store were mostly customers who needed helped with Apple products.
In fact, some customers who had turned up to the store were unaware of the Watch's release. Jahayra Munoz, 38, of Manhattan had come to the typically 24-hour Fifth Avenue location for a new iPhone, only to find she could not get in until 9 a.m.
"I'm just not interested in the watch. I'm not spending that money," Munoz said.
The test was not a disappointment for Leung. During his appointment, Leung kept one Watch on to get a feel of wearing it while toying with the screen of another. He said he is most looking forward to being able to use it for communication. "I'm most excited to use it now for voice calls and reading texts," Leung said.
Some casual customers, who had no problem getting through the door and navigating the shop were even convinced to buy the new product.
"It's a lot classier than I thought," Sean Sousae, 25, of the Upper East Side, said about the Apple Watch. Sousae said he was surprised and impressed by the clear picture on the screen and the quality of the bands.
At the SoHo location, Ryan Lee, 32, of Brooklyn, said he is most interested in the fitness tracking -- something he couldn't actually test in the appointment.
Dan Rosenbaum, 58 and also from Brooklyn, said he wanted some more time with the watch, but beyond what an appointment could fulfill.
"I thought the [interaction controls] were a little light in the demo, but I understand they're adjustable," said Rosenbaum.
Unlike the Apple fanatics -- which Sousae professes to be -- Sousae chose to wait on the watch.
"I didn't want to stay up until 3," Sousae said. "Of course I'm disappointed [the watch] is sold out. If I could buy one right now I would. But I can wait."
And it's not for the lack of interest in the Apple Watch; it's already sold out. Apple fans had instead flocked online. It doesn't matter how much you prepare: setting alarms, sleeping early or having several iPhones and iPads open to the Apple Store, something is bound to happen when millions of customers bombard Apple's servers simultaneously.
When the clock struck 12:01 a.m. on the West Coast, many customers visiting Apple's online store through a desktop browser were briefly greeted to a white landing page donning the message, "We'll be right back," instead of a "buy now" button. It was an improvement over iPhone 6 preorders from September, where many shoppers were staring at those words for almost two hours.
Customers who had their iPhones and iPads ready as a fallback found more success, aided with the help of Apple Pay. No forms to fill out, no card numbers to plug in: just a fingerprint scan that stood between their wallet and a launch-day Apple Watch. With stock dwindling in only a couple minutes, that streamlined experience proved essential for customers looking to get an edge over everyone else. And just like that, customers parted with hundreds of their hard-earned dollars before even a minute had passed.
© Copyright IBTimes 2023. All rights reserved.