Apple Watch Series 6 Could Feature Smoke, Carbon Monoxide Detectors
KEY POINTS
Apple has just trademarked the name "Apple Watch Series"
The new filing grants legal protection to the device's official naming convention
The filing also hints at potential features that will come in the future, including "smoke and carbon monoxide detectors"
Apple could include new gas sensors in the upcoming Apple Watch Series 6 models that would alert users of the presence of harmful gases in the environment.
A new trademark filing at the European Union Intellectual Property Office indicates that Apple's upcoming wearables may feature gas sensors, among others, Patently Apple reported. The new filing does not talk about such features but instead gives hints alluding to their inclusion in the upcoming device.
Per filing number 018295805, Apple has trademarked the name "Apple Watch Series." For years, the Cupertino tech giant has been using the name "Apple Watch Series" to determine what generation certain models belong to. For example, the company currently sells the fifth-gen Apple Watch Series 5 and third-gen Series 3 models.
The "Series" naming, however, hasn't been trademarked until now.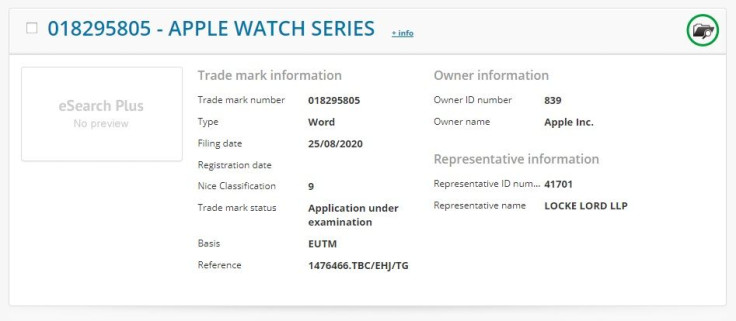 While the filing grants Apple legal protections for the device's name, it doesn't guarantee what kind of features fans can expect from the device's future iterations.
A small detail shown in the filing, however, indicated that it was filed under International Class 009. It is from this detail that fans might be able to know what might come with the Series 5 successors.
Class 009 covers new entries such as "wearable digital electronic devices capable of providing access to the internet," "smart watches," "wearable activity trackers," "connected bracelets," "smoke and carbon monoxide detectors" and more.
Gas sensor
That last line there corresponds to a patent application titled "Telescopic Analog Front-End For Pressure Sensors," which was filed in 2018. This is the fifth patent application related to Apple's gas sensor project.
The patent application talks about pressure sensors that could be used to measure pressure in a gas environment. These sensors can be equipped in smartphones or smartwatches (i.e., Apple Watches) and can be used to determine the presence of certain gases in the atmosphere around the user.
Patent application 20190360882 has not yet been granted.
It's currently unclear whether or not the Apple Watch Series 6 will come with gas sensing features. It's possible that Apple just might equip it with sensors but disable the feature until the patent is granted and necessary permits, if needed, are acquired.
© Copyright IBTimes 2022. All rights reserved.
FOLLOW MORE IBT NEWS ON THE BELOW CHANNELS