Arctic Oil Drilling: Greenpeace Activists Seek To Stop Shell Oil Vessel Bound For Arctic Ocean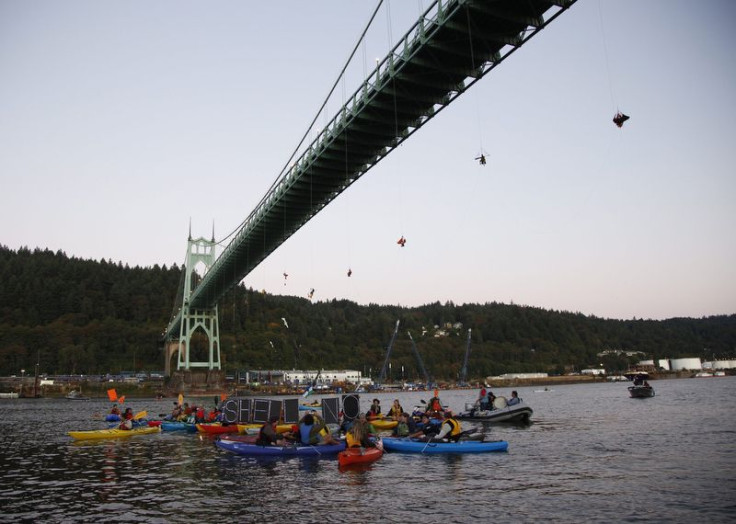 Environmental activists are attempting to block an Arctic-bound oil company vessel from leaving Portland, Oregon. Climbers with the group Greenpeace rappelled off a bridge early Wednesday morning and remain suspended in the air, dangling near the dock of Royal Dutch Shell's PLC icebreaker.
Greenpeace said 13 of its climbers have enough supplies to hang for days off the St. Johns Bridge. Another 13 people are assisting those activists, using ropes to supply them with food, water and even diapers, the organization said.
Shell's MSV Fennica icebreaker underwent repairs ahead of a 2,000-mile journey to Alaska's Chukchi Sea. The Obama administration last week gave the oil giant the final go-ahead to drill two new exploration wells about 70 miles off Alaska's coast.
The vessel is critical for keeping ice from encroaching on Shell's Arctic drilling operations. It also carries crucial equipment designed to cover damaged wells in the event of a blowout, like the one that caused the 2010 Deepwater Horizon disaster in the Gulf of Mexico. The federal government requires Shell to have the equipment on hand before it starts testing oil and gas wells.
The 380-foot Fennica scraped into a shallow shoal earlier this month, tearing a 39-inch-by-2-inch hole in its hull. Following repairs, the vessel was set to return to the Arctic as early as Tuesday night.
"Shell isn't just threatening polar bears and walruses with its drilling plans. By tapping into a new source of oil -- only accessible because of melting ice -- it's threatening the entire world with worsening climate change," Ryan Schleeter, an online content producer for Greenpeace USA, wrote in a blog post. "The climbers blocking [the vessel's] way are now what stands in between Shell and an Arctic oil catastrophe."
A Shell spokeswoman said in an email, "The Fennica will begin its return journey to Alaska once we've completed the final preparations."
The U.S. Coast Guard said it is monitoring the situation. Petty Officer 1st Class George Degener said the Greenpeace climbers are not impeding any waterway traffic under the St. Johns Bridge. He said it was "Shell's prerogative" when the Fennica could depart from the dock. "We are aware of what's going on," Deneger said.
Shell's high-risk, high-cost mission in the Arctic could usher in an oil-and-gas bonanza if successful, energy experts say. Alaska's slice of the Chukchi Sea holds the equivalent of 29 billion barrels of oil and gas -- more than twice the global reserves Shell can currently pump at a profit.
The Anglo-Dutch energy giant has already spent around $7 billion on the project, which has suffered significant delays in the past three years, including a series of accidents and operational problems. One of the company's offshore oil rigs ran aground and had to be towed, and a containment dome designed to cap runaway wells failed a crucial test.
In response, the Obama administration in 2013 halted all drilling activity in the region until the safety and environmental concerns were addressed.
On July 22, the U.S. Interior Department's Bureau of Safety and Environmental Enforcement issued final approval for two oil wells. According to the agency, Shell can focus on only one well at a time, a measure meant to protect wildlife that could delay the pace of Shell's drilling plans.
"As Shell conducts exploratory activities, we will be monitoring their work around the clock to ensure the utmost safety and environmental stewardship," Brian Salerno, the agency's director, said in a statement.
Environmental groups immediately criticized the Obama administration for allowing drilling in U.S. Arctic waters.
"Today's action is a huge setback for climate action and the health of the Arctic," Rachel Richardson, who directs Environment America's Stop Drilling Program, said July 22. "The area is simply too fragile and too remote to ever fully recover from a catastrophic spill."
The Greenpeace action Wednesday is similar to an effort in Seattle last month to stop another Shell rig. Activists in kayaks -- dubbed "kayaktivists" -- swarmed Shell's Polar Pioneer drilling rig as it attempted to take off for northern Alaska. The Coast Guard quickly pulled activists out of the way.
© Copyright IBTimes 2023. All rights reserved.