Are US Airstrikes Working? Fight Against ISIS In Iraq Could Signal Trouble For Obama Syria Campaign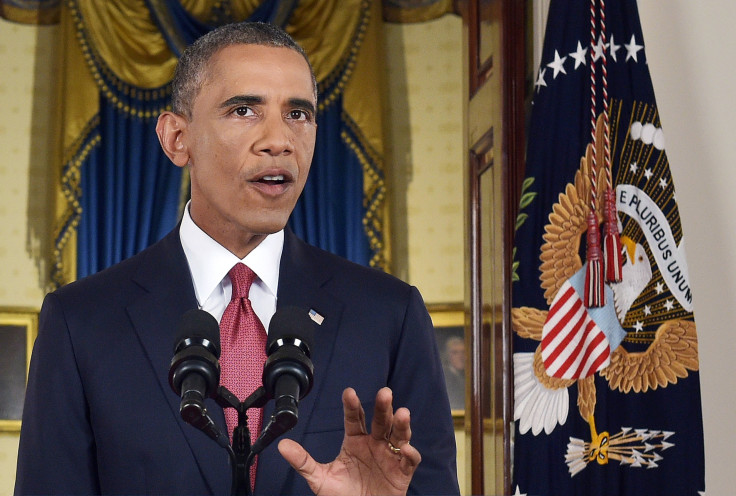 Six weeks of U.S. airstrikes in Iraq have failed to eradicate Islamic State group militants despite initial reports that the air campaign was helping. After nearly 200 air attacks against the militant group, the Iraqi army has continued to lose control of crucial strongholds to Sunni extremists. At the same time, Sunni Muslim tribes, a key ally in driving out the militants also known as ISIL or ISIS, have not mobilized like the Obama administration had hoped, in part because many Sunni leaders still do not trust Iraq's new government, according to the New York Times.
The U.S. began a second campaign of airstrikes against ISIS targets in Syria late Monday, according to a statement from the Department of Defense. The U.S. military along with Arab allies carried out 14 airstrikes in Syria and destroyed or damaged several Islamic State group strongholds near Ar Raqqah, Dayr az Zawr, Al Hasakah and Abu Kamal, the department said. "We wanted to make sure that ISIL knew they have no safe haven, and we certainly achieved that," Army Gen. Martin Dempsey, chairman of the Joint Chiefs of Staff, told reporters Tuesday, according to the Associated Press.
The airstrikes in Syria received bipartisan support from both Republicans and Democrats and represented a U.S. partnership with Arab nations against Sunni extremism, President Barack Obama said in a speech Tuesday morning. "America's proud to stand shoulder-to-shoulder with these nations on behalf of our common security," he said.
It's unclear how successful the airstrikes in Syria will be after the operation in Iraq has failed to wipe out ISIS. A militant attack over the weekend on an Iraqi army base in western Anbar province left hundreds of Iraqi troops dead or missing, according to the Washington Post. The attack is likely the most crushing blow to the Iraq army yet, if survivor accounts of the number of troops killed are verified.
The U.S. has conducted at least 178 airstrikes against the Islamic State group in Iraq since the attacks began in August. The majority of the strikes were concentrated on Islamic State group convoys near Erbil, the largest city and capital of the Kurdistan region of Iraq. Several other airstrikes were carried out near Baghdad. At least one strike hit a boat on the Euphrates River that was delivering supplies to militant forces. Another strike hit an Islamic State group ground unit in the area. The attacks have helped stop ISIS militants from marching toward Baghdad, according to the New York Times.
However, stopping ISIS from acquiring new territory is not the same as blunting the group's influence, some U.S. officials said. In some cases, airstrikes in Iraq have made targeting ISIS militants more difficult. The attacks force militants to use stealthier tactics to hide their movements, which makes finding them even harder. "The Iraqis haven't pushed [ISIS] out of much," an official told the Wall Street Journal after the first five weeks of U.S. airstrikes. "They've made partial inroads going after a couple targets in a couple places. That's really it."
The limits of U.S. airstrikes in Iraq have raised questions about whether Western ground troops are necessary to drive out ISIS, something the Obama administration has ruled out. Some world leaders have argued that an effective campaign against ISIS cannot solely consist of airstrikes. "Unless you're prepared to fight these people on the ground, you may contain them but you won't defeat them," former British Prime Minister Tony Blair, who serves as a U.N. Middle East peace envoy, told BBC News.
Gen. Ray Odierno, the Army chief of staff, said Friday that the U.S. military campaign in Iraq may require additional ground troops beyond the 1,600 who are already there, but there is "no rush."
Obama would launch a ground operation in Iraq if necessary, White House Press Secretary Josh Earnest said last week. In that scenario, U.S. troops would assist Iraqi security forces on the ground and be in position to call in airstrikes, Earnest said.
© Copyright IBTimes 2023. All rights reserved.