Armenia-Russia Ties Under Question Amid Fighting, Anti-Moscow Protests
YEREVAN, Armenia — At a recent thousand-strong demonstration in the capital of Armenia, Davit Sanasaryan took out a couple of eggs and threw them at the Russian Embassy.
The gesture provoked both ridicule and approval in this small landlocked country that traditionally values very close ties with its large northern neighbor. "Our protests are not against Russia but against Russian policy and Putinism," activist and politician Sanasaryan said in an interview with International Business Times last week.
A similar rally took place Thursday as Russian Foreign Minister Sergei Lavrov flew into Yerevan for a two-day visit. This time, protestors passed a Molotov cocktail to embassy staff.
Explicit anti-Kremlin protests are a new phenomenon in Armenia and come amid a wave of instability in the Southern Caucasus, which is flanked by Russia, Iran and Turkey. This month over 100 people were killed when the mountainous territory of Nagorno-Karabakh, disputed by Armenia and Azerbaijan, saw its most deadly outbreak of violence in 22 years.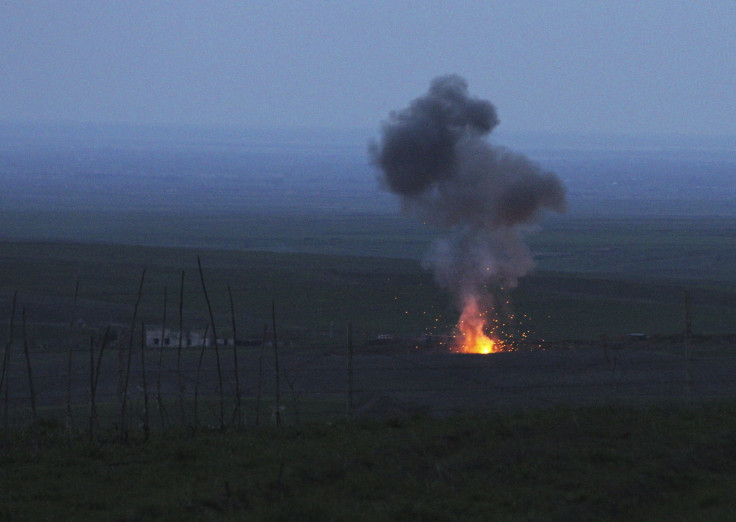 The volatility appears to be part of a ripple effect from Syria's persistent civil war and a new jostling between old regional foes Russia and Turkey. Moscow's relationship with Ankara collapsed last year after a Turkish fighter shot down a Russian jet operating near the Syria-Turkey border in the Kremlin's continuing military intervention in the Syrian civil war.
"Armenia is clearly feeling nervous and somewhat unsure of Russia's game plan … Some will be asking whether Armenia is Russia's sacrificial lamb herein in the greater game being played out in the region and globally with the West," Timothy Ash, an emerging markets strategist at Japanese financial holding Nomura International in London, wrote in a note to investors last week.
Protestors in Yerevan, many of whom are inspired by popular uprisings in Ukraine and neighboring Georgia against pro-Russian regimes, are particularly angered by Russia's role in the so-called Four-Day War that erupted at the beginning of April in Nagorno-Karabakh and saw the use of tanks, heavy artillery and drones by both sides. The conflict has largely been frozen since a ceasefire in 1994, but Nagorno-Karabakh remains a fiercely important territorial dispute among Armenians and Azeris.
There is disappointment among the protestors over a lack of reaction from Moscow to small advances by Azeri forces and anger over Russian sales of sophisticated weaponry to Azerbaijan. "Lots of people think that Russia is a military ally and a friend, but a military ally and friend cannot sell arms to our adversary," Sanasaryan said.
And there are allegations in Armenia that Moscow is deliberately making concessions to Azerbaijan to woo it away from Turkey, a natural partner given the countries' shared ethnicity and common Islam faith, and draw it closer into Russia's economic and political orbit.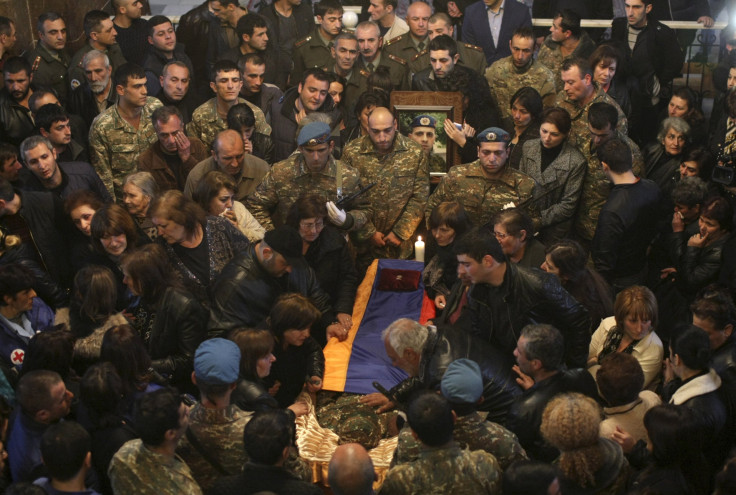 "Armenia is a toy, a mechanism for Russia to contain Turkic countries and regulate its relationship with them — the same as it has been for hundreds of years. Nothing has changed," said Manvel Sargsyan, director of the Armenian Center for National and International Studies, a think tank founded by former foreign minister and now opposition politician Raffi Hovannisian.
"Russia is on the verge of losing Armenia as an ally," he added.
While public hostility toward Russia is generally confined to a small group of well-educated people in Yerevan and poses no immediate threat to the political establishment, it is another well of discontent that could strengthen domestic opposition to Armenian President Serzh Sargsyan, who has been in charge of the 3-million-strong, largely Christian country since 2008.
"Above all we have to demand something from our own government … I don't accept Putin as my president, so why should I ask something of him?" said Maksim Sarkisyan, 28, an activist who played a key role in mass street demonstrations, known as Electric Yerevan, that engulfed the Armenian capital last summer after tariff rises precipitated by a Russian energy company.
"It's not important whether it is Russia or the European Union but just that our country has the chance to develop normally," Sarkisyan said.
Russia has firmly rejected calls for it to stop selling weapons to Armenia and Azerbaijan, maintaining that its policy ensures a balance. And top Russian officials have accused third parties of provoking a war in order to promote their regional agendas.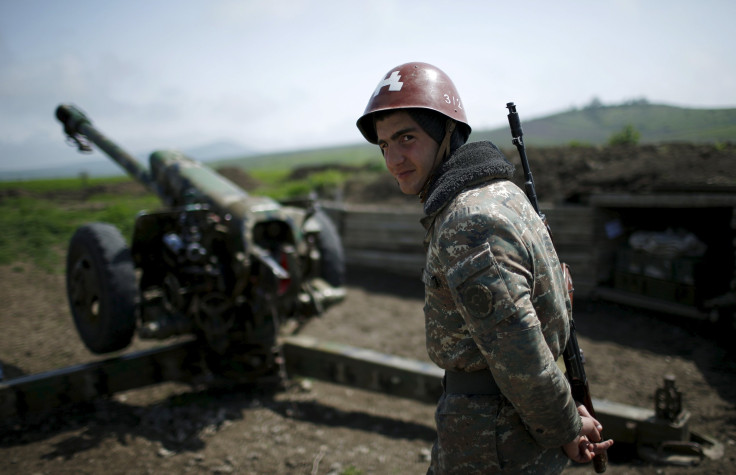 "Events in Nagorno-Karabakh bear witness to another effort by forces hostile to Russia to shatter peace between the Armenian and Azeri peoples and create yet another hotbed of war," Alexander Bastrykin, head of Russia's powerful Investigative Committee, said in an interview last week.
Strident statements of support for Azerbaijan issued by Turkey during the fighting were fiercely condemned by Moscow, and Russian officials accused Ankara of warmongering.
But there are few signs Russia is about to turn its back on Armenia, which is one of only four former Soviet states to join the Moscow-led Eurasian Economic Union. Russia provides training for Armenian troops and has a large military base in Gyumri, the country's second-largest city.
The Kremlin played a key role in ending the fighting in Nagorno-Karabakh, with a ceasefire agreed to by the Azeri and Armenian chiefs of general staff during a meeting in Moscow. Russian Foreign Minister Lavrov and Prime Minister Dmitry Medvedev have both visited Yerevan this month.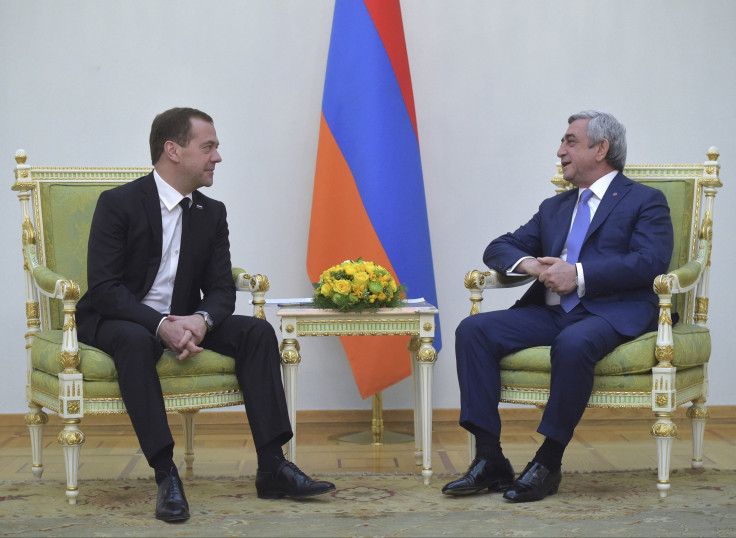 The pressing issue of its day-to-day security gives Yerevan little room for maneuver and appears to trump Armenia's close economic and cultural links with Europe. Armenia's No. 1 trading partner is Germany, not Russia, and its Christian heritage and history in the region give the country a tradition of closer ties to Europe than the Slavic world.
Experts point out that Armenia has few other possible allies even if it were to seek to replace Russia. After a Russian-sponsored separatist rebellion in Ukraine when the country saw a pro-Europe uprising, it is unlikely the United States or the European Union would be able to offer any meaningful security guarantees to Armenia. Neighboring Iran has few ambitions in the South Caucasus, and Yerevan has no diplomatic relations with Turkey because of the mass killings of Armenians in the then-Ottoman Empire in 1915, which Ankara refuses to recognize as genocide.
"If we don't get weapons from Russia, where will we get them from? Fighting with sticks doesn't work out too well," said Alexander Iskandaryan, the director of the Caucasus Institute in Yerevan.
"Those kids with eggs on the street see it in 'either/or' terms … Armenia could become a member of the EU, of NATO, of whatever the hell it wants, but Russia will still be nearby and will still play an important role in the region," he said.
© Copyright IBTimes 2022. All rights reserved.
FOLLOW MORE IBT NEWS ON THE BELOW CHANNELS