Moscow Acts As Power Broker Amid Diplomatic Push To Contain South Caucasus Violence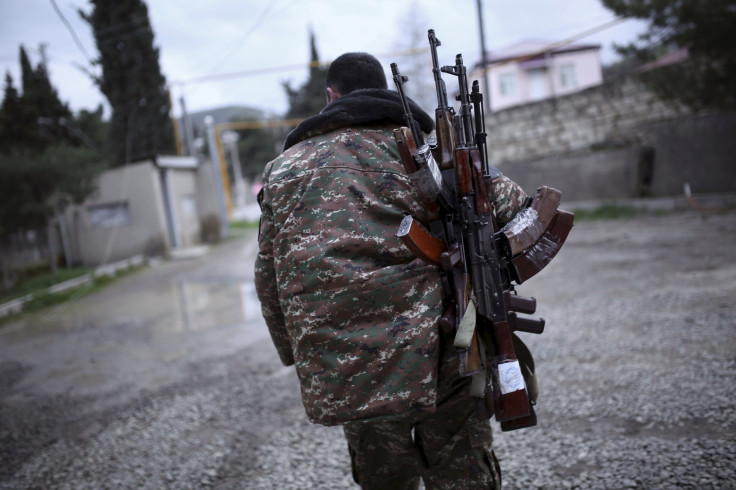 MOSCOW — As tanks, helicopters and heavy artillery saw action in the worst fighting for 20 years in the Southern Caucasus enclave of Nagorno-Karabakh, the presidents of Armenia and Azerbaijan sent their chiefs of general staff to the Russian capital.
At the subsequent Tuesday meeting in Moscow, about which few details were made public, the military emissaries agreed on the terms of a ceasefire. The level of violence in Nagorno-Karabakh has since dropped significantly.
"Whether we like it or not, Russia is the key," Richard Giragosian, the director of the Regional Studies Centre, an independent think tank in Yerevan, told International Business Times.
The dramatic flare-up in violence in remote Nagorno-Karabakh — known as the tinderbox of the Southern Caucasus — began on April 1 and has led to the greatest loss of life since the conflict was frozen by a 1994 peace deal. About 30,000 people were killed and one million displaced when bloody ethnic fighting broke out in the region during the dying days of the Soviet Union.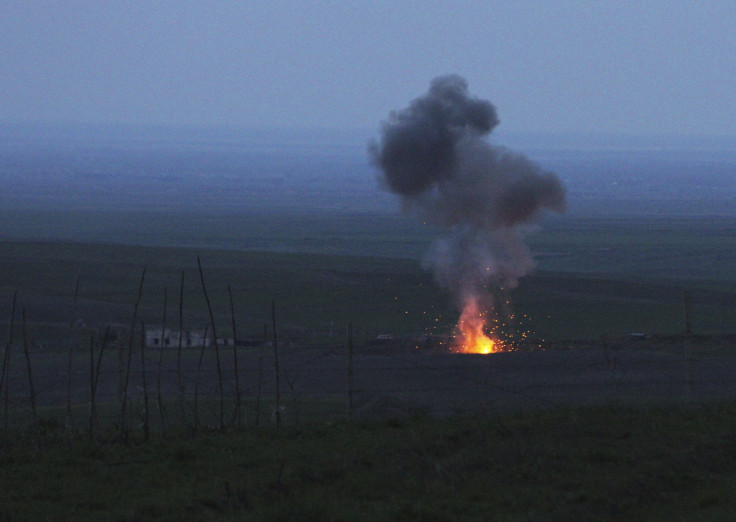 Russia has flexed its military and diplomatic muscles abroad in recent years, particularly in Ukraine and Syria, as President Vladimir Putin looks to boost Russia's international standing. The Kremlin, which sells arms to both Armenia and Azerbaijan, is likely on the lookout for an opportunity to re-assert its influence in the strategically important Caucasus region, which is flanked not only by Russia, but also by Iran and NATO-ally Turkey.
The Armenia-Azerbaijan meeting in Moscow was bracketed by a flurry of Russian diplomacy. Putin spoke to the presidents of Armenia and Azerbaijan prior to the gathering, and Russian Foreign Minister Sergei Lavrov arrived Wednesday in Baku. Russian Prime Minister Dmitry Medvedev is due to arrive Thursday in Yerevan for a two-day visit.
"Everything that can be done will be done," said Maria Zakharova, a spokeswoman for the Russian Foreign Ministry, during a briefing for reporters in Moscow on Wednesday.
Officially, the Nagorno-Karabakh conflict between Christian Armenia and largely Muslim Azerbaijan is regulated through a special sub-organization within the Organization of Security and Cooperation for Europe, known as the Minsk Group, which is chaired by Russia, the United States and France. But Moscow has increasingly taken a prominent position.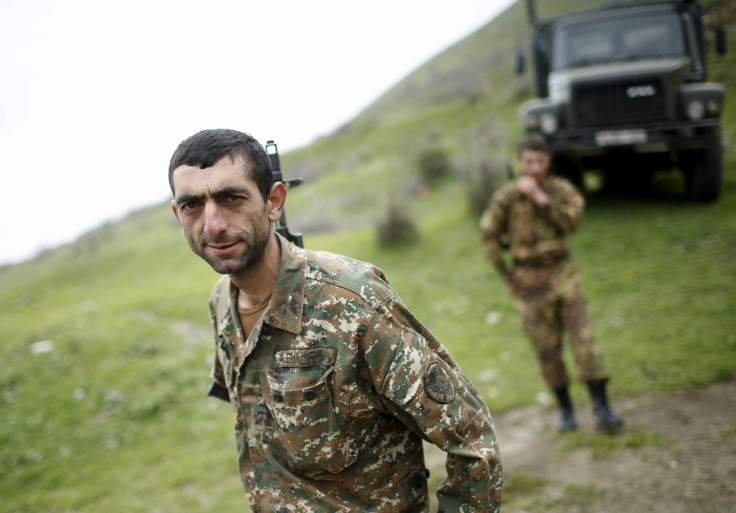 "In reality the Americans and the French are not playing any role," said Fyodor Lukyanov, who heads Russia's Council of Foreign and Defense Policy that advises the Kremlin. "The only country that can influence the two sides is Russia."
There was recognition from both Armenia and Azerbaijan of the crucial role played by Russia in containing the recent outbreak of violence.
"In this case Russia again took the initiative," Azerbaijani President Ilham Aliyev said Wednesday after a meeting with Lavrov, the RIA Novosti news agency reported. Russia "played a serious role in this matter so that the firing was stopped," Armenian Deputy Foreign Minister Shavarsh Kocharyan said Wednesday, Interfax reported.
The remote nature of Nagorno-Karabakh and a lack of verifiable sources on the ground mean a clear picture is lacking of how the fighting escalated and the extent of loss of life and damage to property. But Baku has said 31 soldiers and four civilians died in clashes that broke out April 1. Nagorno-Karabakh said 31 Armenian servicemen and 11 civilians were killed.
The fighting has also seen reports of civilians fleeing to safer areas and the use by both sides of tanks, aircraft and heavy artillery. There were even reports of sophisticated, Israeli-made drones being deployed.
Officially part of Azerbaijan, the highland republic of Nagorno-Karabakh is de-facto controlled by Yerevan and most of its population is now ethnically Armenian. A line of contact between Armenian-backed troops and Azerbaijani soldiers has seen regularly outbreaks of violence, particularly in the spring, for more than two decades — but nothing on the scale of this week's confrontation.
Nagorno-Karabakh lies in the center of the Southern Caucasus, bordering Iran, and very close to key oil and gas pipelines that connect the energy-rich Caspian region to Europe and Turkey.
While Armenian forces occupy much of the strategically important high ground in Nagorno-Karabakh, Azerbaijan has used its oil wealth to bankroll a huge program of armament over the last fifteen years. Aliyev has even boasted that Azerbaijan's defense spending is more than Armenia's entire government budget.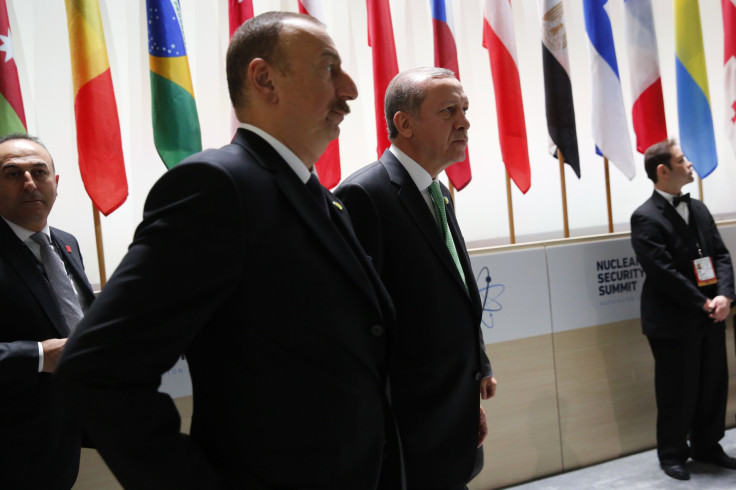 The extent of any territorial gains in the current fighting are not clear, but a senior official from Nagorno-Karabakh said in a Wednesday briefing in Moscow that Azerbaijan had successfully seized some command posts on mountainous ground near the Iranian border.
The latest bout of bloodshed seems to have been precipitated by shifting alliances in the broader region: Iran is now emerging from decades of isolation after a U.S.-brokered nuclear deal and relations between Russia and Turkey have deteriorated rapidly since Ankara downed a Russian jet near the Syrian border in November.
"It's not that far from the Caucasus to the Middle East: as soon as there is regional instability… this influences the situation in Nagorno-Karabakh," said Lukyanov.
There are traditionally close ties between Turkey and Azerbaijan, and Turkish officials have been outspoken in its backing for Baku in recent days. Turkish President Tayyip Erdogan said Monday that Nagorno-Karabakh will "inevitably return to its rightful owner and become a part of Azerbaijan again."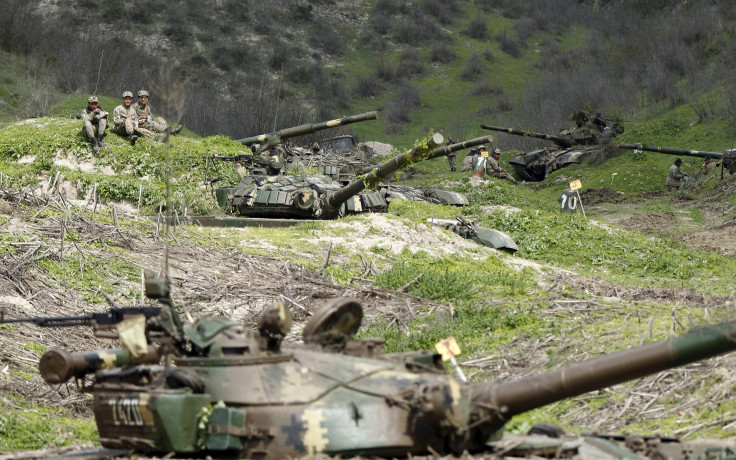 While Baku has managed to preserve close ties with the Kremlin as well as with Ankara, Russia and Armenia are closely bound together by membership of the Moscow-led Eurasian Economic Union and a Russian military base in the Armenian city of Gyumri.
At the very least, recent fighting is likely to see a cessation of top-level diplomatic contact between Yerevan and Baku. And many warn that the military precedent set over the last six days means the former status quo on the basis of the 1994 ceasefire cannot be re-established.
"We are seeing a new normal," said expert Giragosian.
© Copyright IBTimes 2023. All rights reserved.
FOLLOW MORE IBT NEWS ON THE BELOW CHANNELS