Ashton Carter, Defense Secretary Nominee, Backs Supplying Lethal Arms To Ukraine Fighters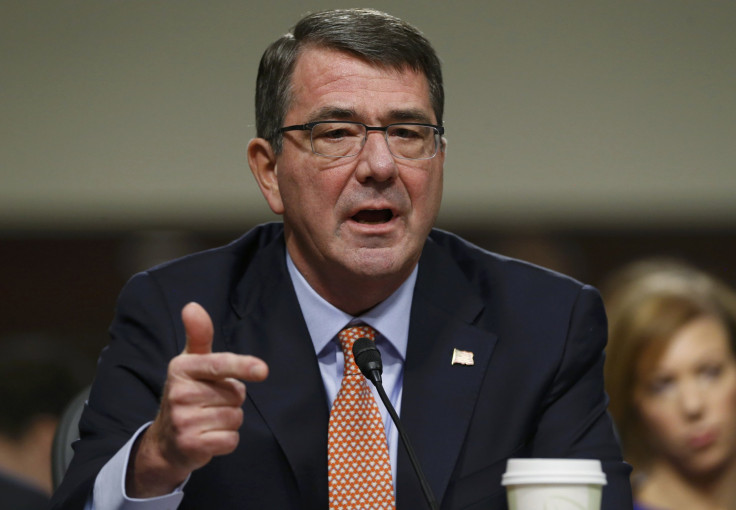 Ashton Carter, President Obama's nominee for Secretary of Defense, said Wednesday he would support more aid for Ukrainian soldiers fighting against Russia-backed rebels, including the possibility of lethal weapons.
At the start of Carter's Senate confirmation hearing for the top defense post Wednesday morning, Arizona Republican John McCain, chairman of the Armed Services committee, pressed the nominee over whether he would be willing to supply weaponry to Ukrainian fighters. "I am very much inclined in that direction," Carter replied, noting this included "lethal arms," although he added he could not offer more specific details because he had not yet consulted with Ukrainian military officials.
"We need to support the Ukrainians in defending themselves," Carter said. He received a generally positive reaction for his remarks, with New Hampshire Sen. Kelly Ayotte saying she "appreciated" his comments on the matter.
The White House has reportedly begun exploring the option to provide lethal weapons to fighters in eastern Ukraine in light of escalating clashes there, a move it has thus far been hesitant to act on. "No decisions have been made" on that on front, State Department spokesperson Jen Psaki said during a press briefing Monday, but she noted the U.S. has "the right to consider a range of options."
Carter later clarified his statements after Sen. Angus King of Maine questioned asked whether supplying arms to Ukrainians would result in another escalation of aggression. "As much as I incline in the direction, economic and political pressure on Russia has to remain the center of gravity of our effort at pushing back," Carter said.
U.S. lawmakers grilled the defense nominee on a number of other security issues, including the Obama administration's strategy against the Islamic State group, sexual violence in the military, sequestration and the White House's so-called pivot to the Asia-Pacific region. Carter pointed to Iran and the Islamic State group, also known as ISIS, as two of the most immediate concerns facing the Middle East, spoke out against wasteful spending at the Pentagon while rejecting budget cuts, and acknowledged he would not give into White House pressure to expedite the release of Guantanamo inmates. He also noted if conditions in Afghanistan warranted, he would recommend changes to President Obama's withdrawal plans.
Senators largely pressed him on his views toward the U.S. military strategy against ISIS in light of a video the group released Tuesday depicting a Jordanian hostage being burned alive. Carter said repeatedly that the ultimate goal was for ISIS's "lasting defeat" through a combination of military action and political shifts in Iraq and Syria. The U.S. military campaign in the region, he said, was a "necessary but not sufficient" component in defeating ISIS. "There need to be conditions created where [ISIS] is now occupying territory that doesn't make it a breeding ground for that kind of malignant terrorism," he said.
The overall tone of Carter's exchanges with the senators was generally friendly, particularly in comparison to the tense confrontations that characterized outgoing Defense Secretary Chuck Hagel's confirmation hearing in 2013. Carter is widely expected to gain approval from the Senate for the post. But Wednesday's hearing hit one snag when South Carolina Sen. Lindsey Graham, a Republican, pressed him on how the U.S. should deal with Syrian President Bashar al-Assad in light of the U.S.-led coalition's offensive against ISIS in Syria.
"How in the world could you train somebody to go fight [ISIS] and…not expect [Assad] to kill them before they get the capacity to come after him one day?" Sen. Graham asked. "How does this work without dealing with Assad?"
Carter clarified that the U.S.'s priority was to work toward ISIS's defeat, but that U.S.-supported forces should also create conditions for Assad's removal. "That's a much more complex task," he added. "I'm not trying to oversimplify. But that's got to be at the end of the road."
Sen. McCain responded forcefully, saying Carter didn't fully respond to the idea of the U.S. sending in young Syrians "to be barrel-bombed by Assad."
"The unworkability of that is in contradiction to everything the United States ever stood for or thought for," McCain said. "I hope you will rethink your answer to Sen. Graham's question."
Overall, however, senators on the Armed Forces Committee seemed overwhelmingly supportive of the would-be Pentagon chief. McCain said he expected a full Senate vote on Carter's confirmation early next week.
© Copyright IBTimes 2023. All rights reserved.
FOLLOW MORE IBT NEWS ON THE BELOW CHANNELS