China Worries Weigh On Global Stocks, Wall Street Plummets
Stock markets mostly fell Tuesday as investors worried about the impact of the Covid outbreak in China and rising interest rates in the United States.
A relief rally in Europe faded as the day wore on, while major US indices saw big declines after Monday brought some relief from recent negative sentiment.
The Dow closed more than two percent in the red while the Nasdaq lost four percent in what Charles Schwab investment bank described as a sell-off fueled by a range of bad omens, including looming rate increases from the Federal Reserve.
"Markets continued to grapple with several headwinds including expected Fed aggressiveness moving forward, the ongoing war in Ukraine, inflation pressures, and Covid-related lockdowns in China," analysts at Charles Schwab investment bank said.
Even US government data showing an increase in orders for big-ticket manufactured goods last month was not enough to turn around sentiment.
"The lackluster response... is another indication that market participants have their doubts about stronger economic activity persisting in the face of clear growth obstacles like hawkish-minded central banks and ongoing supply chain pressures that have been felt with China's lockdowns," Patrick J. O'Hare of Briefing.com said.
The European single currency hit a two-year low against the dollar, which was boosted by its haven status amid Ukraine turmoil.
But world oil prices rebounded from heavy losses in recent days on fears over weaker Chinese demand.
The coronavirus flare-up across China has led authorities to impose strict containment measures in its biggest cities, shutting off millions of people and threatening to deal a hammer blow to the world's number-two economy.
Hong Kong stocks edged up but made only a small dent in the massive drop suffered the day before, while Shanghai extended the previous day's losses of more than five percent.
Sentiment was soothed somewhat after the People's Bank of China vowed to boost growth and consumption.
Beijing's Covid measures have dealt a severe blow to its economy, leading to concerns about knock-on effects for the rest of the world -- given its reliance on Chinese-made goods.
The crisis in China comes as traders grapple with a hawkish Fed, which is moving to control inflation that sits at a more than 40-year high.
US central bankers have said they expect to lift rates several times this year to get a grip on prices, with Fed Chair Jerome Powell indicating a half-point rise next month followed by more before January.
The Ukraine war has sparked additional market turmoil, owing to the impact on commodity prices and inflation.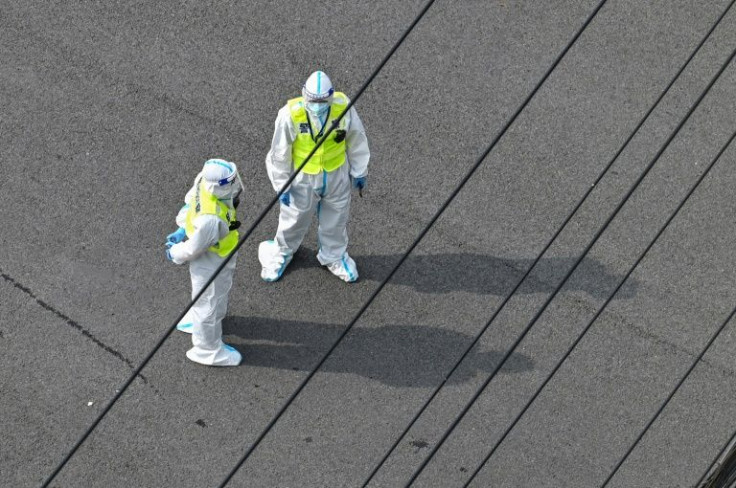 New York - Dow: DOWN 2.4 percent at 33,240.18 (close)
New York - S&P 500: DOWN 2.8 percent at 4,175.20 (close)
New York - Nasdaq: DOWN 4.0 percent at 12,490.74 (close)
EURO STOXX 50: DOWN 1.0 percent at 3,721.36 (close)
London - FTSE 100: UP less than 0.1 percent at 7,386.19 (close)
Paris - CAC 40: DOWN 0.5 percent at 6,414.57 (close)
Frankfurt - DAX: DOWN 1.2 percent at 13,756.40 (close)
Tokyo - Nikkei 225: UP 0.4 percent at 26,700.11 (close)
Hong Kong - Hang Seng Index: UP 0.3 percent at 19,934.71 (close)
Shanghai - Composite: DOWN 1.4 percent at 2,886.43 (close)
Brent North Sea crude: UP 3.1 percent at $105.47 per barrel
West Texas Intermediate: UP 3.5 percent at $102.03 per barrel
Euro/dollar: DOWN at $1.0636 from $1.0713 late on Monday
Pound/dollar: DOWN at $1.2576 from $1.2741
© Copyright AFP 2023. All rights reserved.