Eurozone Stocks Wobble, Euro Hits 5-year Dollar Low
Eurozone stocks wobbled and the euro struck a five-year low against the dollar on Wednesday as worries over gas supplies ratcheted higher.
Meanwhile, Wall Street saw something of a recovery from sharp losses the previous day caused by ongoing worries about growth, rising interest rates and inflation, though the Dow and S&P 500 won only 0.2 percent each and the hard-hit tech stocks in the Nasdaq ended flat.
Oil prices fell on concerns about Covid-19 lockdowns in China hitting demand despite worries about Russian supplies, but they bounced back later in the day.
Russia's energy giant Gazprom said Wednesday it had stopped gas supplies to Bulgaria and Poland, and has threatened to do the same to other countries which refuse to pay in rubles, though doing so would violate EU sanctions imposed over the invasion of Ukraine.
Europe's reference gas price, Dutch TTF, bounded higher but remained well below levels hit last month.
"We're seeing a little bit of positivity back in the markets on Wednesday but there's still plenty of underlying unease amid a mixed bag of earnings and rising uncertainty," said market analyst Craig Erlam at OANDA.
He said Russian threats to cut off gas were a clear reason why, and could continue to play havoc with energy prices and act as a headwind on the European economy and stocks.
"The weaponization of gas was long seen as an unlikely last resort but now the Kremlin has got the ball rolling, the risk has become significantly greater, which could pose a massive economic threat to the EU," said Erlam.
Paris and Frankfurt stocks dipped into the red in afternoon trading, but finished with modest gains.
Meanwhile, the euro dropped under $1.06, sinking as low as $1.0515, its weakest value since January 2017.
In New York, traders are bracing for steep Federal Reserve rate hikes to stop record inflation, which fueled the big equity sell-off seen Tuesday and in previous sessions.
Markets are looking ahead to first-quarter growth data due out Thursday, while earnings have proven uneven, with Microsoft reporting big profits but Boeing seeing a loss connected to issues with its various aircraft.
Markets.com analyst Neil Wilson said the "market clearly believes the Fed is going to town on rate hikes and the ECB is going to sit on its hands and do nothing."
Asian stock markets closed lower, however, Shanghai bounced on Wednesday following a report that Chinese President Xi Jinping had committed to boosting infrastructure construction as a means of accelerating the economy.
The comments were the latest from China's top brass, which has made a series of promises in recent weeks to kickstart growth.
However, analysts say this has been offset by the leaders' refusal to back away from their strict Covid lockdown strategy.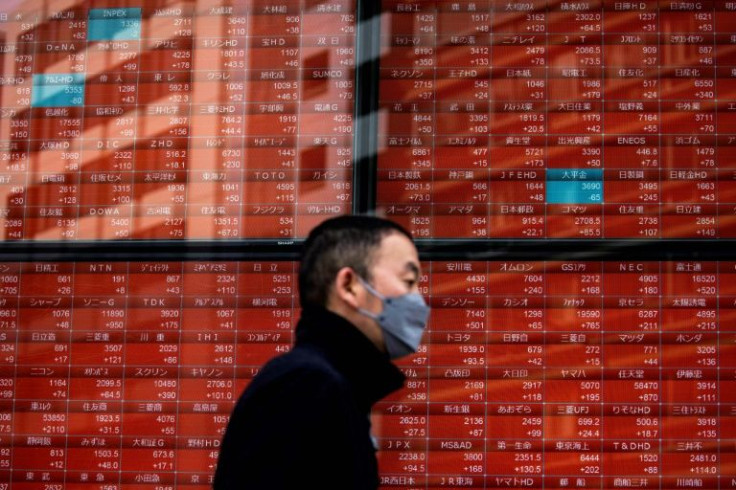 New York - Dow: UP 0.2 percent at 33,301.93 (close)
New York - S&P 500: UP 0.2 percent at 4,183.96 (close)
New York - Nasadq: FLAT at 12,488.93 (close)
EURO STOXX 50: UP 0.3 percent at 3,734.64 (close)
London - FTSE 100: UP 0.5 percent at 7,425.61 (close)
Paris - CAC 40: UP 0.5 percent at 6,445.26 (close)
Frankfurt - DAX: UP 0.3 percent at 13,793.94 (close)
Tokyo - Nikkei 225: DOWN 1.2 percent at 26,386.63 (close)
Hong Kong - Hang Seng Index: UP 0.1 percent at 19,946.36 (close)
Shanghai - Composite: UP 2.5 percent at 2,958.28 (close)
Brent North Sea crude: UP 0.2 percent at $105.15 per barrel
West Texas Intermediate: UP 0.4 percent at $102.07 per barrel
Euro/dollar: DOWN at $1.0556 from $1.0636 late Tuesday
Pound/dollar: DOWN at $1.2543 from $1.2576
© Copyright AFP 2023. All rights reserved.