Asian Markets Upbeat As Hopes Rise Of A Continuation Of The US Fed's Bond-buying Program After US GDP Is Revised Down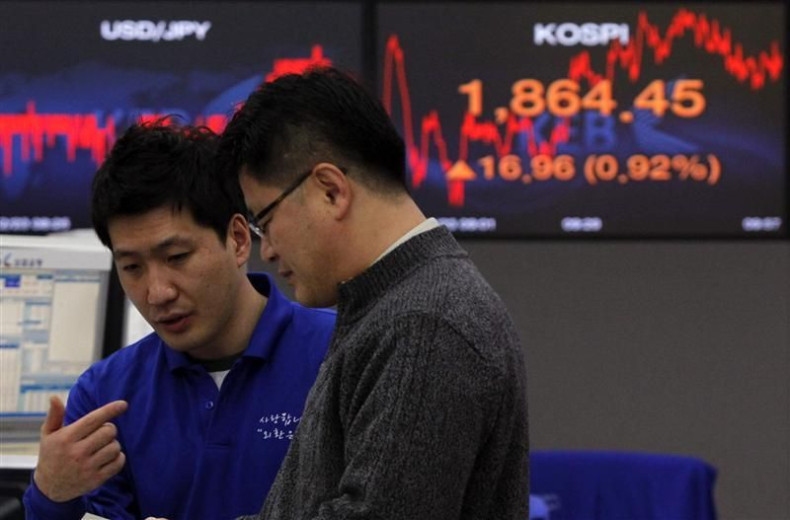 Asian stocks advanced for a second straight session on Thursday, after the U.S. lowered its GDP estimate for the first quarter of 2013, raising investors' hopes that the Federal Reserve would delay plans to scale back its massive bond-buying program, which has acted as a stimulus to world markets in recent months.
Japan's Nikkei surged 2.49 percent while Hong Kong's Hang Seng gained 1.32 percent. China's Shanghai Composite index rose 0.40 percent and Australia's S&P/ASX surged 1.68 percent. In South Korea, the KOSPI climbed 3.05 percent while India's BSE Sensex was trading up 1.02 percent.
Asian markets opened on an upbeat note as investor sentiment turned positive overnight after official estimates showed that the U.S. economy grew 1.8 percent in the January-March quarter -- a figure sharply lower than its previous estimate of 2.4 percent.
Meanwhile, cautious comments from Federal Reserve Bank of Richmond President Jeffrey Lacker also helped a growing view that the Fed may continue its stimulus program longer than what was suggested after the FOMC meeting on June 19.
Lacker said, in a Bloomberg Television interview with Peter Cook, on Wednesday, that he expects "a couple more years of sluggish growth" and that the central bank is not close to reducing its bond holdings.
Matthew Sherwood, Sydney-based head of investment market research at Perpetual Ltd., which manages about $25 billion, told Bloomberg by e-mail that "Central-bank statements have combined with some softish data to remind people that the U.S. recovery remains the weakest in history and that policy action is not imminent." But, he added, the "risk of tapering has not gone away."
China's Shanghai Composite advanced for the first time in seven days on Thursday after interbank lending rates eased for the fifth-straight session after touching record highs last week.
Meanwhile, data released by the National Bureau of Statistics of China showed that profits of industrial companies in the country rose 12.3 percent in May on an annual basis, following an increase of 11.4 percent in April.
South Korean shares rallied, with the KOSPI gaining more than 3 percent, after official data showed that the seasonally adjusted current account surplus surged to a record high of $7.82 billion in May, helped by robust exports, which surged 4.7 percent to $47.35 billion in May.
"The market is seeing a technical rebound on bargain hunting, but (upward moves) are probably not being established as a trend ... the stance on emerging markets is still cautious," Lim Soo-gyoun, a market analyst at Samsung Securities, told Reuters.
Meanwhile, commodities recovered somewhat after plunging in the previous session as the dollar index, which measures the dollar against a basket of six major currencies, slightly eased after touching a near one-month high of 83.025 on Wednesday. The strength of the dollar and dollar-based commodity prices are inversely related.
Spot gold surged 1.02 percent to $1239.06 during trading hours in Asia, after touching its lowest level since August 2010 in the previous session. Silver futures gained 1.11 percent after tumbling 5.5 percent on Wednesday, while WTI crude oil futures gained 0.47 percent to $95.95 a barrel.
The Indian rupee, which had touched a new record low of 60.72 against the dollar on Wednesday, also recovered marginally and was trading at 60.59 on Thursday morning.