Global Stocks End Mostly Up As Demand Worries Weigh On Oil Prices
European and US stocks mostly rose Tuesday, partially rebounding from the prior session's rout, while oil prices continued to retreat on worries slowing global growth will dent demand.
A volatile day on Wall Street ended with two of the three major equity indices in positive territory amid talk that stocks may be oversold as concerns about inflation, tightening monetary policy and the war in Ukraine that have weighed on markets for much of 2022.
"The big question" is whether the market is at the end of the sell-off "or the beginning of a recovery," said Quincy Krosby, chief equity strategist of LPL Financial.
"Statistically, we probably have more to go on the downside."
While the Dow fell for the fourth straight day, the broader S&P 500 edged back up above 4,000 points and the Nasdaq jumped one percent.
London ended the day with a gain of 0.4 percent, Paris added 0.5 percent and Frankfurt rose 1.2 percent.
"European markets have seen a modest rebound from yesterday's two-month lows, after the carnage of the last three days, as investors look for signs of a possible base," said market analyst Michael Hewson at CMC Markets UK.
Between rising prices eating into the disposable income of consumers and higher borrowing costs, investors have been increasingly concerned about the possibility of recession.
"There's clearly a huge amount of worry about a recession in the markets at the minute as central banks continue to aggressively tighten against the backdrop of a slowing economy and a cost-of-living crisis," said Craig Erlam, senior market analyst at online trading platform OANDA.
Asian equities mostly sank following sharp losses on Wall Street on Monday.
Oil prices also resumed their slide lower with the benchmark US crude contract, WTI, falling under $100 a barrel.
"This week's oil price weakness has been largely driven by reports that the EU is having difficulty in reaching a consensus on its Russian oil ban," Hewson said.
"Yesterday's weak China trade numbers have also weighed into the overall calculus, as concerns grow over Chinese demand, with the major cities of Beijing and Shanghai on the receiving end of new restrictions."
Meanwhile, Bitcoin on Tuesday slumped briefly under $30,000, reaching a 10-month low.
The volatile cryptocurrency has lost more than half its value since a November surge saw it reach a record high of nearly $69,000.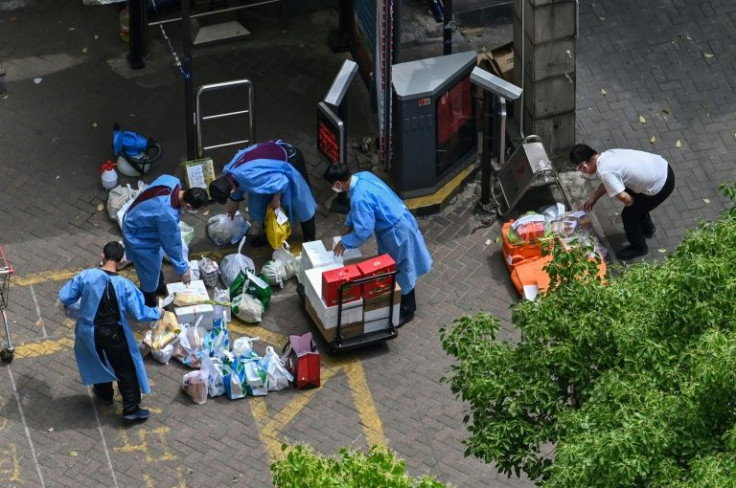 New York - Dow: DOWN 0.3 percent at 32,160,74 (close)
New York - S&P 500: UP 0.3 percent at 4,001.05 (close)
New York - Nasdaq: UP 1.0 percent at 11,737.67 (close)
London - FTSE 100: UP 0.4 percent at 7,243.22 (close)
Frankfurt - DAX: UP 1.2 percent at 13,534.74 (close)
Paris - CAC 40: UP 0.5 percent at 6,116.91 (close)
EURO STOXX 50: UP 0.8 percent at 3,554.80 (close)
Hong Kong - Hang Seng Index: DOWN 1.8 percent at 19,633.69 (close)
Shanghai - Composite: UP 1.1 percent at 3,035.84 (close)
Tokyo - Nikkei 225: DOWN 0.6 percent at 26,167.10 (close)
Brent North Sea crude: DOWN 3.3 percent at $102.46 per barrel
West Texas Intermediate: DOWN 3.2 percent at $99.76 per barrel
Euro/dollar: DOWN at $1.0534 from $1.0561 on Monday
Pound/dollar: DOWN at $1.2319 from $1.2332
© Copyright AFP 2023. All rights reserved.