Australia To Hold National Election In July After Rare 'Double Dissolution' Of Parliament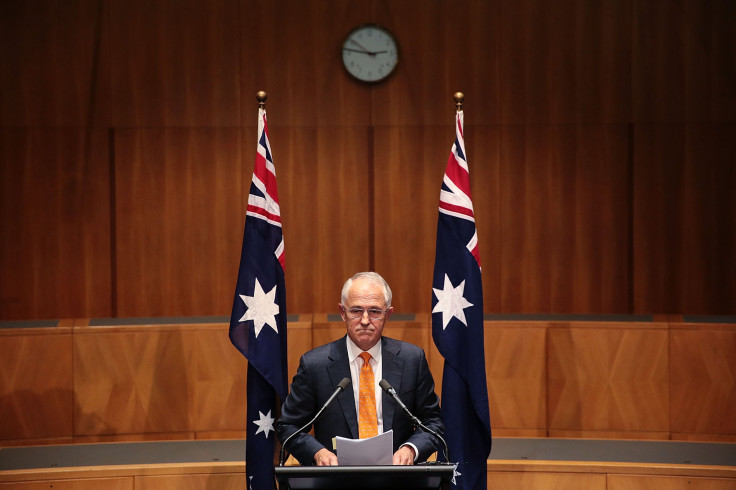 Australian Prime Minister Malcolm Turnbull confirmed Sunday that the country would head to the polls on July 2. The elections for both houses of the Australian parliament have been called several months early as Turnbull, who heads the centre-right Liberal Party, aims to seek the public's mandate for himself and his party.
"The governor-general has accepted my advice to dissolve both houses of parliament effective tomorrow morning, and call an election for both houses, a double dissolution, on 2 July," Turnbull said during a press conference in Canberra. "These are times for confidence, for optimism, for a clear plan, and we will be seeking a mandate from the Australian people on the 2 July."
Under provisions spelt out in the Australian constitution, the government can call for a "double dissolution" if the Senate twice blocks a bill that has been passed by the lower house.
The last double dissolution election was held in 1987.
Turnbull came to power in September after the Liberal Party voted in a secret ballot to remove Tony Abbott as its leader — barely two years into his three-year term as the prime minister. However, since then, an impasse in the Senate has repeatedly held up several key legislations.
When he took office eight months back, Turnbull pledged that his government would have an "economic vision" for the country hurt by the slowdown in China and the ensuing drop in commodity prices. Australia, reeling under a widening budget deficit, is not expected to report a surplus until fiscal year 2021, Turnbull said Tuesday — the same day the country's central bank cut interest rates for the first time in a year in reaction to record-low inflation.
"We have set out a clear economic plan and we've laid it out. It is working. The results are there to be seen in strong economic growth," Turnbull, whose government unveiled its budget last week, said. "At this election, Australians will have a very clear choice — to keep the course, maintain the commitment to our national economic plan for growth and jobs, or go back to Labor, with its high-taxing, higher spending, debt and deficit agenda, which will stop our nation's transition to the new economy dead in its tracks."
© Copyright IBTimes 2022. All rights reserved.
FOLLOW MORE IBT NEWS ON THE BELOW CHANNELS