Malcolm Turnbull Sworn In As Australia's Prime Minister, Abbott Promises 'No Wrecking, No Undermining'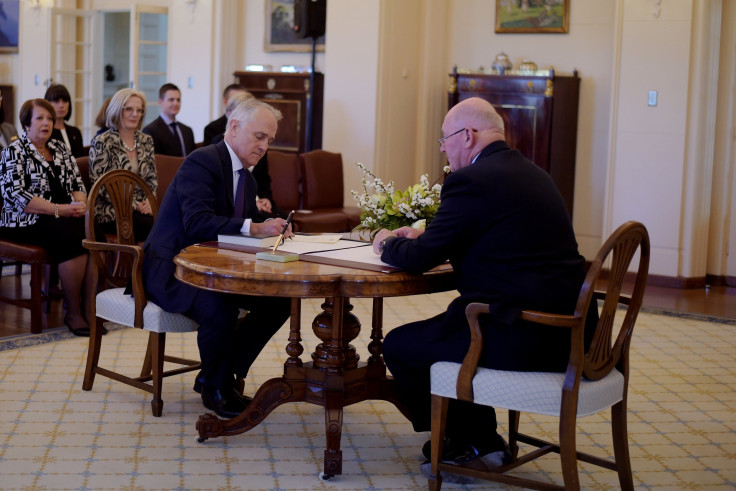 Malcolm Turnbull was sworn in as Australia's twenty-ninth prime minister Tuesday, a day after unseating Tony Abbott from the leadership of the center-right Liberal Party.
In comments made early Tuesday, the 60-year-old former investment banker reportedly said that despite the change in the country's leadership, the government remains "very, very strong."
"I'm filled with optimism and we will be setting out in the weeks ahead ... more of those foundations that will ensure our prosperity in the years ahead," Turnbull reportedly said, before being sworn in Tuesday.
Earlier, on Monday, after the Liberal Party voted in a secret ballot to topple Abbott as its leader -- barely two years into his three-year term -- Turnbull said that his government would have an "economic vision."
"We need … a leadership that explains the great challenges and opportunities that we face, describes the way in which we can handle those challenges, seizes those opportunities and does so in a manner that the Australian people understand so that we are seeking to persuade, rather than seeking to lecture," Turnbull reportedly said.
In the second quarter of this year, Australia's economy expanded 0.2 percent from the previous quarter -- lower than the expected 0.4 percent and its slowest pace in four years.
In addition to reviving the country's economy, Turnbull also faces challenges, including from many within his party, over Australia's greenhouse gas emissions cuts, which have been denounced as "vastly inadequate."
Turnbull, who served as the minister for communications under Abbott, is perceived as a moderate who has, in the past, voiced views opposed to the former prime minister's, including on divisive issues such as same-sex marriage and climate change.
"Climate change is the ultimate long term problem. We have to make decisions today, bear costs today so that adverse consequences are avoided, dangerous consequences, many decades into the future," Turnbull wrote, in an opinion piece published in 2010.
In a televised statement Tuesday, Abbott reportedly defended his record as prime minister and promised to work constructively with the new leader.
"My pledge today is to make this change as easy as I can," Abbott reportedly said. "There's to be no wrecking, no undermining."
© Copyright IBTimes 2022. All rights reserved.
FOLLOW MORE IBT NEWS ON THE BELOW CHANNELS