Australian Dante Exum Suffers Knee Injury; Torn ACL Feared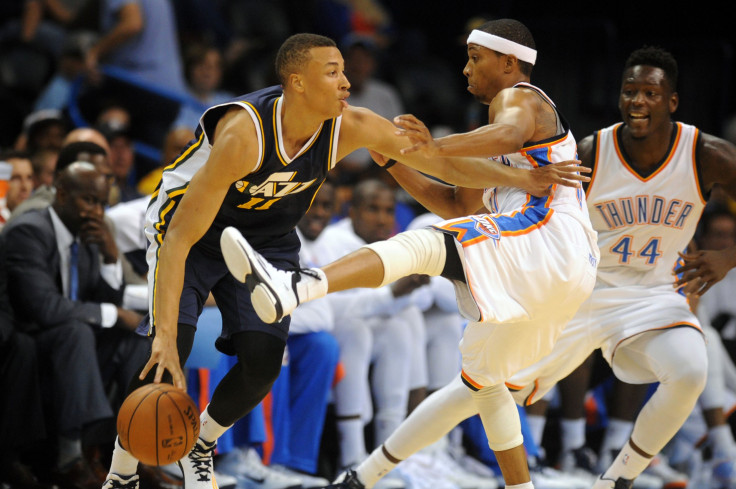 Australian Dante Exum suffered a left knee injury on Tuesday while playing for the Australian national basketball team in an exhibition game against Slovenia. The second-year Utah Jazz point guard was treated on the court and is reportedly returning to Utah for further evaluation of the injury, feared as a torn ACL.
The Australians, known as the "Boomers," were busy preparing for their Olympic-qualifying series against New Zealand in the FIBA Oceania Championships. The Boomers won over Slovenia, 61-55.
"He's really disappointed and wants to know what it is as well. He's just a bit down at the moment," Joe Ingles, Exum's Australian teammate with the Jazz, told Fox Sports. "He was excited to go and play for the Boomers again and get ready for this [Rio Olympics], but really it's disappointing because he is a great kid and works extremely hard. I think it's a realistic possibility that Rio could be his first tournament back if it is an ACL."
The regional championship, which serves as a qualifying for the 2016 Olympics in Brazil, is scheduled from Aug. 15 to 18.
The 20-year-old had a so-so rookie year with the Jazz, averaging 4.8 points, 1.6 rebounds and 2.8 assists. In the recent summer league, he played in just one game after suffering from a left ankle injury. Exum was the fifth overall pick in the 2014 NBA Draft.
A torn ACL would put Exum out of commission not only for the FIBA games but also the entire 2015-2016 NBA season.
© Copyright IBTimes 2023. All rights reserved.