Australian Prime Minister Tony Abbott Calls On Party To Fight Leadership Challenge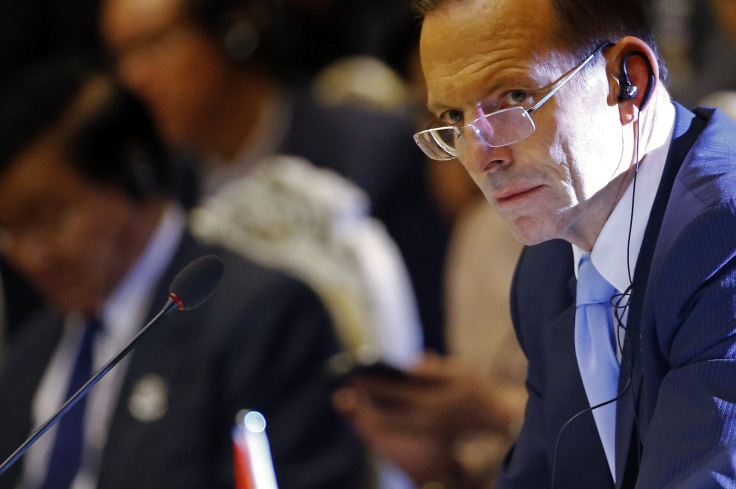 Australian Prime Minister Tony Abbott said on Friday he will fight to remain the country's leader, and called on members of his Liberal Party to stand with him in the face of a motion to oust his government, the New York Times reported. Abbott is facing a leadership crisis, with several members of parliament (MPs) from his party indicating they will challenge his leadership, likely in a vote Tuesday.
MP Luke Simpkins filed the motion -- called a spill motion -- on Friday, saying it was "time to test the support of the leadership," the BBC reported. The motion, seconded by MP Don Randall, was reportedly made public in an email from Simpkins, which sought to "resolve, via secret ballot, that the senior positions of the Federal Parliamentary Liberal Party be declared vacant," according to chief government whip Philip Ruddock, who would be in charge of running the ballot.
In Australian politics, a leadership spill would vacate all the senior positions in a party's government, and open it for re-election. Abbott and his Liberal Party deputy Julie Bishop have said they will stand together against challenges from the MPs.
"We have a strong plan...and we are determined to get on with it, and we will," he said, in a statement.
In recent weeks, Abbott's leadership has come under scrutiny, with his decision to grant knighthood to Prince Philip widely ridiculed.
His first budget, unveiled in May last year, was highly unpopular, as it slashed spending for health and education, and raised the fuel tax -- moves that were seen as Abbott reneging on campaign promises he made in 2013, The Wall Street Journal reported.
The loss of Queensland for Abbott's party was also widely blamed on his leadership, as half of the country's states turned to the center-left Labor party.
Bishop, who is also foreign minister, said she will continue to support Abbott. "I agreed with the Prime Minister that due to cabinet solidarity and my position as Deputy there should be support for current leadership in spill motion," she said in a statement, The Age reported.
Defense Minister Kevin Andrews and Finance Minister Mathias Cormann have also said they support Abbott and would vote against the spill motion, News.com.au reported. "The cabinet is unanimous behind Tony Abbott as Prime Minister," Cormann said.
But Education Minister and House Leader Christopher Pyne said he cannot be sure Abbott had the numbers to survive the vote.
"I can't rule it out. I can tell you this – I will not be moving a vote on Tuesday in the party room," he told Sky News on Friday, the Guardian reported. "Obviously I can't know what is in the minds of my colleagues," he added.
Abbott came to power in 2013, on a campaign that opposed the Labor party's unpopular carbon and mining taxes, and promises to avoid cuts to health and social services. His party's campaign was highly negative, and his victory was pinned more on an opposition to the Labor party than on support for his conservative government.
© Copyright IBTimes 2023. All rights reserved.
FOLLOW MORE IBT NEWS ON THE BELOW CHANNELS