Australian Prime Minister Tony Abbott Launches Task Force To Tackle 'Ice' Drug Epidemic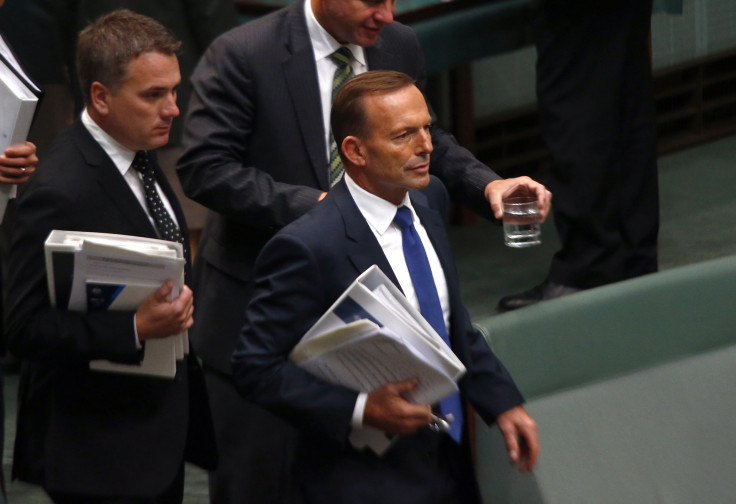 Australian Prime Minister Tony Abbott launched a national task force to address an epidemic of crystal methamphetamine, known as "ice," amid what he called the country's worst-ever drug crisis. "We will take every possible step to combat this dreadful, dreadful scourge," Abbott told reporters in Sydney on Wednesday, according to ABC Australia.
"It destroys lives, it ravages families, it damages communities, it is on the increase," he said.
Abbott said that about 400,000 Australians used methamphetamine every year, and half of them used the highly addictive, crystalline ice. He said that about 25 percent used the drug once or more every week.
"The propensity for violence, the propensity to subsequent very serious mental illness, the propensity to disfigurement which ice produces means that this is a drug epidemic way beyond anything that we have seen before," he said.
The task force will "examine all existing efforts to address ice and identify ways to take a systematic, comprehensive and coordinated approach to education, health and law enforcement," according to a government statement on Wednesday.
Figures from the 2013 National Drug Strategy Household Survey show that 7 percent of Australians over the age of 14 had used amphetamine or methamphetamine at least once in their lifetime.
The report also shows that the use of ice doubled between 2010 and 2013, and that the impure, powdered form of the drug fell in popularity across the same period. The report linked illicit drug use to severe mental and physical health effects, ranging from HIV/AIDS to domestic violence. Unlike other drugs, a significant number of ice users were from rural areas, the Associated Press reported.
The Australian Crime Commission (ACC) also found that ice posed the greatest risk of all illegal drugs in Australia, and that the market was likely to continue growing in the near future. "This expansion can only be addressed by the collective efforts of the Australian government, state and territory governments, non-government organizations, industry and the community," the report stated.
The commission's report, released last month, found that the purity and selling price of ice were among the highest in the world in Australia, and that Australian users were willing to pay a premium for the higher-quality drug. Figures show that a gram of ice sells, on average, for a steep $500 in Australia, compared to $80 in China.
Due to the huge profits from the sale of the drug, transnational organized crime groups came to occupy a leading role in its importation and trafficking, the ACC found. Over 60 percent of the country's organized crime groups, including transnational ones, were involved in trafficking ice.
© Copyright IBTimes 2023. All rights reserved.
FOLLOW MORE IBT NEWS ON THE BELOW CHANNELS