Australia's 'Level Of Ambition' Over Emission Reduction Targets Questioned At UN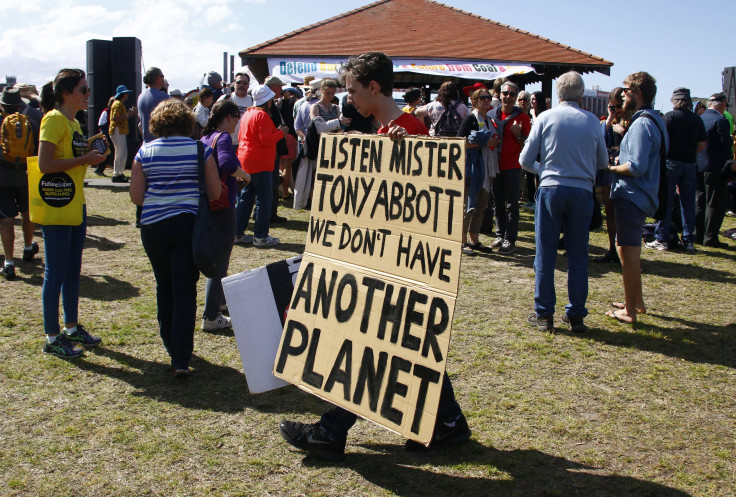 The Australian government's "Direct Action" policy, which aims to reduce greenhouse gas emissions by 5 percent below 2000 levels by 2020, has come under international scrutiny after several countries, including the U.S. and China, questioned the credibility of the target. Australia is yet to respond to the questions that were submitted to the United Nations Framework Convention on Climate Change (UNFCCC).
Just months ahead of crucial climate talks, scheduled to be held in Paris in December, several nations questioned whether the Australian government's current emission reduction targets were enough to compensate for the removal of the carbon tax, which put a price on greenhouse gas emissions. Australia is currently one of the world's largest per capita greenhouse gas emitter, and its daily emissions per head are much higher than that of the U.S. and China.
"Considering the low level of ambition presented until now, as well as the historical data, does Australia intend to change its unconditional target in order to increase its level of ambition?," Brazil asked.
Although Australia has previously indicated that it is ready to ratchet up it emission reduction targets, it has demanded that developing countries like India and China do the same.
"1990 is an internationally common choice for base year of 2020 targets, but Australia chose 2000 instead. Australia further indicated that the 15 percent and 25 percent conditional targets are based on the level of international action, especially from advanced economies," China said, in its submission to the UNFCCC. "This ambition level is far below the requirement that Australia set out for advanced economies. Please clarify the fairness of such requirements."
Erwin Jackson, deputy chief executive of the Climate Institute -- an Australian think tank -- said that the questions posed to Australia showed that its climate change targets are "woefully inadequate."
"This is the first salvo. If the government doesn't come forward with a credible post-2020 target these kind of criticism will continue and only increase as other countries accelerate and deepen their own action," Jackson told the Sydney Morning Herald.
In addition to facing international criticism over the repeal of the politically divisive carbon tax laws in July last year, the Tony Abbott-led government has also faced flak over its perceived "anti-climate" stance on several key issues. Last week, Abbott faced fresh criticism after it emerged that his government had set aside $4 million for Bjorn Lomborg -- a prominent climate change skeptic -- to set up a "consensus center" at an Australian university.
© Copyright IBTimes 2023. All rights reserved.
FOLLOW MORE IBT NEWS ON THE BELOW CHANNELS