Automobile Manufacturing Has Been Consistently Outpacing Average Global Industrial Output
The cyclical upswing in the global auto industry accelerated in August at the fastest rate since early 2011 as the U.S. market continued its robust rebound from the 2008 crash, while signs in Europe suggest the worst of its crisis may be ending.
"Higher production levels at automobiles and auto parts firms partly reflected a further rise in new-order volumes," said a report Wednesday from Markit Economic Research. "Total new business rose strongly and for the sixth consecutive month in August, despite a slight reduction in new export work."
The Markit Global Sector Purchasing Managers Index (PMI) – a key monthly survey of more than 20,000 companies in 28 countries – shows that auto and auto parts manufacturers have consistently outpaced the global manufacturing average in recent years. Autos and auto parts manufacturing output stood at 56.2 in August, compared to the global average of 51.7 for all manufacturing output. Monthly readings over 50 indicate growth, while numbers below 50 signify contraction.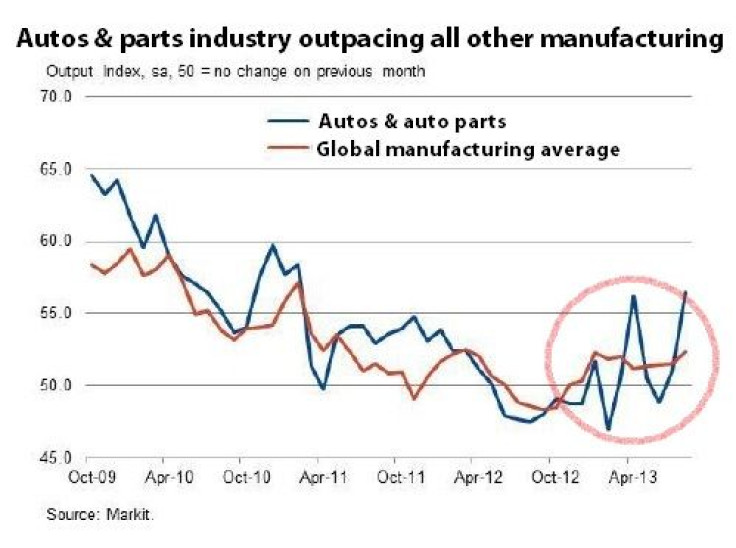 Autos and auto parts manufacturing is leading all forms of manufacturing right now other than beverages. In July alone, 8,500 auto manufacturing jobs were advertised online in the U.S., according to Wanted Analytics. Ford Motor Co. (NYSE:F) recently boosted output at its Flat Rock Assembly Plant in Michigan to meet demand for its Fusion sedan and Escape SUV. Toyota Motor Corp. (TYO:7203) board member Mark Hogan told Automotive News late last month that the world's largest automaker would boost production capacity in Mexico. And a number of companies, including Volvo, Ford and BMW, are expanding their manufacturing footprints in China.
This has been a boon for parts manufacturers, too. The last earnings season was tepid at best, with many companies beating their estimates by cutting costs rather than revenue. Not so for the parts suppliers, who have seen more business as auto manufacturers ramp up production to meet demand.
Three examples: BorgWarner Inc. (NYSE:BWA), a global supplier of engine and drivetrain components based in Auburn Hills, Mich., upped its earnings-per-share guidance last month. TRW Automotive Holdings Corp. (NYSE:TRW), maker of parts for brakes and steering systems based in nearby Livonia, saw its earnings per share jump 16 percent in the second quarter. Piscataway, N.J.-based WABCO Holdings Inc. (NYSE:WBC), which supplies braking and transmission systems to manufacturers and for the parts aftermarket, expects sales to climb as much as 8 percent this year.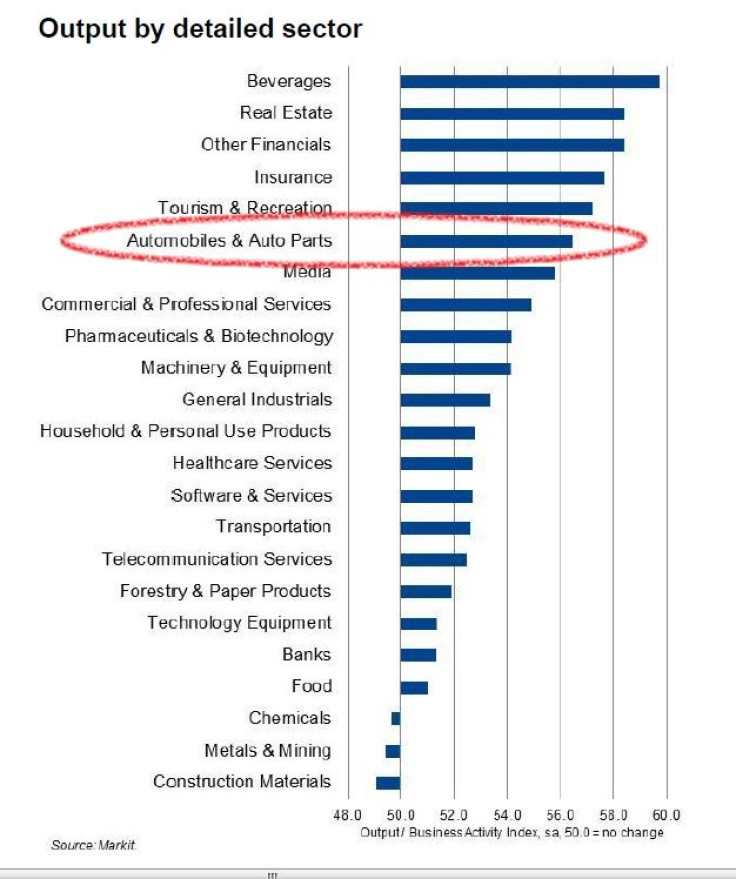 © Copyright IBTimes 2022. All rights reserved.
FOLLOW MORE IBT NEWS ON THE BELOW CHANNELS