Baghdad-Sadr City ISIS Bombing? Deadly Blast Raises Fears About Iraq Prime Minister's New Government Reforms, Sectarian Tensions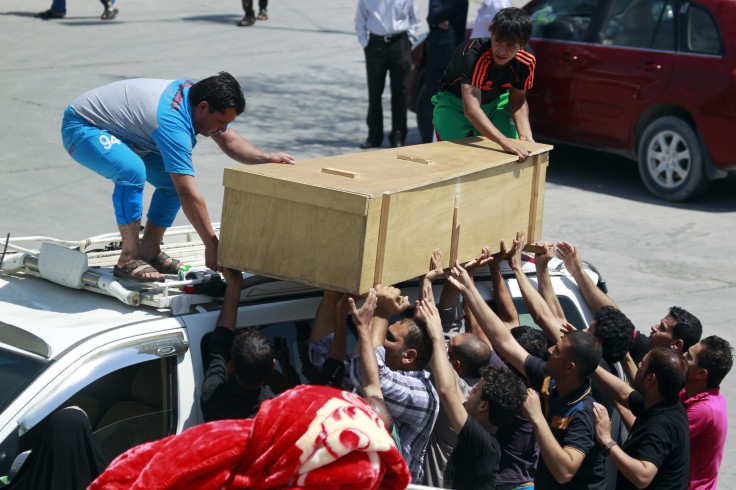 Piles of smashed, blood-covered tomatoes and cucumbers lined the streets of Jameel market in Sadr City, Baghdad, in between dozens of dead horses and goats as hundreds of people navigated through the mess, searching for survivors from a car bombing that ripped through the market early Thursday morning. Police and doctors pronounced at least 75 people dead and said that about 200 have been wounded.
The bombing of Sadr City -- a Shiite stronghold about 10 miles from the Green Zone that was once a safe area occupied by U.S. forces during the war -- was the deadliest bombing in the Iraqi capital this year and came just days after Prime Minister Haider al-Abadi proposed sweeping changes to restructure the central government in an effort to fight corruption.
The new regulations, which were approved Sunday by al-Abadi's cabinet, were designed to eliminate sectarian and party quotas for appointing top officials. Al-Abadi also vowed to eliminate the position of vice president, which is currently held by three people, two Shiites and a Sunni. Although the Islamic State militant group claimed responsibility for Thursday's bombing, some Baghdad residents think militants loyal to those who will lose under the new changes carried out the bombing.
"It is not ISIS. This is the militias, for sure," Noof Assi, a Baghdad resident told International Business Times in a Skype interview. "All the parties have their own armed actors. They are trying to get back for what the prime minister did." Residents of Baghdad define militias as anyone not directly connected to the central government who wages attacks because of their loyalty to certain powerful Iraqi officials, Assi said.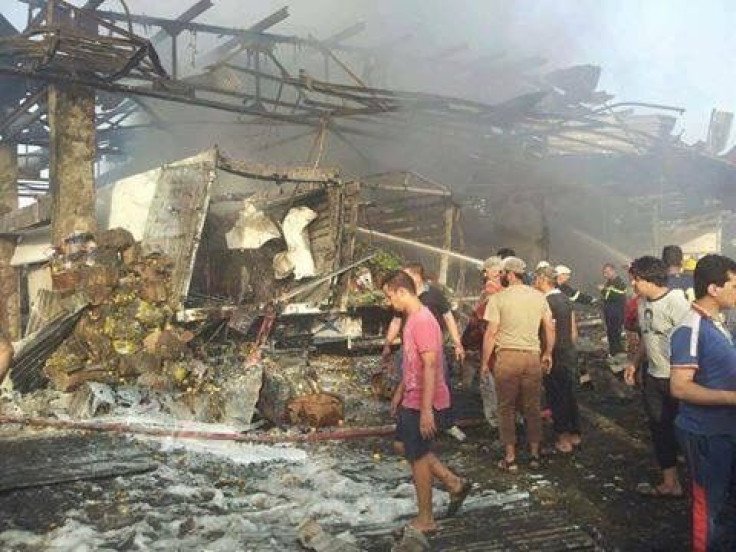 The bombing is an indication that sectarian tensions in Baghdad, largely muted since the uprising of the Islamic State group (or ISIS), is once again on the rise and that the prime minister's new reforms could cause more violence.
Under pressure from Shiite cleric Grand Ayatollah Ali al-Sistani, who last week called on all Iraqis to protest government corruption, al-Abadi began implementing his reform package. This week he fired the secretary general of his cabinet, Mohammed Khalaf Ahmed, a close ally of former Prime Minister Nouri Al-Maliki. Other officials on the chopping block were three figures who have dominated Iraqi politics since the U.S. toppled Saddam Hussein's regime, including the former prime minister Nuri Kamal al-Maliki, a Shiite; Ayad Allawi, a Shiite from a Sunni-dominated bloc; and Osama al-Nujaifi, a prominent Sunni Arab leader.
Al-Abadi warned Wednesday during a televised speech that those affiliated with the old governing system would try to "sabotage" the new changes.
"The corrupt will not sit idly by," al-Abadi said. "Those with interests and privileges will defend their interests and privileges. Some of them will even fight for them. They will attempt to sabotage every step we take towards it."
Iraq is divided by politicians who are Sunni and Shiite, two different sects of Islam. The different political parties have unofficial armed factions that carry out suicide and car bomb attacks in the country in an effort to exert power over others, Assi said. Other residents in Baghdad think Thursday's bombing was carried out by Sunni fighters who used to fight for Saddam Hussein and are not necessarily linked to ISIS.
Azhar Shlalee, a fighter working with the Shiite militias, told IBTimes in a Skype interview that he believed the attack in Baghdad Thursday was retaliation for Hashd al-Shabi's attack on Sunni tribes in cities such as Ramadi and Fallujah. Hashd al-Shabi, also known as the Popular Mobilization Committee, consists of Shiite volunteer fighters who are largely funded by Iran. Many of the men fighting in the group's ranks hail from Baghdad, specifically from Sadr City. Shlalee says the bombing was carried out by Sunnis to make the Shiite militiamen look weak.
Omar Fadily, an Baghdad activist connected to Shiite political parties, said he is convinced that ISIS carried out the Sadr City attack, calling the terrorists "deviants."
Car bombings in Baghdad have been on the decline since April, according to Iraq Body Count, a website that tracks civilian deaths in the country. That trend may no longer hold. Iraqi citizens should be on guard in the upcoming weeks because the Sadr City bombing could indicate the beginning of a massive uptick in car and suicide bombings, both Shlalee and Assi said.
Most bombings in Iraq take place at mobile car checkpoints, which were ironically set up to prevent more attacks. With an increasing number of checkpoints forming across the city, security forces as well as civilians are now at a greater risk of being targeted. More than 700 people, including women and children, were killed in Iraq for coming too close to checkpoints, a 2010 Al Jazeera report found.
In 2013, there were more than 250 fixed checkpoints in Baghdad and hundreds of additional smaller, mobile ones. In total, there are about 1,000 checkpoints throughout the city. The mobile checkpoints, which each consist of a few dozen armed men, have been set up in neighborhoods across Baghdad. But despite increased security at the checkpoints, armed militants have easily waged a new kind of urban warfare in the capital with their car bombs.
Police officers manning the posts have so far not been able to detect the cars strapped with bombs, even after they pass through the government scanners, which many times can be defective.
In 2013, a jury found Jim McCormick of the U.K. guilty on three counts of fraud after selling millions of dollars worth of fake bomb detectors to the Iraqi government. The detectors were installed at checkpoints in Baghdad through which car bombs and suicide bombers passed. Those detectors are reportedly still in use in Baghdad, Assi said.
© Copyright IBTimes 2022. All rights reserved.
FOLLOW MORE IBT NEWS ON THE BELOW CHANNELS