Baltimore Police Department Press Conference Video: 'Outrageous Criminals Attacked Our Officers,' Spokesperson Says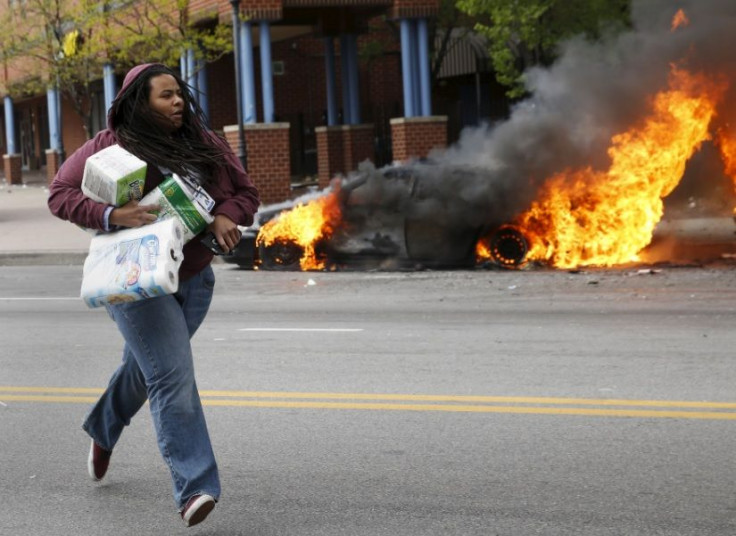 Baltimore Police Department spokesman Capt. Eric Kowalczyk accused "outrageous criminals" of turning peaceful demonstrations violent and attacking police, injuring seven officers seriously. The violence erupted following the funeral of Freddie Gray, the 25-year-old man who died from injuries sustained during an arrest.
"On Saturday we saw the best of Baltimore," Kowalczyk said. "We saw protests that were peaceful as the city came together to voice frustration and share their concerns with this police department. A small group of agitators turned that protest violent and you saw remarkable restraint from our officers. Remarkable restraint."
The captain did not refer to the people who participated in the violence as protesters or demonstrators, but instead said they were "lawless." "This afternoon a group of outrageous criminals attacked our officers. Right now we have seven officers that have serious injuries, including broken bones and one officers who is unconscious," he said.
Though police officers were being targeted, the captain said authorities would remain on the streets to provide protection for innocent citizens. "We will do whatever is appropriate to protect the safety of our officers and ensure the safety of the people who live and work in the Mandawmin area," he said. "We have police officers deployed throughout the city to make sure we can continue to deliver police services to the citizens of Baltimore and we will continue to keep the city safe."
The captain finished: "Our officers are working as quickly and as appropriately as they can to bring about order in the area in Mandawmin and effect arrest of the criminal who violently and without provocation attacked our police officers."
Watch below to see the full video:
Follow me on Twitter @mariamzzarella
© Copyright IBTimes 2023. All rights reserved.