Baltimore Protests 2015: Maryland Governor Says Decision To Activate National Guard A 'Last Resort'; Up To 5,000 Troops Could Deploy Into Baltimore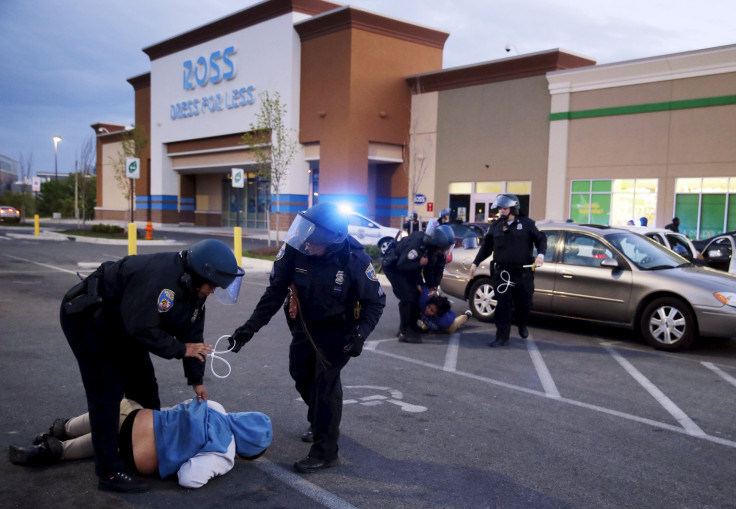 Maryland Gov. Larry Hogan said his decision to send the National Guard to stem the unrest in Baltimore was "a last resort." He said the troops will "exercise restraint" as they seek to halt the looting and attacks against police officers unfolding Monday.
"We won't allow the city of Baltimore to be taken over by thugs," the governor said in a press conference in the state's emergency operations command center. "These acts of violence and destruction of property cannot and will not be tolerated. … I strongly condemn the actions of those who engaged in direct attacks against innocent civilians, businesses and law enforcement officers.
"I have not made this decision lightly. The National Guard represents a last resort in order to restore order."
Earlier this evening, groups of young people set four vehicles on fire and injured fifteen police officers, Baltimore police said. The unrest followed the funeral of Freddie Gray, a Baltimore resident who died in police custody two weeks ago. Agitators have looted and destroyed multiple buildings, and continue to throw rocks, bricks and bottles at police officers, the Baltimore Police Department wrote in a tweet around 9:30 p.m. EDT.
Hogan declared a state of emergency this evening at the request of Baltimore Mayor Stephanie Rawlings-Blake, who said the city was unable to contain the chaos on its own. "We will exercise restraint and provide the support necessary to bring law and order to Baltimore City," Hogan said. "We've got our entire team here."
Gen. Linda Singh, who heads Maryland's National Guard, said as many as 5,000 troops from across the mid-Atlantic region could be deployed to Baltimore. She added a "massive number" of guard members will be seen on Baltimore's streets Monday night. Still, Singh stressed the National Guard's presence was not an instance of martial law.
Maryland Police Col. William Pallozzi said he was asking for as many as 500 additional state police officers to assist in Baltimore. "We asked they be equipped with all the necessary equipment for their own safety."
Baltimore will fall under a citywide curfew starting Tuesday, and Baltimore city schools will be closed tomorrow. Existing curfews for minors will also be enforced, Mayor Rawlings-Blake said in an earlier press conference.
Martin O'Malley, the former governor of Maryland and former mayor of Baltimore, said he was "saddened" by the night's violent turn. "All of us share a profound feeling of grief for Freddie Gray and his family," he said in an emailed statement. "We must come together as one city to transform this moment of loss and pain into a safer and more just future for all of Baltimore's people."
© Copyright IBTimes 2023. All rights reserved.
FOLLOW MORE IBT NEWS ON THE BELOW CHANNELS