Bambang Widjojanto, Official With Anti-Corruption Watchdog KPK, Arrested By Indonesian Police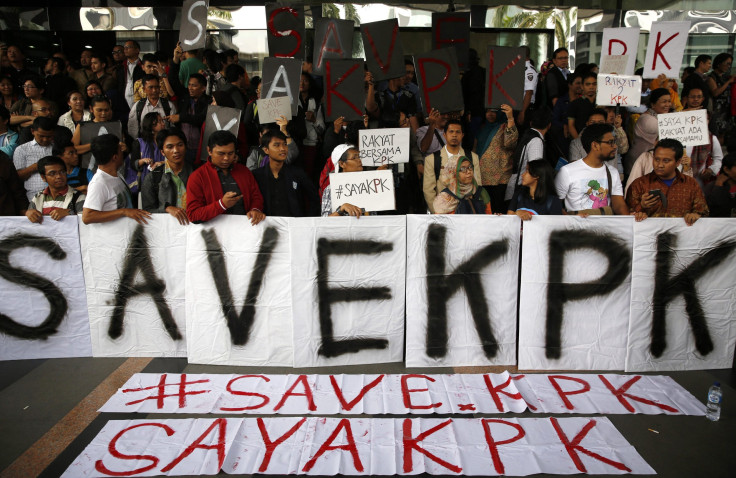 Bambang Widjojanto, a board member of Indonesia's Corruption Eradication Commission (KPK), was arrested Friday by the country's criminal investigation unit for providing false testimony in a 2010 case, reports said. Widjojanto's arrest comes just 10 days General Budi Gunawan, who was picked by President Joko Widodo as the new police chief, was named by the KPK as a suspect in a bribery case.
Widodo's appointment of Gunawan has since been postponed, reactivating a rivalry between Indonesia's main law enforcement bodies, even as Widjojanto's arrest sparked protests in Jakarta following which the police have reportedly agreed to release him. Widodo, who came to power in October promising a clean government, had said that he selected Gunawan based on a recommendation from the National Police Commission, Reuters reported. Police officials named Widjojanto a suspect in a case where he allegedly asked witnesses to give false testimonies to a constitutional court in 2010, when he was a lawyer.
"This is based on the results of an investigation where investigators found three pieces of valid evidence, including testimony from witnesses, documents and expert testimony," Ronny Sompie, a police spokesperson, said, according to Reuters, adding that the arrest was not linked to KPK.
However, KPK's supporters claimed on social media that the move was mainly in retaliation to Gunawan being named as a suspect by the corruption watchdog.
The investigation against Gunawan reportedly started last year when KPK began probing funds worth $4.3 million in his bank accounts, which the agency said might have stemmed from bribes and rewards for favors, The Associated Press reported. Following Widjojanto's arrest on Friday, there was a public outcry and over 100 activists gathered at the commission office in Jakarta, calling on Widodo to defend the anti-corruption body.
KPK officials are also scheduled to meet Widodo later in the day, Bloomberg reported, citing Commissioner Adnan Pandu Praja.
"I hope, between the police and the KPK, there doesn't need to happen unnecessary friction," Praja said, according to Bloomberg, adding: "The KPK will work as usual."
© Copyright IBTimes 2023. All rights reserved.
FOLLOW MORE IBT NEWS ON THE BELOW CHANNELS