Bangkok Bombing Update: Suspect Yusufu Mierili Admits He Handed Backpack To Erawan Shrine Bomber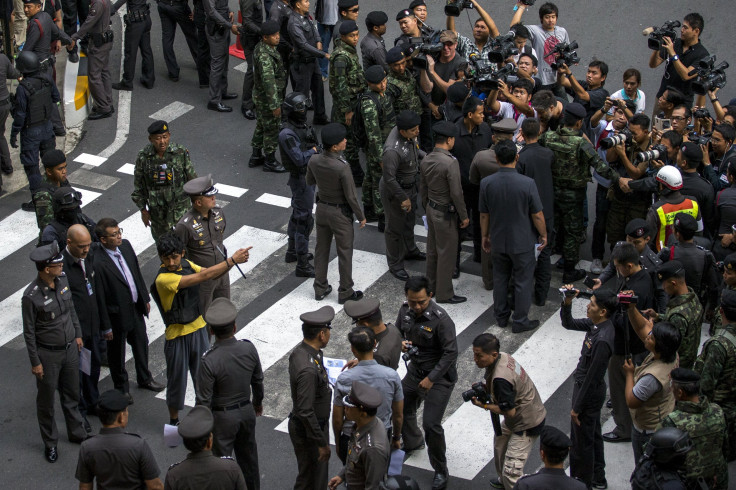 A suspect who was arrested over links to last month's deadly Bangkok bombing admitted meeting the alleged bomber outside a train station and handing him a backpack that contained a bomb, before the blast, Thai police said Wednesday. The latest development in the Aug. 17 bombing at the Erawan Shrine came as police escorted the suspect, identified as Yusufu Mierili, to the station as well as the shrine for a public reenactment of his role in the attack.
At Bangkok's Hua Lamphong train station, Mierili had allegedly handed over the heavy backpack to the suspected bomber, who was seen in surveillance footage wearing a yellow T-shirt and leaving a large backpack at the shrine just minutes before the blast. The attack claimed the lives of 20 people, mostly foreigners, and injured over 100.
Public reenactment is common in Thai criminal investigation but is often criticized for implying a suspect's guilt before a trial, according to the Associated Press (AP).
"This place is where he met with the yellow-shirt man to exchange a backpack," national police spokesman Prawut Thavornsiri told reporters outside the train station, according to the AP. "Yusufu said the backpack that he carried was heavy and it was a bomb."
Prawut reportedly did not say whether Mierili was only involved in carrying the backpack to the bomber or was also a bomb-maker.
Mierili told police that he had carried the backpack from an apartment in the Nong Chok district in Bangkok's outskirts where police conducted multiple raids last month. Police had found bomb-making materials in two apartments during a raid on Aug. 29.
Mierili, who was arrested late last month near Thailand's border with Cambodia, faces charges of conspiracy for possession of unauthorized explosives, but has not been formally charged in the case. Police said his fingerprints matched with those found on a container of gunpowder at the apartment in Nong Chok.
Thai police have not yet confirmed the nationality of Mierili, who police have also identified as Yusufu Mieraili, but authorities previously said that he possessed a Chinese passport with his birthplace listed as China's northwestern province of Xinjiang, home to Uighurs, a Turkic-speaking Muslim ethnic minority group.
Thai authorities are also probing a possible connection to Turkey after at least two suspects were believed to be Turkish. According to reports, the bombing may have been carried out by a group seeking to avenge Thailand's forced deportation of Uighurs in July.
© Copyright IBTimes 2023. All rights reserved.