Bangladesh Blogger Death: 2 More Suspects Arrested In Connection With Niloy Neel's Hacking Death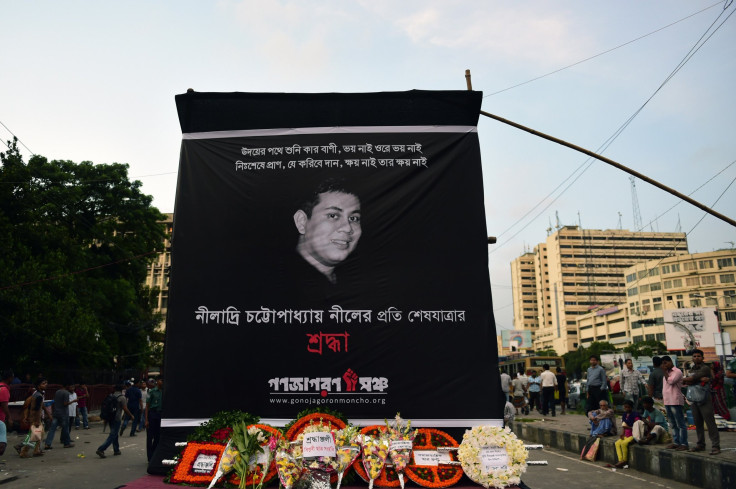 Two more suspected members of a banned Islamist group have been arrested by police in Bangladesh in connection with the killing of secular blogger Niloy Neel. Neel, 40, was hacked to death earlier this month -- the fourth such killing of independent writers in the South Asian country this year.
Kausar Hossain Khan, 29, and Kamal Hossain Sardar, 29, were taken into custody during raids late Thursday in the capital city of Dhaka, and are suspected to be members of the Ansarullah Bangla Team, which has previously been linked to attacks on bloggers, Dhaka Metropolitan police official Mahbub Alam said, according to the Associated Press.
Police had previously arrested two other suspects -- Saad-al-Nahin and Masud Rana -- for their involvement in Neel's killing. Alam reportedly said the latest arrests were made after the interrogations of al-Nahin and Rana.
Police did not reveal details about Khan and Sardar, but only said that they were accused of attempted murder in an attack on another blogger, Asif Mohiuddin, two years ago. The two were out on bail before being arrested for Neel's death. Mohiuddin has reportedly fled to Germany since the attack on him.
Neel, an organizer of the Science and Rationalist Association of Bangladesh, who had written critical pieces about religion, was hacked to death on Aug. 7 by at least four men, who entered his apartment building posing as tenants.
Independent writers have been targeted by groups seeking to convert the Muslim-majority country -- governed by secular laws based on British common law -- into a Shariah-based state.
In May, Ananta Bijoy Das, another secular blogger, was hacked to death by masked men "with machetes" in the city of Sylhet, about 147 miles northeast of Dhaka. Das wrote blog posts for "Mukto-Mona" (Free-mind), a website founded by Avijit Roy, a Bangladeshi-American blogger, who was also hacked to death in Dhaka in February.
Washiqur Rahman, another blogger, who wrote "against religious fundamentalism," was hacked to death just few yards from his home in Dhaka's Begunbari area in March.
© Copyright IBTimes 2023. All rights reserved.