Bank Of England Raises Borrowing Costs To 4%, Hints Rates Near Peak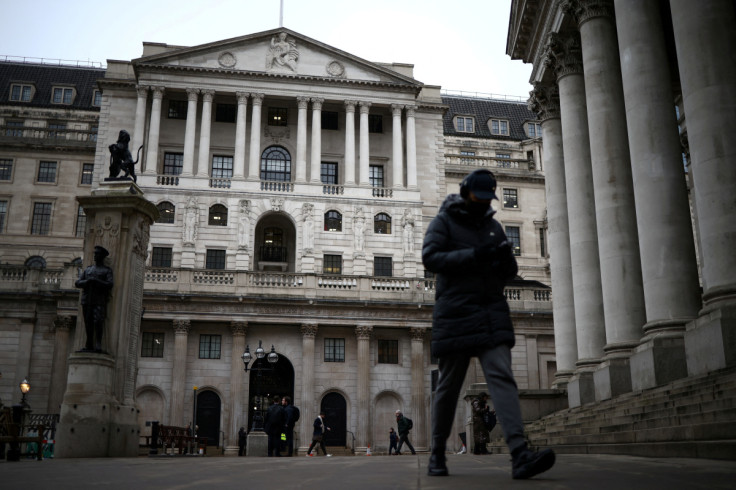 The Bank of England raised interest rates for the 10th time in a row on Thursday but dropped its pledge to keep increasing them "forcefully" if needed and said inflation had probably peaked.
Softening their forecasts of recession this year, the BoE's nine interest rate-setters voted 7-2 to increase Bank Rate to 4.0% - its highest since 2008 - from 3.5%. The move had been expected by most investors and economists.
The announcement comes a day after the U.S. Federal Reserve slowed the pace of its rate hikes with a smaller quarter-point move, but said it expected further increases would be needed.
The European Central Bank looks set to raise rates by a half a percentage point later on Thursday to 2.5%.
The BoE - which is trying to smother the risks from Britain's 10% inflation rate without deepening the expected recession - said its run of rate hikes going back to December 2021 were likely to have an increasing impact on the economy.
That should help to bring inflation down to about 4% by the end of this year, it said. Previously the BoE had forecast 2023 inflation at around 5%.
"Since the November monetary policy report we've seen the first signs that inflation has turned the corner," Governor Andrew Bailey said in a speech following the rate hike.
"But it's too soon to declare victory just yet, inflationary pressures are still there."
The UK central bank's Monetary Police Committee (MPC) said further interest rate hikes would hinge on evidence of more persistent price pressures appearing.
That represented a signal to investors that its sharp run of rate hikes might be coming to an end.
Previously the BoE had said it would "respond forcefully, as necessary" to signs of further inflation pressure, and that "further increases in Bank Rate may be required".
The BoE sees inflation falling below its 2% target in the second quarter of 2024, but it warned there were upside risks to this forecast from persistent labour market pressures and higher-than-expected core and domestically generated inflation.
After Thursday's announcement, investors slightly trimmed their bets that interest rates would peak as high as 4.5%, in favour of an earlier halt at 4.25%, while sterling and British government bond yields moved lower after an initial spike.
"With inflation projected to ease sharply, today's 50-basis point-rise should be the last of this magnitude. If we do slide into recession, then policymakers may be forced to reverse policy sooner than many expect," said Suren Thiru, economics director at ICAEW, a professional body for accountants.
SHALLOWER RECESSION
The central bank said Britain was still on course for a recession but it was likely to be "much shallower" than it feared in its last forecasts in November, thanks largely to a fall in energy prices as well as lower market rate expectations.
Gross domestic product was now seen contracting by 0.5% in 2023 compared with the 1.5% shrinkage forecast in November and the recession would last five quarters - cutting output by less than 1% - rather than eight quarters.
The BoE saw output shrinking in 2024 and barely growing in 2025, putting pressure on Prime Minister Rishi Sunak and his finance minister Jeremy Hunt, who has promised to set out measures to revive growth in a budget on March 15, ahead of a national election expected in late 2024.
The BoE's new GDP forecast was similar to one published this week by the International Monetary Fund which said Britain's economy would shrink by 0.6% this year, while all the other Group of Seven nations were likely to grow.
Britain has been hit hard by the surge in energy prices after Russia's invasion of Ukraine as it relies heavily on gas for power generation.
It has also suffered a fall in the size of its workforce that is believed to be linked to the coronavirus pandemic and post-Brexit restrictions on European Union workers.
The BoE said Britain's lack of workers, combined with low business investment and weak productivity growth, meant the economy could probably only grow by about 0.7% a year in the near term without generating inflationary heat.
Before the pandemic, the potential growth rate was about 1.7% and Thursday's downgrade represented a stricter speed limit on the economy, at least for the next couple of years while it recovers from the pandemic and the impact of Brexit.
As a result, the BoE saw Britain's economy still below its pre-pandemic size until after 2025, representing seven lost years for growth.
© Copyright Thomson Reuters 2023. All rights reserved.