Bart The Bear Steals The Show On Latest Episode Of 'Game Of Thrones'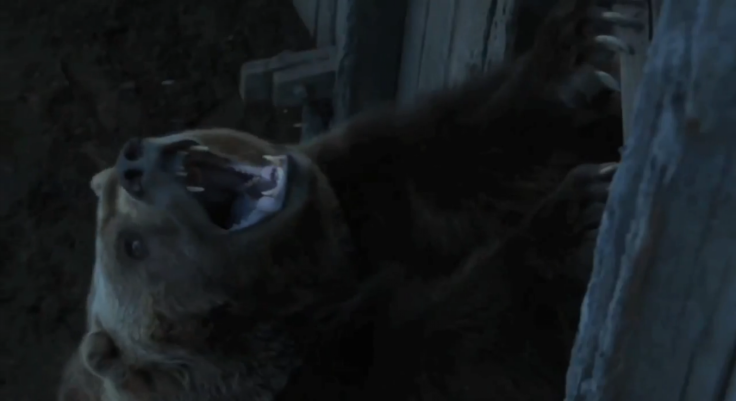 The latest episode of "Game of Thrones" premiered Sunday on HBO, and, while "The Bear and the Maiden Fair" had some interesting plot developments, the star of the episode was Bart the Bear.
It seems as this episode of "Game of Thrones" is getting everyone into place for the series' final three episodes of the season except for Jaime Lannister and Brienne of Tarth. While Jaime is free to leave Harrenhal, his former companion is forced to stay there by Lord Bolton. After a moral awakening, Jaime does something unexpected: He goes back to Harrenhal and saves Brienne. As he makes his way back, he sees plenty of commotion and cheering, and it is soon apparent why: Brienne is left to fend off a bear with little more than a wooden sword.
Jaime, understanding he cannot die in such a situation, jumps into the pit, faces off with the bear and manages to get Brienne out of harm's way and into the arms of his guards and escort. Jaime, despite missing his right hand, uses his wits to beat the odds. It also seems as though Jaime has turned a corner, helping someone he did not need to and not relying on his Lannister name, or reputation, to save himself.
Instead of relying on computer graphics, the team behind "Game of Thrones" used a veteran actor to film the scenes with Brienne in the pit. Bart the Bear is a professionally trained movie animal with the quite the resume. While uncredited for his work in "The Bear and the Maiden Fair," the second Bart the Bear follows his cousin's impressive movie career.
The original Bart the Bear died in 2000 but had roles in numerous films, including "The Bear," "The Edge" and "Legends of the Fall." Bart the Bear II began acting in 2001, trained by the same handlers as the original Bart, Doug and Lynn Seus, IMDB notes. Bart the Bear II got his start in "Dr. Dolittle 2" as the Boy Bear Cub.
In the decade since his big screen debut, Bart, nicknamed Little Bart, has starred alongside Kevin James, Emile Hirsch and Matt Damon. Bart can be seen in "Into the Wild," "The Zookeeper" and "We Bought a Zoo" prior to his role in "Game of Thrones." Bart the Bear II is listed as 8' 6'' tall and weighs in at 1,100 pounds. According to the Doug Seus' Wasatch Rocky Wildlife website representing Bart, some of his hobbies include "eating, swimming, rolling giant truck tires around and chasing butterflies."
Little Bart can perform a series of moves, including waving goodbye, "attack" behaviors such as swiping, walking on his back legs and limping as though he's hurt and roaring.
© Copyright IBTimes 2023. All rights reserved.