'Battlefield 1' Comes With New Shotgun-Only Custom Game Called Eye To Eye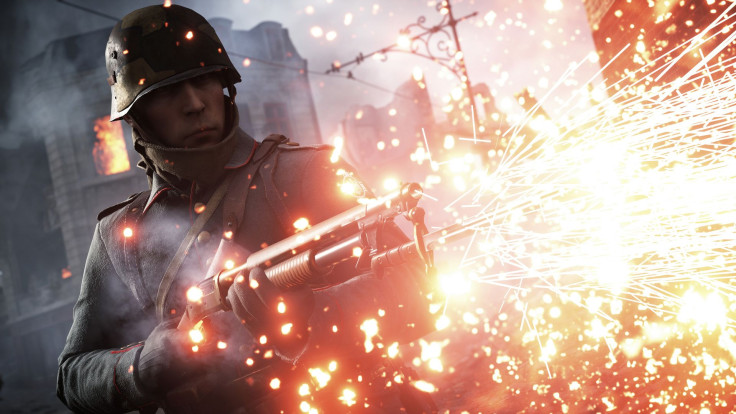 Developer DICE has launched a new "Battlefield 1" Custom Game called Eye to Eye. The new multiplayer mode focuses on close-quarter combat where players will only be able to use shotguns.
Eye to Eye is set in the Amiens map and DICE describes the new game mode as a "fast-paced custom game mode" for the Assault class. "In Eye to Eye you are only allowed to spawn as a shotgun-wielding Assault player, making this Custom Game all-out infantry," DICE said in its blog post.
To make it even more challenging, all players won't have regenerative health. There won't be ways to revive fallen teammates as well. Players can access Eye to Eye by going to the Custom Games tab on the multiplayer section of "Battlefield 1."
The addition of Eye to Eye also follows the release of Giant's Shadow DLC for "Battlefield 1" earlier this week. The DLC included a new map and the new crossbow grenade launcher. The patch also included alterations of shotguns M97 Trench Gun, Model 10-A and the Sawed Off Shotgun.
A lot of players were complaining that some shotgun models, like the Model 10-A, were overpowered even at some distance. DICE decided to rebalance the effectiveness of the shotguns to even out the playing field. The developer did this by shortening the range of the aforesaid shotgun models.
Perhaps the new Eye to Eye Custom Game in "Battlefield 1" may be DICE's way of seeing if players are now satisfied with the effectiveness of the shotguns in the game. Regardless of whatever reason, it's nice to see that the developer keeps on adding some new interesting flavors to its online multiplayer offering. This is also a great way of making sure that players don't get bored with the standard game modes, as pointed out by Game Rant.
Eye to Eye isn't the first Custom Game that DICE has made for "Battlefield 1." Earlier this month, the developer added a new mode called Line of Sight which focuses on Scout and Medic classes. Sniper rifle bullet damage is doubled in Line of Sight, while Medics are tasked to support teammates with no additional perks.
© Copyright IBTimes 2023. All rights reserved.