Beijing Chinese New Year Fireworks Spark Crackdown Over Air Pollution Concerns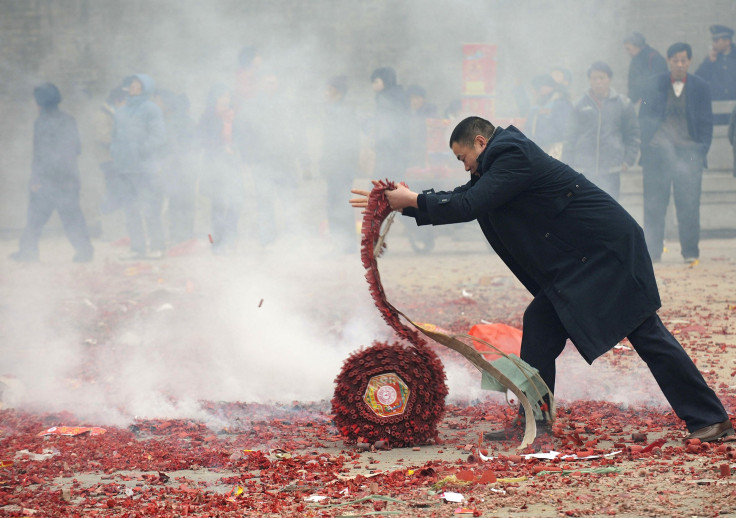 Beijing residents are not pleased that the city government is asking them to cut down on setting off fireworks during the Chinese New Year. The raucous event is usually accompanied by firecrackers going off in the streets, showering the city with red confetti and smoke, but city officials are concerned that upcoming lack of wind and mild weather might not be enough to blow the ensuing pollution away.
"Just like how the Northern Chinese eat dumplings during festivals, setting off fireworks is a tradition," said Xue Xichen, a Tianjin resident, according to Channel News Asia. "If the authorities are serious about tackling pollution, they should tackle industrial pollution. Setting off fireworks is just a once-a-year event. It is not as bad as industrial pollution."
Beijing's municipal environmental watchdog said last week that Friday, Feb. 20, the day after Chinese New Year, is expected to be windless with high humidity, creating poor conditions for smoke to be blown away after the city celebrates the holiday on Thursday. "The pollutants could stay in the air for a rather long period of time, as weather conditions will be unfavorable for them to disperse," the Beijing Municipal Environmental Protection Monitoring Center said, according to the South China Morning Post. The monitoring center said that skies could remain gray until Sunday evening.
Setting off fireworks has been an integral part of ushering in the Chinese New Year, as it is believed that that light and sounds will chase away any evil spirits. City authorities have also been limiting the number of approved firework retail outlets this year, approving only 942 stores, down more than 100 from last year, according to SCMP. The days in which firecrackers may be sold have also been cut down to 11 from 20.
PM2.5, the microscopic air pollutant that can be lodged in people's lungs when inhaled, reached 900 micrograms per cubic meter in Beijing last Chinese New Year, which was 30 times more than the safe limit set by the World Health Organization. The city government had also issued similar advisories to limit firecracker use last New Year, which were ignored.
Users on Weibo, China's microblogging service, have voiced their discontent with the government interfering with their festivities. "Even if we were not to set off firecrackers, it's because we want to be considerate to fellow residents and sanitation workers," said a commenter to state media CCTV's posting of the advisory on Weibo. "High-polluting industries pollute more than anything else. Can [the authorities] please do something about that before talking about fireworks?"
Some other users on Weibo were relieved that the city is limiting firecrackers. "Please let me breathe some fresh air with my parents and children during this Chinese New Year," said another Weibo user on Beijing's decision to cut down fireworks.
© Copyright IBTimes 2022. All rights reserved.
FOLLOW MORE IBT NEWS ON THE BELOW CHANNELS