Chinese New Year: C-Sections Increase In Hong Kong Leading Up To Year Of Goat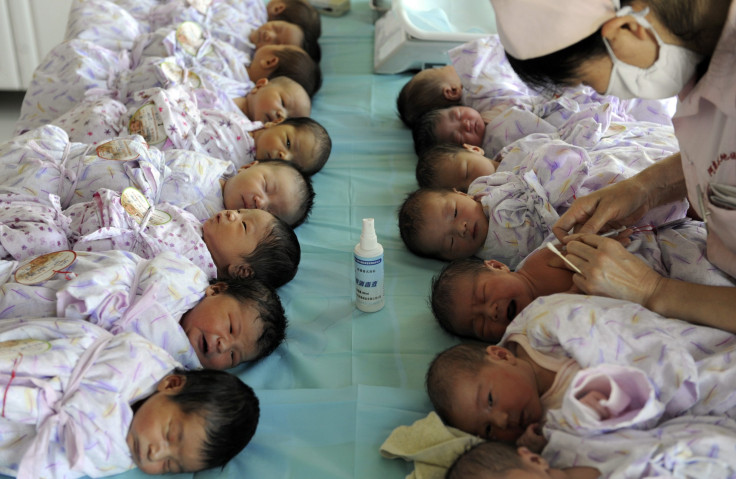 Expectant mothers in Hong Kong and other parts of Asia have been rushing to give birth before the year of the goat swings around on Feb. 19, trying to ensure their children are still born in the present year of the horse. Hong Kong doctors have noticed a recent spike in mothers opting for a caesarean section procedure prior to the Chinese New Year holiday, prompting some insurance companies to increase their premiums or even cancel some of their maternity policies.
"We have noticed in recent years that Hong Kong has a higher rate of pregnant women giving birth by C-sections, particularly around the Lunar New Year, and the trend is on the rise," said Andrew Apps, director of international medical insurance provider ALC Health, according to the South China Morning Post. A private obstetrician and gynecologist Kun Ka-yan told SCMP that he had 20 percent more bookings for deliveries this week -- many of the requests for caesarean sections -- and SCMP reported that some obstetricians had been carrying out the procedure at twice their frequency of two bookings a week. Kun had said that despite the increased demand, hospitals have a strict policy to ensure that the procedure can only be carried out on women who are at least 38 weeks pregnant.
Other mothers have decided to bring forth the delivery to avoid having to spend the festive period stuck in the maternity ward. "I do not want spend the Lunar New Year in the hospital," Ting See-hau told SCMP. "I do not want relatives and friends having to visit the hospital to see my daughter during the festival."
Doctors have cautioned against rushing childbirth for the infant's safety. Apps told SCMP that babies born prematurely were more likely to develop health complications, and advised expectant mothers to check that C-sections were covered by their insurance, as those procedures cost more than natural births, causing some providers to not cover requests for those who choose to give birth by way of surgery. DKV Globality, an insurer, reportedly dropped two childbirth-related policies in Hong Kong, Singapore and Macau, where baby booms around festive periods were common, and has increased premiums in those countries by 85 to 100 percent, according to SCMP. "There are around 20 to 22 companies in the business, nearly all of us … are looking closely at the maternity [policies]," Apps said.
The trend of planning baby births to coincide with years that are traditionally considered "auspicious" has been on the rise. "I have not seen more Singaporeans having C-sections over natural births, but there are more people choosing the time and date for the delivery for luck," said Ann Tan, an obstetrician and gynecologist at Singapore's Mount Elizabeth Hospital, according to SCMP. Singapore's C-section rate has steadily increased to 35 percent in 2014, at 11,595 procedures of 33,000 births that year, up from 30.5 percent in 2003. That pushed Singapore's fertility rate up to 1.25 in 2014 from 1.19 in 2013. Mainland China also reported a baby boom in 2014, according to Xinhua, with some mothers requesting a C-section to induce birth before the Lunar New Year comes around.
The year of the horse is generally seen as a promising year to have children, as infants are seen to be livelier than children born in the year of the goat, which begins Thursday, Mak Ling-ling, one of Hong Kong's well-known fortune tellers told SCMP. Children born in the year of the goat are seen as being more "docile." "Parents usually want to choose a date that brings better achievement for their babies or for the children to be filial and obedient to the parents. Also, it is luckier for the newborn to make it in time to receive 'red packets' from all the relatives," said Mak, referring to the custom of children receiving cash in red envelopes from relatives during the holiday.
© Copyright IBTimes 2022. All rights reserved.
FOLLOW MORE IBT NEWS ON THE BELOW CHANNELS