Beirut Bombing 2015: Lebanon Says It Has Rolled Up Entire Network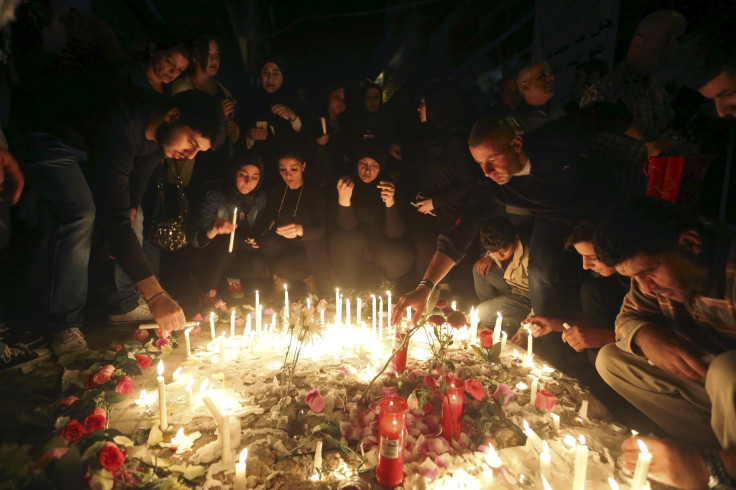 Lebanese officials said nine people have been arrested on suspicion of involvement in the Beirut bombings that killed 44 people Thursday. Most of the detainees were Syrians, Agence France-Presse reported.
"The detained include seven Syrians and two Lebanese, one of them a [would-be] suicide bomber and the other a trafficker who smuggled them across the border from Syria," Interior Minister Nuhad Mashnuq said at a news conference.
Mashnuq said the members of the whole network and their supporters were arrested within 48 hours. He said the Syrians were found in a Palestinian refugee camp and in a Beirut apartment where explosives belts were being assembled.
One would-be suicide bomber was arrested in Tripoli after his explosives failed to detonate, Mashnuq said.
The Beirut bombings came a day before a series of attacks in Paris conducted by three teams of terrorists that killed 129 and wounded 352, 99 of them critically. Mashnuq warned the attacks may be just the beginning of a series, as authorities sought at least one terrorist who survived the Paris attacks. A car containing three AK-47s was found in one of the city's suburbs. Seven of the terrorists either blew themselves up or were killed by police.
The two clusters of incidents are being seen as evidence the Islamic State group is activating sleeper cells, emphasizing "disruptive terror attacks" and marking an operational shift in its strategy, said Harleen Gambhir, a counterterrorism analyst at the Institute for the Study of War, a think tank in Washington.
"When they send five suicide attackers to one place, it means ... it won't be the last [attack]," Mashnuq said.
The Beirut blasts were the first to target a Hezbollah neighborhood since last year and the first conducted by the Islamic State group, which said they were revenge for Hezbollah's involvement in the Syrian Civil War on the side of embattled President Bashar Assad.
Hezbollah chief Hassan Nasrallah Saturday asked followers not to take revenge on the more than 1 million Syrian refugees currently in Lebanon.
© Copyright IBTimes 2023. All rights reserved.
FOLLOW MORE IBT NEWS ON THE BELOW CHANNELS